Kauto Star on parade at Cheltenham
Kauto Star will be appreciated as a champion by the Cheltenham faithful when he returns to lead out the Gold Cup field.
Last Updated: 14/03/13 10:49am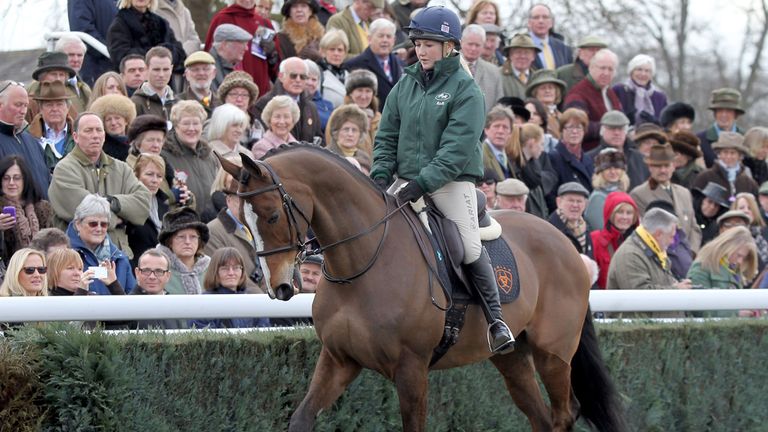 Much has occurred since the career of the finest chaser in almost half a century drew to a close with Clive Smith announcing the 16-times Grade One winner would be trying out dressage and he was placed into the care of Laura Collett.
Collett just missed out on a three-day eventing spot at the London Olympics and is being offered regular assistance by Yogi Breisner, the avuncular chief of the British team who serves as its equivalent to Sir Dave Brailsford, aggregating marginal gains from four legs rather than wheels.
While Collett, particularly, has seen her profile soar in a different arena, neither would want to damage their careers by working with an inappropriate horse, and pushing Kauto Star too far would be disastrous.
The 23-year-old rider still seems to be relishing her opportunity, and work is going well at Kauto Star's new home on the Membury Estate in Wiltshire.
"He's a very intelligent horse and he seems to learn things very quickly," she explains. "That's not always the case with ex-jumpers we have worked with, even ones who have had far shorter careers than him, and it makes my life a lot easier!"
While it sounds difficult to describe the actual process of teaching the discipline, it is essentially laborious. "It's very softly, softly," Collett says. "He's not forced to do anything he doesn't want to do. He's very open to it and he appreciates the praise when he does something right. He doesn't seem to forget things, once he has done it once, it sticks in his mind.
"You have to repeat things day in, day out. He's building up, but the basics are the most important things to establish. You learn the foundations and build up different muscles before he could perhaps start learning some more."
Looking sleeker than he was as a jumper, due to different exercise and nutrition, Kauto Star offered composed walks, trots and canter. Only eight weeks into his tuition, Breisner reported he already has more to his repertoire, such as sideways movement, that he did not show off this time.
"He's not going to be a Grand Prix horse, but there's no reason why he can't learn more," Collett adds. "The aim is if he is capable, he'll go for a few a competitions, but if he isn't, he won't. There's no pressure on him, as he doesn't owe anyone anything."
Smith admits to have become a dressage fanatic himself since also learning from scratch. "I really love it," he says. "I wanted Kauto to be given the chance to be given an interest, do different things and use his brain. They say you can tell in a few days if they take to it, and he has just kept progressing.
"Yogi says he could be doing dressage when he's 25. He's only 13 and I think people are happier seeing him doing something."