Joyful Victory has the Breeders' Cup Ladies Classic as her long term aim
Larry Jones is targeting the Breeders' Cup Ladies Classic with Saturday's Santa Margarita Stakes winner Joyful Victory.
Last Updated: 17/03/13 10:49am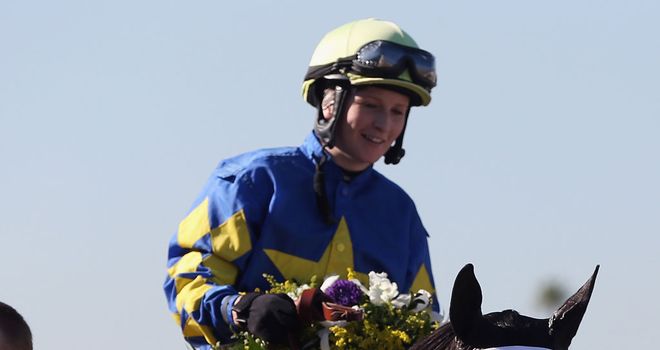 With front running Great Hot and Gary Stevens drawn to her immediate outside in post position three, Joyful Victory had a half length advantage going into the Club House turn and the five-year-old mare continued to lead by the same margin past the half mile pole and into the far turn.
"She broke sharp," said Napravnik, America's leading rider by number of wins (79) coming into Saturday. "She likes to run freely and doesn't like being restrained so it was nice that we had plenty of room on the rail to take the lead into the first turn. She was just relaxed and ran a great race."
Joyful Victory, a strikingly beautiful grey or roan mare, asserted her dominance approaching the quarter pole as she opened up a four length advantage on 2-1 second favourite More Chocolate and maintained it to the wire.
"I thought we were going to be on the heels of horses on the first turn, but when Gary's horse went wide, Rosie just took advantage of it and thought this was the parting of the Red Sea...and it worked out very well," said winning trainer "Cowboy" Larry Jones, who flew in Thursday night from his base at Fair Grounds Racecourse, in New Orleans.
In landing her first Grade I win, the Tapit mare increased her career earnings to $1,090,679 and took her record to 17-6-5-3.
"I was starting to wonder if she (Joyful Victory) was ever going to show up at the right time on the right day (to win a Grade I)," said Jones. "She had shown us this brilliance at times, but she's just doing everything better right now."
Second in the Grade I Zenyatta Stakes at Santa Anita on Sept. 29, Jones said the Breeders' Cup Ladies Classic in November is at the top of his list of priorities.
"We know we want to be back here for the Breeders' Cup...This is a good, safe racetrack and that hasn't always been the case. We're looking forward to coming back here regularly and running over this natural dirt surface."
As for his allegiance to Napravnik, who won four races on Friday night in New Orleans, Jones was effusive in his praise.
"Rosie is a special rider. It's a gift from God, what she's got. She doesn't realize it yet, but she's been anointed with this talent. She is one of the brightest young stars in this game, I can assure you."