BHA officials are set to start work at Mahmood Al Zarooni's yard
BHA officials are set to start work at former trainer Mahmood Al Zarooni's yard as they undertake rigorous testing.
Last Updated: 26/04/13 12:56pm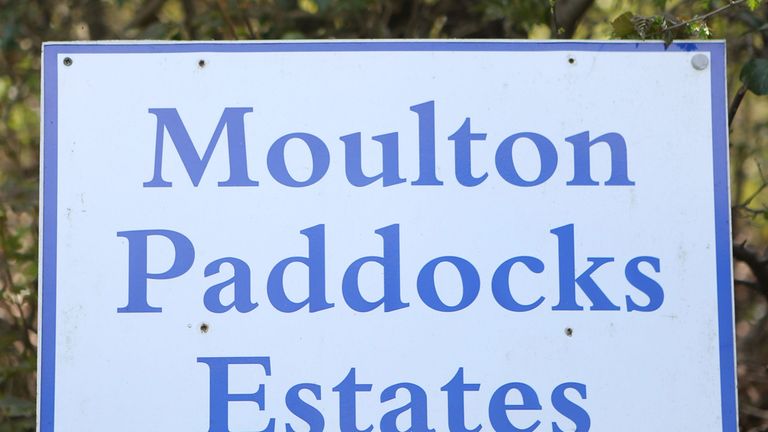 Al Zarooni was banned for eight years following a BHA hearing on Thursday after admitting administering anabolic steroids to 15 horses under his care at the Godolphin-owned stables in Newmarket.
Eleven horses tested positive for banned substances following random checks on April 9, with Al Zarooni admitting to giving the drugs to a further four horses. Each of those runners is now subject to a six-month ban from running.
Godolphin founder Sheikh Mohammed has been vocal in his condemnation of the incident and locked down the Moulton Paddocks yard until full testing of every horse is undertaken.
The BHA is due to start that testing on Monday, with chief executive Paul Bittar and Godolphin currently tackling the issue of who will oversee the training of horses at the yard.
While a licensed trainer is required to be in charge of yard, Bittar said the BHA team are working with Godolphin to find an immediate solution to the issue.
"We are working with Godolphin, in a pretty tight time frame of something like five to 10 days, to ensure that the stable remains licensed, although there won't be a licensed trainer, " he told rsn.net.au.
"There are two assistant trainers but neither of them are fully licensed. It's likely that (Godolphin's other trainer Saeed) Bin Suroor will have oversight for a lot of the horses, or Godolphin may choose to decide that Moulton Paddocks will not be used at all during the course of the British summer.
"We are giving them every opportunity to ensure that decision over the next five to 10 days. Godolphin and Sheikh Mohammed have given use a commitment that they will cooperate fully with all of our requirements in terms of investigations.
"Our team will be at Al Zarooni's stable tomorrow to scan all the horses and do an inventory. We will be testing them from Monday, in which we will cover every horse in the stable that we have not yet tested. We will also be doing a review of their procedures in that stable and then providing them with a report of what needs to be done to get it up to speed."
Bittar feels the Al Zarooni case is testament to the rigorous drug testing policies in British racing and would not describe the use of banned substances as systematic on these shores.
However, the BHA chief feels it would be folly to describe it as a one-off incident.
He said: "We've had testing in training as part of our dope testing in Britain since 2002. The procedures we have in place now, both in terms of random testing and more importantly in intelligence we receive, probably means that over a period we are going to identify more issues.
"I don't think it's systematic (use of drugs) and to be honest, the use of anabolic steroids within British racing is obviously quite different o the way it's used in Australia where it's quite common for horses that are not in training to be treated in that way.
"It's not really part of the culture of British racing but that's not to say that this is the only case we will have because it's unlikely to be the only case that we have.
"Having said that, since 2006 we have only had three and only two of those have involved the trainer or the person with the care of the horse. They're rare, but I'd say they're not uncommon, if that makes sense."
The Al Zarooni inquiry has made the issue of international drug use incredibly pertinent as each jurisdiction has their own set of rules.
While steroids are banned in British racing, their use in out-of-training horses is permitted in countries such as Australia, although runners must be clear of drugs by raceday.
Bittar accepts that such differences in policy are inevitable, but feels it is an issue the International Federation of Horseracing Authorities should examine in light of Al Zarooni's ban.
"I'd say I'm very comfortable with the rules that are in place in Britain," he said.
"If I was advocating to anyone about what the rules should be, I think it's pretty hard to look at other human sports and take a dim view of athletes using performance-enhancing drugs and drugs that promote growth, such as anabolic steroids, and be critical of athletes using those drugs but think it's acceptable for horses to be treated in that way.
"Having said that, the circumstances in Australia and other jurisdictions are different. We will certainly be using this case as an opportunity to put the consistent use of drugs internationally back on the agenda of the IFHA.
"I'm very comfortable with the rules we have in Britain and I think we've got the best rules in the world in that regard."
While the rules in Britain and Australia differ, Bittar does not foresee any changes to the rules precluding horses from running in Britain, as long as they are clean by raceday.
"I don't see (rule changes banning Australian horses) happening," he said.
"I don't see it happening for a number of reasons, one (being) that racing is a genuinely international sport these days and the popularity of racing remains quite strong. You've only got to look at the Melbourne Cup Carnival to see what internationalisation of racing has done and Royal Ascot similarly.
"Purely from a consumer perspective, it's unlikely that will happen but I also think that even though the rules in Australia are different to Britain, and we might take a view that we're comfortable with our rules and they're the best in world, we have to respect the fact that the way horses are trained and the way they are treated in their home jurisdictions is under the auspices of those rules.
"If those horses come here, they will be drug-tested, either post-race or in the lead up to the race, and the drugs may well have cleared the system. In that case it seems a slight anomaly but I don't think it would ever shift us to a position where we stop overseas horses coming in."
Officials at Ascot have been prime movers in encouraging foreign runners to make the trip to Britain in recent years and a number of Australian-trained horses have shone at the Royal meeting.
Black Caviar's half-brother All Too Hard is set to make the trip to Royal Ascot this year and Ascot's head of PR Nick Smith sees no reason to change their policy of encouraging overseas runners.
"This is one of the biggest issues in the industry as there are huge differences between the rules across the world," he said.
"Steroids are legal in Australia as long as they are clear by raceday much like Lasix is legal in America on raceday, then you come to Britain and those drugs are banned.
"As racing becomes a much more global sport, it is becoming a massive issue and it is something the IFHA should put as a number one priority for discussion.
"No horse that has come here has broke the rules of British racing so that is really not an issue for us. Should there be any rule change, then all horses would have to comply. As long as everyone is operating within the rules, there is no reason not to encourage horses to travel."
Ray Murrihy, chief steward in New South Wales, feels the issue of steroids needs to be closely examined in Australia in the aftermath of the Al Zarooni case.
The Australian Trainers' Association president Colin Alderson has already stated his view that any ban on steroids is unlikely to gain a favourable response.
However, Murrihy is keen for the industry to take a reasoned approach to investigating the issue.
"There needs to be an informed debate and people such as trainers and veterinarians, as well as administrators, need to contribute to that debate," Murrihy told the Canberra Times. "There will be no knee-jerk reaction at all in Australia, but maybe that matter needs to be looked at."