Owner-breeder Guy Reed died on Wednesday night at the age of 91
Profilic owner-breeder Guy Reed died at home on Wednesday night at the age of 91, his secretary Liz Hall has confirmed.
Last Updated: 11/07/13 4:46pm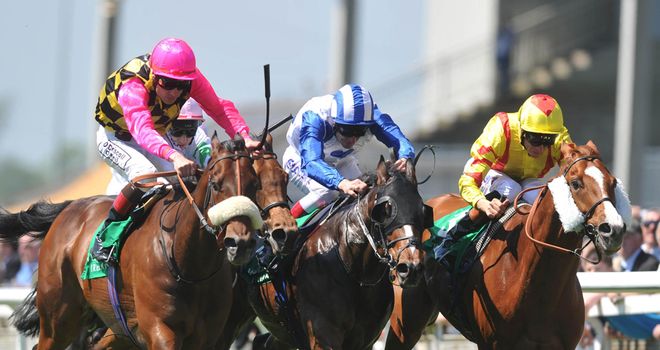 Guy Reed's colours of gold and black check, pink sleeves and cap, were some of the most recognisable in Flat racing, particularly in the north of England.
His silks were carried to victory by a host of smart performers beginning in the 1970s, including Warpath, Dakota, April, Sweet And Lovely, Shotgun, Flossy, Pablo, La Cucaracha and Tiddliwinks.
Among his trainers were Sam Hall, Barry Hills, Chris Thornton and Kevin Ryan while his breeding operation was based at Copgrove Hall Stud, near Harrogate.
"Guy was previously at Nidd Hall Stud and we moved here to Copgrove in total in September 1988," said Hall, who worked for Reed for 35 years.
"Peintre Celebre (winner of the Prix de l'Arc de Triomphe in 1997)
was reared here at Copgrove. He was used a lot on the mares as Guy loved him."
Thornton, who retired in 2010, remembered the smart horses he trained for Reed.
"The biggest day we had would be when Shotgun ran in the Derby and finished fourth behind Shergar when Lester Piggott rode him," he said.
"Shotgun was a good horse, he was second in the Dante, and he won a Listed race at Newmarket."