Graham Cunningham with his latest Breeders' Cup column
Our man trackside at Santa Anita, Graham Cunningham, brings us six observations in his latest Pick 6 column.
Last Updated: 29/10/13 6:33pm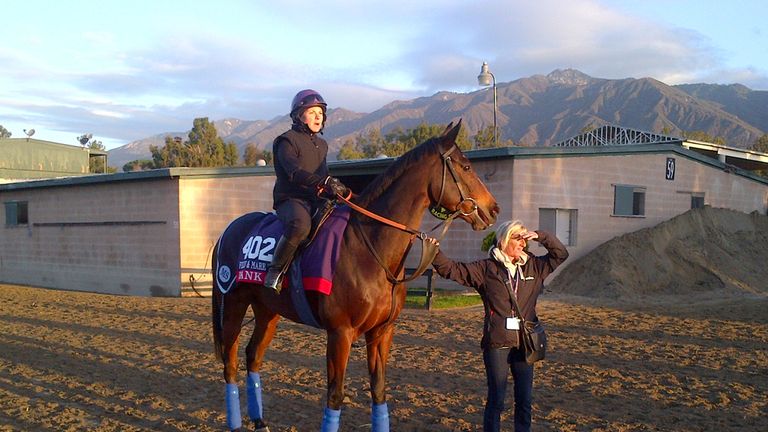 Moore needs to be the Inside Man to gain BC glory
Monday is draw day at the Breeders' Cup.
It used to be Wednesday and then Tuesday but I suspect the organisers felt British reporters didn't have enough to write about so early in the week and decided to bring it forward even further.
Either way, the ballot will have taken place by the time you read this and the Euros didn't have too much to complain about overall.
Wide draws around tight tracks are seldom regarded as a good thing in Europe, but Six Perfections and Goldikova both won the BC Mile from the widest stall of all.
By contrast, an inside draw can lead to significant traffic problems and perhaps the most notable angle from a European perspective relates to the fact that Ryan Moore faces some fascinating tactical conundrums given that his leading fancies Giovanni Boldini, Al Thakhira and Dank are drawn 2, 2 and 1 respectively.
Richard Hughes and William Buick will testify to the dangers of racing hard on the inside after suffering nightmare trips aboard Sky Lantern and The Fugue around the tight turns twelve months ago.
Moore will have plenty of company and possibly some traffic issues to deal with on the rail by the look of things this weekend.
Then again, he skimmed the rail to devastating effect aboard Joshua Tree in Sunday's Canadian International and it will be surprising if he doesn't add at least one winner to his BC tally.
Dank glows in the sun ahead of F&M Turf assignment
Dank may not be the most elegantly named BC candidate but she certainly looked the part when stepping out on to the track for the first time this morning.
Ridden by an exercise rider with Moore yet to arrive at Santa Anita, Sir Michael Stoute's filly looked big, strong and perfectly relaxed after galloping round the outside of the track and completing a couple of circuits of the paddock.
Whether the addition of lasix played a significant part in her improved performance in the Beverly D at Arlington is impossible to say for sure, but a swift look at the video of Dank's commanding performance there marks her out as a very strong contender indeed.
Hills hoping to strike at the first time of asking with Chriselliam
Charles Hills is more than happy with the way his Fillies Mile winner Chriselliam has saddled into her new surroundings ahead of Friday's Juvenile Filly Turf, while fellow European challenger Vorda also looked perfectly relaxed as she left the quarantine barn
Watch GC's video interview with Charles Hills from Santa Anita
The fact that Marco Botti's Rockfel winner Al Thakhira did her exercise at the ungodly hour of 5.15am means she went unobserved by this reporter, but Richard Hannon's Mile contender Olympic Glory cantered at the more civilised hour of 8am along with stablemate Shamshon.
Richard Hannon junior will be on the grounds tomorrow if he survives a lengthy flight on the same plane as ATR's Matt Chapman and will doubtless give the media some punchy quotes as usual.
But is it really wise to think Olympic Glory can peak again just two weeks after his deep ground QEII win under conditions which pose him a very different questions than he has ever faced before.
He does have blinkers again. But he also has the mighty Wise Dan to contend with. And if OG gets the gold medal again this Saturday then I'll be surprised and poorer.
Big Eric hoping for the hammer to fall with Classic longshot Moreno
The Hall of Fame is a cherished concept in American racing and it's high time the Breeders' Cup introduced something similar to honour some of the more eccentric characters who have added colour to the event down the years.
And once the BCHOB (Breeders' Cup Hall of Blame) is created there will surely be a place for Louisiana-born handler Eric Guillot however his star three-year-old Moreno fares in Saturday's $5m Classic.
Guillot is the man who stole headlines by sticking pins in a voodoo doll of rival trainer Todd Pletcher (alright, it was actually a model of the character played by Robert Pattinson in the Twilight films, but let's not split hairs) ahead of Moreno's bid for the Travers Stakes.
More controversially still, Guillot was also the man who followed Moreno's fine second behind Will Take Charge in the Travers behind by making wild and unfounded allegations that winning rider Luis Saez gained an unfair advantage by subjecting the winner to an illegal electronic buzzer close home.
The burly Guillot offered a dramatic public apology to Will Take Charge's trainer D Wayne Lukas at a press conference late on Monday afternoon and went on to outline why he feels Moreno is a live outsider on this sportinglife.com video.
Watch GC's video interview with Eric Guillot from Santa Anita
If you watch the video I suspect you will agree that Eric G looks like a man you wouldn't mess with too readily.
His payoff line when discussing betting the longshot winners he has carved his reputation on is simply "the bigger the hammer the harder it hurts."
I believe you Eric. Oh yes, I believe you.
All is well in Wayne's world of superfectas
Lukas has clearly not forgotten the Eric G incident but is content to "turn the page now" and focus on a weekend which sees him represented by both Will Take Charge in the Classic and Strong Mandate in the Juvenile.
However, Lukas is also a man to note at the betting windows based on his reflections on one recent BC experience.
"I don't usually bet but on Breeders' Cup day I bet with both fists," he said.
"A couple of years ago I boxed seven horses in two dollar superfectas. It cost me $1,680 but I went down to watch the races and ended up $52,000 ahead."
Macho Man in savage form ahead of Classic bid
Just a few final track notes written in glorious sunshine before signing off for Breeders' Cup Tuesday.
Mucho Macho Man looked in superb nick as he bucked his way out on to the main track, while Royal Delta was more relaxed but almost as impressive ahead of her bid to win the Distaff (formerly the Ladies' Classic) for the third year in a row.
John Gosden is expected on track to supervise The Fugue's preparation for the Turf on Wednesday morning, but never mind Big Johnny G.
As I look up from the laptop I see Big Eric G I see coming towards me.
He isn't carrying his hammer - or an electrical buzzer, for that matter - but he is carrying what looks like a bacon and egg sandwich.
You go, Eric.
Back tomorrow as the European presence increases.