Remarkable Tony McCoy rides 4000th winner at Towcester
The remarkable Tony McCoy rode his 4000th career winner when Mountain Tunes won at Towcester this afternoon.
Last Updated: 07/11/13 11:10pm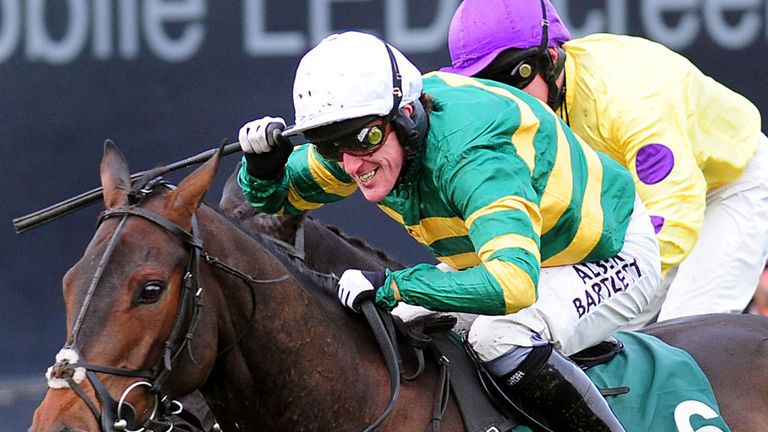 Sent off the 6/4 favourite, Mountain Tunes looked to be struggling on the home turn but gradually closed in upon leader Kris Spin from the second-last flight and under the kind of determined drive that has become McCoy's trademark, he got up in the last strides to score by half a length in the colours of owner JP McManus, with whom so many of his recent successes have been shared.
"It was just amazing, it couldn't have worked out any better," said McCoy, before being showered with champagne by his weighing-room colleagues.
"To do it for Jonjo and the McManus's is brilliant as they've been so good to me. It was always hopefully going to be in JP's colours.
"Racing people are fantastic, they are so pleased for me. I've had the same agent, Dave Roberts, from day one and his dad sadly passed away yesterday so I'd like to dedicate this to him.
"To have Chanelle (wife), Eve and Archie (children) here is great and to do it in the McManus silks means a lot - Eve thinks they belong to me!"
McCoy spoke of his appreciation at the support he had received, saying he was "humbled".
He said: "I'm very lucky I work in a great sport. I get lots of support and work for great people. You only have to look at the amount of people who have come out today and supported me. I feel very humbled by it.
"I don't feel I'm any different to anyone else. I hope everyone in the weighing room doesn't think I am any different after today.
"I've ridden 4,000 winners. I'll try to ride a few more. I'm really proud of what I've achieved and being able to last, one way or another. I'm lucky and proud to have done it."
McManus paid his own tribute to the rider. "I remember when AP first came to ride for us and [ex-jockey and trainer] Christy Roche said to me 'This AP McCoy is getting 7lb - he should be giving weight away'," he said. "Little did we realise then that he'd be riding 4000 winners.
"AP is behind everything that is good. I'm just so pleased and proud that I know him and his family and long may he continue.
"It was very nice that he waited to ride one of mine and I'm chuffed that he did."
Celebrations
McManus announced he would pay for drinks at Towcester so everyone could celebrate.
He said: "I was delighted to have the opportunity to buy a drink for everybody here to toast what AP has done today. I'm very fortunate."
O'Neill said: "He's an amazing man, fantastic, that was brilliant to watch - 4,000 winners or not, that was a brilliant race to watch.
"His pain barrier must be something else, he's been through a lot. He's great with all the staff. He's brilliant at schooling. If one is tricky he'll school it afterwards and show the lads how it's done. Not in a cocky way.
"He's a great ambassador for the whole job. He's never late and is always on time. We've all been in this game long enough to know you've got to enjoy it, we're just lucky enough to make a living out of it. JP's family are just fantastic supporters and love the game. I'm just privileged to have been part of it all."
Chanelle McCoy outlined plans for a party at her husband's pub and that he would be buying a special present for Eve, who turns six on Friday.
She said: "This is incredible. I didn't think he was going to do it. It was nearly too good to be true as his dad is here, his brother is here and Mr McManus is here.
"Our hearts were in our mouths, we'd given up - it was a typical AP ride, definitely. Daddy promised Eve an extra present when he got his 4,000th winner. We've been following Tony around this week, so Eve has had to have this week off school."