Arsene Wenger among those to pay tribute to record-breaking Tony McCoy
Weighing room colleagues and leading sporting figures have been quick to play tribute to Tony McCoy.
Last Updated: 07/11/13 4:39pm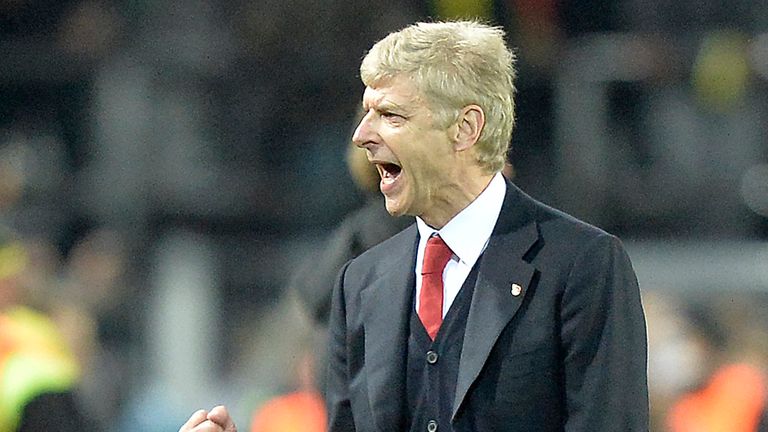 Clare Balding: "AP isn't just the greatest jockey I have ever seen, he is the greatest sportsman I have ever come across. Bearing in mind he has been Champion Jockey for 18 consecutive years and Champion Conditional Jockey before that, he has never not been champion in his career. He has transcended the world of Jump racing and that, for me, is why he is an outstanding all round sportsmen. I feel very fortunate to have watched him throughout his career and that he chose racing. It's hard to sum up how much admiration I have for him, he is an extraordinary human-being and amazingly kind. He is the Champion, has been from day one and will be until the day he finishes - he'll be the best ever. It's a privilege to know him."
Arsène Wenger: "I would like to pass on my congratulations to AP McCoy for reaching this remarkable milestone. He has been at the top of his sport for a very long time - as long as I have been manager of Arsenal Football Club - and that shows fantastic consistency. He has come through a lot of injuries, and has shown great resilience to get to where he is. Everyone at the Club is proud to know that AP McCoy is an Arsenal supporter."
Michael Owen: "He's a phenomenon. To get to the top of your sport is hard enough but to stay there and to stay there for as long as AP has is quite astounding. And to do so in a sport that's very hard mentally and physically - he must have broken every bone in his body and to have done it for so many years is it's just an outstanding achievement. He's an outstanding person and professional and a great ambassador for the sport. To reach 4000 winners is a phenomenal achievement and surely no one will do that again."
Lukas Podolski: "AP is an iron man. To stay at the top of his game for that long shows a will to win that you only find in a true champion. Most importantly of all he is a true Gunner, and I'd like to congratulate him."
Alex Oxlade-Chamberlain: "AP rode his first winner in 1992, a year before I was born and it is incredible to think that he's been riding winners ever since. To reach 4,000 winners is an amazing achievement and to be at the top of his game for so long is something that we all aspire to."
Rod Street, Chief Executive of Great British Racing: "After all he's achieved in racing, AP was already a legend and this latest incredible achievement just confirms his position amongst sport's pantheon of greats. If you were going imagine the perfect ambassador for the sport, you would, only in your wildest dreams, dare to come up with AP - a man whose incredible talent is matched only by his unrelenting will to win and his phenomenal mental and physical toughness. He is the ultimate sportsman but also just an incredibly nice, funny and modest bloke. As a sport, we are incredibly lucky to have him."
Richard Johnson: "What he's achieved has been amazing. He has completely rewritten what we thought was achievable in a season, and a career. Whether it's a Monday, a Saturday or a Festival, he's hungry and consistent every day. He rarely makes mistakes - you would struggle to think of one. He is a machine who turns out winners. He seems to get it right all the time and is a great ambassador for our sport, a true professional sportsman."
Mick Fitzgerald: "It is a huge deal, we'll never see anything like it again. To have achieved this amount of winners in such as short space of time tells its own story and I'd like to offer him my sincere congratulations."
Nick Scholfield: "AP McCoy is absolutely remarkable. I've ridden 300 winners, and to imagine getting to 4,000 is something that really puts it in to perspective. You have to have dreams, and mine would be to ride that many winners, but he has set the bar so high that it's unlikely that any jockey will ever achieve it again. What makes AP all the more remarkable is that he is riding as well today as he was when he first started in the 1990s. He just hasn't deteriorated at all with age, although it would be great if he did as it would give the rest of us a chance!"
Paul Bittar, Chief Executive of the British Horseracing Authority: "It is nothing short of an astonishing achievement for AP McCoy to reach 4,000 winners in a sport which he has dominated for 18 years. He possesses the best qualities a modern day sportsman can aspire to - he is driven purely by a burning desire to win and to exceed the incredibly high standards he sets himself. His quest for success as a rider is his defining characteristic and the remarkable esteem in which he is held by his fellow jockeys and all within the sport is testament to that. To have ridden 4,000 winners is another incredible landmark in a glittering career, adding to those which already set him apart. British Racing is incredibly fortunate to have been blessed with a sportsman of the calibre of AP McCoy."
Paul Struthers, Chief Executive of the Professional Jockeys Association: "On the track AP is simply unbelievable. Unbelievably talented; unbelievably determined; unbelievably competitive and unbelievably tough. However, as driven and committed as he is on the track, he recognises that with success comes responsibility. He is Joint-President of the Professional Jockeys Association and is a strong supporter of PJA schemes that benefit all jockeys equally yet the busiest and most successful jockeys pay more for. He is also a passionate supporter of the Injured Jockeys Fund and is always happy to give up his spare time to help them in any way he can. You can have nothing but the utmost respect and admiration for AP. Everyone at the PJA congratulates him on this truly remarkable achievement. He's one of the most remarkable sportsmen we've ever seen in the United Kingdom and racing will never see anything like it again."