Tony McCoy: The magic man
Everyone will have their favourite McCoy memories and their favourite rides but here are a handful of ours.
By Ian Ogg
Last Updated: 07/11/13 4:39pm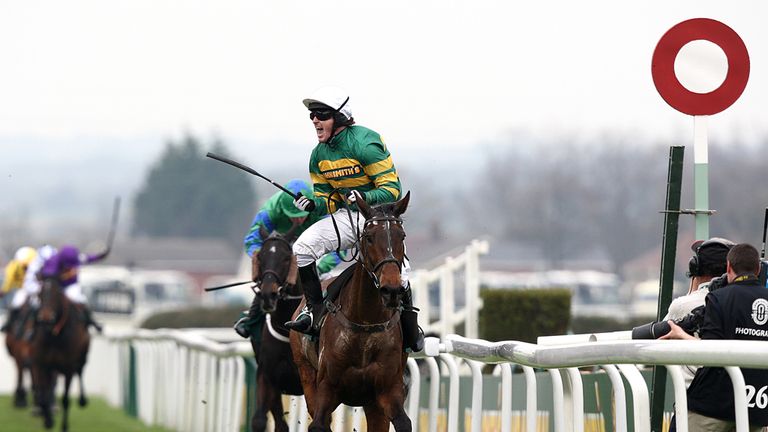 Don't Push It, John Smith's Grand National 2010
It wasn't so much the ride that mattered, it was the result. After 14 previous attempts, McCoy finally won the race that resonates with the Great British public more than any other.
"I've won a few other races nobody knows about," he said, "but everyone on the street knows about the Grand National. It's the people's race and, from a jockey's perspective, that's why it's important. At least I can think that I've sort of done all right as a jockey now."
There were just four runners left in contention with three fences left to jump and once McCoy hit the front at the last, the result was never in doubt ("To be honest, I thought after a mile that I had the race in the bag," he had said) as Don't Push It crossed the line five lengths clear of Black Appalachi.
It was also a first win in the race for the winning owner, JP McManus (who'd had 33 previous cracks at winning this prize himself!) and the winning trainer, Jonjo O'Neill, who had never managed to complete the Aintree course during his career as a jockey.
The careers of the three men are inextricably linked and McCoy was quick to pay tribute: "My trainer put me on the right one if truth be known. I asked him to toss a coin and I think he tossed it a few times until he got Don't Push It.
"I'm delighted for JP as he's the best supporter this game has ever had and ever will have, and I'm very privileged to ride a Grand National winner in his colours."
The last word, though, was saved for Don't Push It and delivered in the typically self-deprecating manner that we have come to expect.
"He's always been a horse with ability and that's what you need for this race. He's a little bit mentally unstable, which maybe is why he gets on well with me, but at times he's shown that he has class."
Watch Don't Push It win the Grand National
Synchronised, Betfred Cheltenham Gold Cup 2012
In a similar vein to Don't Push It, the success of the ill-fated Synchronised has to go on the list as the success was McManus' first in the race and made O'Neill an exclusive member of a club of two - along with Fred Winter - having both ridden and trained a winner of chasing's championship race.
McCoy and Synchronised were arguably made for each other as the Flat bred son of Sadler's Wells was hardly the greatest stylist but he was all heart and never gave up.
"I'm a dreamer," McCoy had told reporters after winning the National. "I'm always dreaming that I'll win every race I'm in," and you can imagine Synchronised saying the same thing as he attempted to keep in touch with the leaders.
He was flat out between the last two fences but kept the gallop up all the way up the hill to pass the post two-and-a-quarter lengths in front of The Giant Bolster with Long Run back in third.
"He doesn't have the physique to be a horse that's going to travel in a Gold Cup, but he's all heart and will to win," McCoy said. "It was just about tagging on to the back of them for as long as I could, and I knew that he was going to come home better than any of them.
"It's crazy to say it, but he's not really a chaser. You only have to look at him to realise that, but I just wanted to get to the other side of the fences as quickly as possible and not ask him too many big questions as far as jumping was concerned. I was niggling, slapping and cajoling him all the way round. I was never going well, but I was never in a position I couldn't win from."
O'Neill was understandably delighted.
"Words can't put it together really," he said. "He's a smashing little horse with the heart of a lion, and I knew going down the back that he had a chance, as so long as he kept jumping he was going to come home. The problem is keeping him up there, and AP really got him motivated."
"There's been some great moments here," McManus said, "but I think this will stand out with the best of them. AP's first winner for me was riding the dam of Synchronised, called Mayasta."
Replay Synchronised's Gold Cup victory
Hennessy, bet365 Gold Cup Chase 2009
Hennessy was not a champion. He finished his career with a perfectly respectable five wins from 25 starts, winning two out of 11 over fences, but his crowning moment in the season ending handicap owed everything to the powers of the perennial Champion Jockey.
The son of Presenting looked an unlikely winner for much of the race and McCoy had to get after the Carl Llewellyn-trained runner from a long way out. Briery Fox had jumped to the front at the last but a typically determined ride saw McCoy and Hennessy edge him out in a thrilling finish.
McCoy, in the process of notching up his 14th consecutive title, was typically understated: "I was just waiting for them to come to me and in fairness, I knew at the second-last he was going to stay on.
"Whether I was going to get there or not I wasn't sure, but I'm delighted for Carl as he's had a tough year and he's one of my best mates so it's great to ride a winner for him."
The winning trainer was a little more effusive in his praise saying: "I thought he [McCoy] was beaten with more than a circuit to go but luckily he had one of his good days - one of the 364 of them!
"At the second-last I thought he had a chance, but the rest of the time he never really got going. The rest of us jockeys could win on the best horses, but he can win on the ones who aren't - and that's the test."
The beaten connections were quick to pay credit too (albeit through gritted teeth!) as Henry Daly commented: "I quite used to like that fellow McCoy! We've run a cracking race and just got beaten. I thought we might have it coming to the last but once we were over it, I could see McCoy coming."
Watch McCoy coming up the Sandown hill on Hennessy
Exotic Dancer, Paddy Power Gold Cup 2006
So many of the rides we remember Tony McCoy for are the never-say-die rides such as Hennessy's but this victory was a reminder that there's so much more to his game than that.
Exotic Dancer had been beaten by a disappointing 28 lengths just five days earlier and was still at the rear of the field at the top of the hill but fairly flew past Vodka Bleu on the hill to win going away by three lengths.
Of course, in hindsight he looked well handicapped off 139 given that he went on to win a Lexus Chase and finish second in a Gold Cup but the horse was far from straightforward as O'Neill revealed:
"He's a funny old horse. We always thought he was good but he's proved disappointing and frustrating - this was only his second win for us. He's had a few problems and fractured his pelvis last year and we left him for the season after that.
"This year he is a stronger horse but is still a bit of a character. When he's good, he's good - it's just that he is not always on a going day. It was AP's decision to drop Exotic Dancer out at the back and come late. Yes, he was a long way behind but with AP in control you have no worries.
"In the end, he got there too soon!"McCoy, as ever, was keen to deflect the attention: "He jumped brilliantly all the way. I told Sir Robert Ogden that he was very disappointing and just didn't finish his race at Carlisle last time and that is why I decided just to ride him today to get him round - if it all went wrong it would be my fault!
"I don't think it was a great ride - I think it just happened. He was more relaxed today. It's always easy on the right horse!"
Wichita Lineman, William Hill Trophy Handicap 2009
Tony McCoy has produced many extraordinary performances but this ride regularly tops the polls for his 'best ever' ride.
The 5/1 favourite, ran in snatches and made at least three serious errors that appeared to end any chance he had of adding to his previous Cheltenham Festival success.
However, McCoy not only kept the partnership intact but also kept Wichita Lineman in touch with the principals. Victory still looked unlikely as Maljimar struck for home turning into the straight but Nick Williams' runner (who traded at 1.06 on Betfair) weakened dramatically on the hill as McCoy made relentless progress to hit the front on the line and win by a neck.
"I knew he'd come home well if I could just give him a chance by keeping close enough," McCoy said. "It only looks brilliant if the horse goes and get you out of trouble from a position like that. It doesn't matter how good you are, if the horse underneath you doesn't want to go.
"You have to get them running and finishing rather than forcing them and then falling in a hole." Asked whether he ever thought the race was a lost cause, McCoy replied simply: "No. There's no such thing."
O'Neill described the ride as 'brilliant'. "I knew when he gave him a few belts at the top of the hill that he had a bit left in the tank - AP wouldn't do that if he had no chance. He's a magic man."
Was Wichita Lineman your favourite McCoy moment? Watch it here