Dave Roberts does not envisage McCoy calling time
Tony McCoy's long-time agent Dave Roberts does not envisage the jockey calling time on his career any time soon.
Last Updated: 08/11/13 7:43am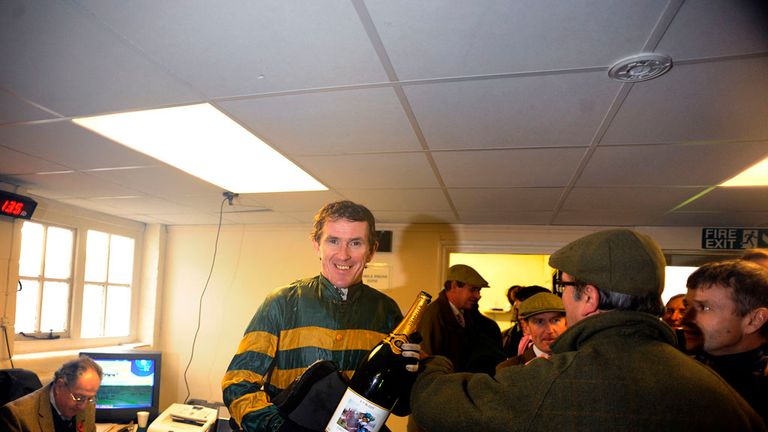 The 18-times champion jockey has been with Roberts since he arrived in Britain in the mid 1990s and dedicated his landmark success to his agent's father, who passed away on Wednesday.
Roberts said: "My father passed away yesterday so this is quite emotional. When he passed the post I ran out to see him and typical of AP, the first thing he said was 'that was for you and your dad'.
"Toby Balding was a big part in the whole thing, he introduced me to Adrian Maguire first and then he told me about AP which was the start of a long relationship which brings us to today.
"From an early stage you could tell he was different in terms of dedication and motivation. The first time I met him was at Plumpton and Adrian Maguire had the first five winners.
"I watched the sixth with him (McCoy) and he said afterwards 'one day I want that to be me'.
"It's not a business, it's a friendship, I have to look after him and sometimes I probably protect him too much, I do with all my jockeys.
"You can never say no to him, the only way he wouldn't go (to a meeting) is if he didn't know about the ride. If I offered him one ride at Ayr he'd go.
"What Mr (JP) McManus (owner) has determines where he goes and 90% of the time AP leaves it up to me if there's a choice.
"I think it's brilliant for racing and being involved makes it more special. I can't honestly believe it (4,000 winners) will be broken - I'll be with my dad if someone does break it. I think he's got a couple of years left in him yet."
McCoy said: "It's very special to do it for lots of reasons. Obviously my wife is here with Eve and Archie (children). JP and Jonjo are here and it means a lot for me to ride my 4000th winner for them.
"My agent Dave Roberts is here. His dad passed away yesterday. He said to me this morning his dad would want him to be here so as much as anything I feel good to make him happy and that his dad is looking down on me, that is very special."