Annie Power plans still open, according to Willie Mullins
Willie Mullins is still keeping his cards close to his chest with regards to plans for unbeaten mare Annie Power.
Last Updated: 06/01/14 8:22pm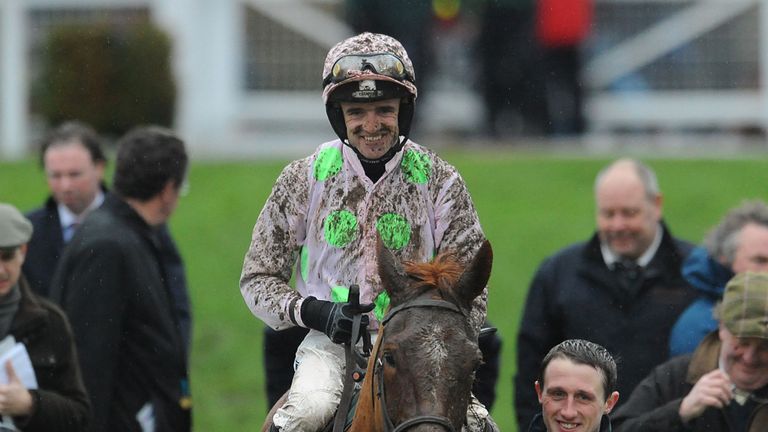 Interviewed on At The Races at Thurles, where he saddled a double, Mullins said he "hadn't looked at anything" regarding a next target for Annie Power since her victory at Cheltenham on New Year's Day.
"We've been busy enough, we've been busy today, we'll be busy enough tomorrow as it's a work day - Wednesday we might start looking at what might be down the road," he said.
"To go out in that wind and rain [at Cheltenham] - especially for a mare as they tend not to like those conditions - was a great performance, but it didn't seem to worry her and she's come home fine.
"She's just growing into herself all the time. She has tremendous girth and such scope. That's what I liked about her, the first day I saw her.
"I didn't dream she would be as good as she is, I thought we wouldd be going chasing this year - I bought her as a chaser, so it's nice to see her being as good over hurdles as she is."
Annie Power is the 9/2 second-favourite behind Big Buck's with Sky Bet for the Ladbrokes World Hurdle, also she's also quoted for the Champion Hurdle and the OLBG David Nicholson Mares' Hurdle with plans still uncertain.
Mullins also had an update on Hurricane Fly, one of just seven entries unveiled on Monday for the BHP Insurance Irish Champion Hurdle at Leopardstown in a little under three weeks' time.
"Paul [Townend] rode him this morning and we just did a one-mile canter with him," said Mullins. "Paul doesn't like to let him get too fresh and he wanted to go on the woodchip with him rather than the sand because it just takes the edge off him.
"On a windy days like this, you'd want to be getting plenty of work into him.
"Despite the fact that he's been a gelding for four years, he's still very hyper and very strong and he retains all of the characteristics of being a colt, although he has learnt to settle a lot better in his races."
Mullins was, however, sounding a fairly cautionary note after the recent injury discovered to Sir Des Champs that has curtailed that horse's season.
"You never know what happens," he went on. "Look at what happened with Sir Des Champs. You'd think the morning after the race you're okay and then two more mornings after the race you'd be clear but these little things can arrive. By the fourth day, you think you'd be all right, but you just never know.
"It's a very small injury but with a horse like him over fences you just can't take a chance. It rules out everything and you just get him right. He'll come back, he's young enough, I think.
"There's a great chance of getting him back for another Grade One race, maybe a Gold Cup, who knows?
"Every morning, you wake up and you're wondering. But as long as they don't mention Hurricane Fly in the morning I don't mind!"