No falling out on Big Buck's - Paul Nicholls
Daryl Jacob's perceived lack of enthusiasm about riding Big Buck's led Paul Nicholls and Andy Stewart to look elsewhere.
Last Updated: 12/01/14 5:21pm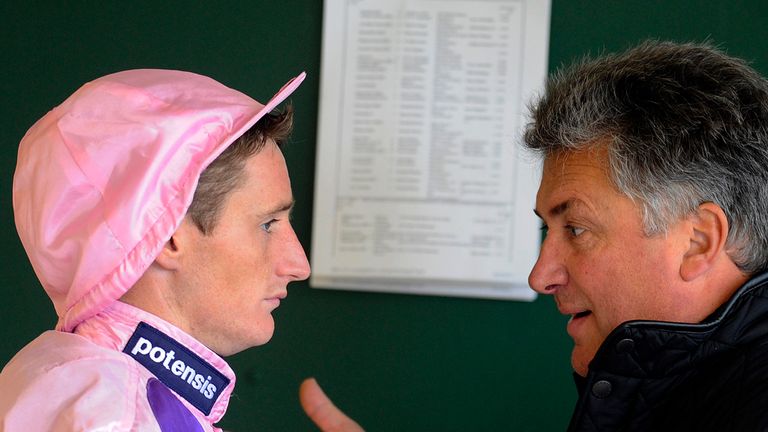 It was revealed at the weekend that Sam Twiston-Davies would partner the four-times Ladbrokes World Hurdle hero when the Andy Stewart-owned 11-year-old returns from an absence of over a year at Cheltenham on January 25, and will keep the ride at the Festival in March.
Big Buck's is unbeaten in 18 races since reverting to hurdling, being ridden in all bar two of those by Ruby Walsh, with Tony McCoy deputising when Walsh was injured.
Walsh is no longer stable jockey to Nicholls, and is now riding full-time for Willie Mullins, with potential World Hurdle rides including Annie Power and Boston Bob. Nicholls said talks with Jacob had left him of the opinion that the latter viewed taking the ride as "something of a poisoned chalice", one that would leave him in a "no-win" situation.
Nicholls wrote in his Betfair blog: "The big question for me was how keen was Daryl to ride the horse? The simple fact is that Daryl has never given me the impression that he was mad keen to ride Big Buck's.
"If he had, then he could have been on the horse in the Cleeve Hurdle. End of story. And with Andy's full blessing and agreement. So there is no need for anyone to feel sorry for Daryl, or read anything wider into this decision.
"Tough and difficult decisions have to be made in this game, and I won't shy away from them. We have obviously been discussing Big Buck's' comeback for a few weeks at Ditcheat and it became clear to me that Daryl had doubts about riding him in the Cleeve, and that immediately put a big doubt in my mind. It was the lack of him being positive more than anything else.
"So we talked it over at length and Daryl explained how he viewed the ride, almost as if he saw it as something of a poisoned chalice. He explained that, in his opinion, Big Buck's was part of a past generation here at Ditcheat - the last remnant of the Kauto Star and Denman era, if you will - that he has never been part of that, and his focus was on the future.
"It was as if he regarded the ride as being in a no-win situation. If Big Buck's won, it was all down the horse. If he lost, and that phenomenal unbeaten run with it, it was down to him. That is no way to approach any race.
"Daryl has his eyes set firmly on horses of the future and that means continuing to ride the likes of Zarkandar, whom he gets on with so well. And if he had committed to Big Buck's, then who is to say that my other owners wouldn't have seen that as a snub.
"So it was his mind-set that actually made up my mind up for me. If there is any negativity or doubt in a jockey's mind, then in my book he effectively rules himself out of the reckoning there and then.
"I then approached Ruby and AP, who have both won on the horse, but neither would or could commit. So myself and Andy talked it over at some length these past few days, and on Friday I rang Daryl and Nick (Scholfield) to tell them of our decision.
"It wouldn't surprise me if Daryl didn't feel a sense of relief at the news. And late on Friday we then told Sam that we would like him to ride the horse.
"For Sam it is a totally different scenario, and in many ways a win-win situation. He is really looking forward to riding Big Buck's, which is what we want."
Nicholls stressed that Jacob was not his retained rider but rather the main jockey at Ditcheat.
He said: "For those who think that this is a big snub for Daryl - and plenty obviously do - then they should read this and think again. There has been no falling out - Daryl will continue to ride for Andy and has the confidence of all our owners - it is just simply that a decision had to be made. And we made it."