My Tent Or Yours to have Champion prep at Wincanton or Sandown
Nicky Henderson plans to run My Tent Or Yours at Sandown or Wincanton in the build-up to the Champion Hurdle.
Last Updated: 15/01/14 4:02pm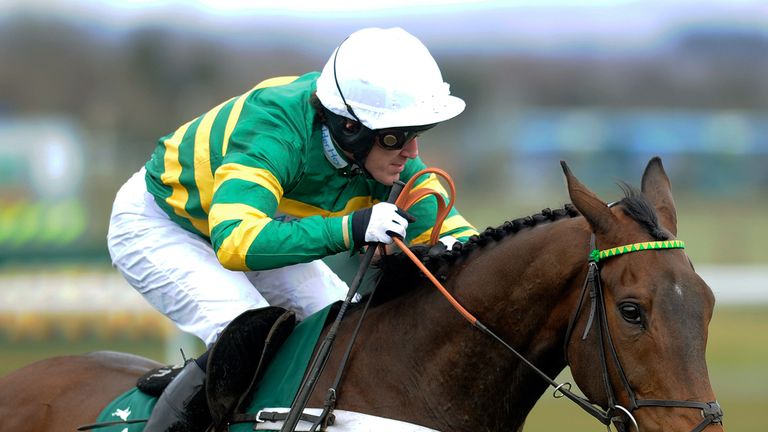 Last season's Supreme Novices' Hurdle runner-up is at the forefront of the betting for the Champion, quoted at 4/1 by Sky Bet, after beating The New One at Kempton on Boxing Day.
But unlike other members of his stable who prefer their races better spaced out - and Henderson singled out Bobs Worth in that respect - the trainer feels that My Tent Or Yours needs another contest to keep him ticking over.
The reigning champion trainer has three entries for the Champion, although he described Grandouet's inclusion as "a fallback option".
"We've got the Arkle in mind for Grandouet," said Henderson. "He could run at Doncaster on Saturday week although I gather Hinterland might go there too, so now the score is two-love to him this season we've rather got to find something more.
"I don't know what happened to Rolling Star at Ascot in the Ladbroke last time other than that the ground was very soft. He seems in good form and I think he's a good horse. I hope he's a good horse.
"My Tent Or Yours will probably run at Wincanton [Kingwell Hurdle] or Sandown [Contenders Hurdle]. I love going to Kelso but I don't think we'll be taking in the Morebattle with him. I'd really love to go but I'm not sure it's really his race. Wincanton is probably the obvious place.
"It's going to be testing, but having said that, everywhere is. You look at the going descriptions for every meeting over the next couple of days and every one has the word 'heavy' in there somewhere. We've got another week of it too, so we'll be pretty quiet.
"He [My Tent Or Yours] can get himself terribly fresh and he is fresh now. He's literally squealing. Which is what I want of course. They're very good, these horses, when they talk to you, because if they're squealing, they're telling you 'I'm feeling well' and if they're not squealing.They do genuinely come out in the morning and let you know straight away how they are.
"When he's very fresh, he can also get very keen in his races and I think without a run, given that he can take a bit of a tug early on, he might just be better with a run. There's a long time between now and March.
"But having said that I'm going to say the opposite about a few other horses and say 'It's not a long time between now and March'. Bobs Worth definitely won't run again before the Gold Cup now."
Henderson also had news of some other members of his elite team, although he was delighted to say he had "nothing to report" about Sprinter Sacre, still on the comeback trail for the BetVictor Champion Chase.
"He's cantering away and there will be no tests or trials or anything for at least another couple of weeks," said the trainer, who also has Captain Conan as a possible Champion Chase contender.
"'Conan' came back a poorly horse from Sandown [when third behind Sire De Grugy in the Tingle Creek Chase]. His blood levels were wrong and his potassium was all over the place.
"We were actually disappointed at Sandown, he came there to win the race and you'd think he was going to, but then to be honest with you, he did tie up quite badly.
"The one thing we would have expected him to do was really gallop on from there and he didn't.
"That's why he's not in this weekend at Ascot. He's not ready for that but he'll be back somewhere. He's still in the Champion Chase picture and he's in the Ryanair too.
"Triolo D'Alene might go for the Argento, or possibly run here [in the Denman Chase]. It might be a useful thing to find out how he goes around Cheltenham, but the Grand National is really the objective. The Gold Cup was rather a speculative entry but as everyone seems to think the Hennessy winner should be in the Gold Cup, I put him in the Gold Cup.
"I hope he's one of three who will go for the National - him, Long Run and Shakalakaboomboom, who is in great form. If we can all get those three all there we might at least start the National with half a chance."