La Estrella suffered a late setback at Southwell
La Estrella suffered a late setback before his bid to equal the record number of 25 victories on the all-weather.
Last Updated: 28/01/14 4:29pm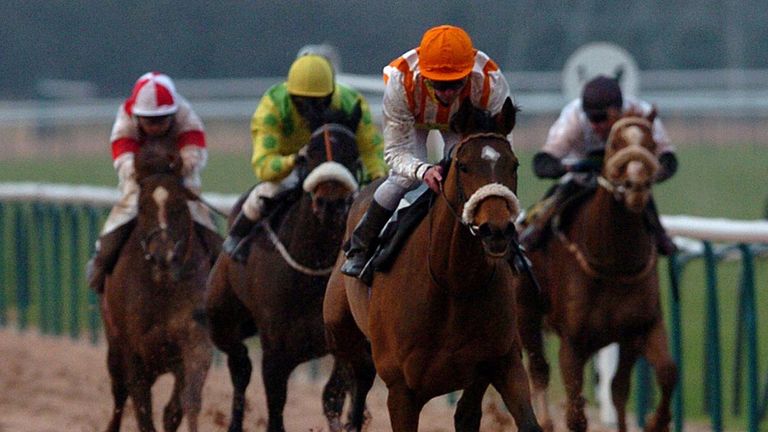 The Don Cantillon-trained 11-year-old, who has also won one race on the turf and over hurdles, got to within one triumph of the standard set by China Castle with a hard-fought success at Lingfield earlier this month.
He had returned to Southwell, where he has registered 15 of his victories, for the Coral Download From The App Store Selling Stakes, but has been taken out of the race at the 11th hour.
Cantillon said: "He's not running. It looks like he's rolled in his box and there's a trickle of blood coming out of his left nostril. The vets are looking at it, but he's very quiet and we're not going to risk running him.
"He'll have a couple of easy days and we'll see how he is, but there's a possibility he'll come back for a claimer here on either the 17th or 18th of February."
Stipendiary steward on the day, Greg Pearson, later announced an inquiry had been opened.
"We have taken evidence from the BHA veterinary surgeon, the senior racecourse veterinary surgeon and the equine welfare integrity officer who identified the horse when it arrived on course," he said.
"The horse was withdrawn by the trainer but it was in conjunction with a veterinary certificate provided by the veterinary officer. In their opinion, in the interests of animal welfare the horse wasn't in a fit manner to participate.
"There will be a report forwarded to the London for further investigation. There is nothing to suggest anything untoward has taken place. The two veterinary surgeons say the injuries are consistent with the horse rolling in its box."