Guineas fancy Kristale doing well
Lucky Kristale is set to have a racecourse gallop at Newmarket before going for Classic glory in the QIPCO 1000 Guineas.
Last Updated: 31/01/14 10:56am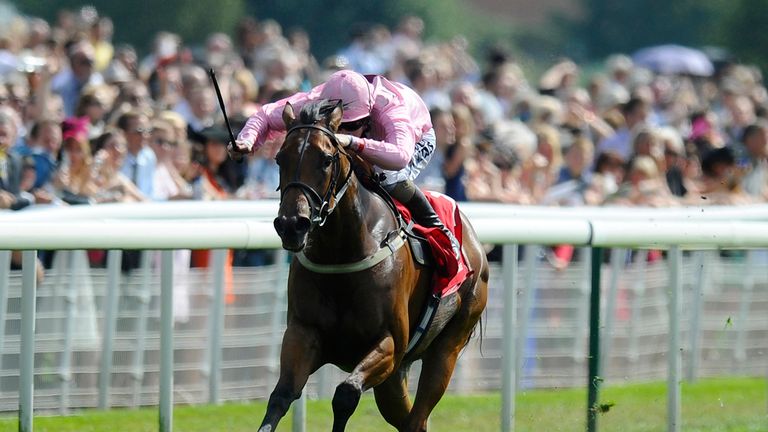 Trainer George Margarson has already cleared it with officials at Headquarters for a workout during the Craven meeting in April.
The Newmarket handler reports Lucky Kristale to be well-forward in her preparation for the fillies' Classic on May 4, but has warned he would consider pulling her out of the Guineas if he felt the ground was too soft.
The daughter of Lucky Story was a leading juvenile in 2013, winning two Group Two events - the Duchess of Cambridge Stakes and the Lowther Stakes. However, she was denied a crack at the Group One Cheveley Park Stakes at Newmarket in September because of a dirty scope.
"She's very well and is probably ahead of where I want her because I got her going a bit early as I thought we might get a bit of snow and bad weather," said Margarson.
"Up to now she hasn't missed a day. We trotted her all through December and she started cantering in early January. She's well forward and touch wood everything's going well.
"We're training her with the Guineas in mind. We'll worry about the weather when we get there. If it did end up being a year when it was very wet she would have to skip it.
"She probably wouldn't run if the ground was worse than good to soft. Most of the fillies ran on good to firm ground all last year.
"The way she quickens up she wouldn't want too testing ground, especially over a mile which is an unknown with her.
"She settles well and I think she'll get the trip. Tom (Queally) is quite confident, so we'll just have to keep our fingers crossed we can get her there in one piece.
"If everything goes right she'll have a racecourse gallop at the Craven meeting. I've already spoken to the racecourse and they are quite happy about that.
"I don't see the point in giving a penalty away in conditions races (as a prep run). There is nothing to gain and she is an easy filly to get fit - she won first time out last year.
"This will be a day out for her and take the freshness out of her."