Dual options for major players with many horses still multiply engaged at Cheltenham
Faugheen, Briar Hill, Kings Palace, Red Sherlock and Deputy Dan all remain in both the Neptune and Albert Bartlett.
Last Updated: 19/02/14 1:00pm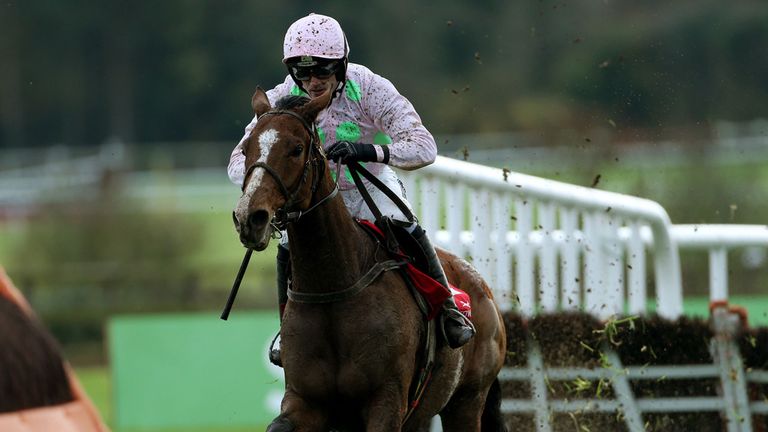 There are 73 horses left in the Neptune (two miles five furlongs) and 59 still in the Albert Bartlett with plenty of dual entries including the prominent quintet.
The Tullow Tank remains in the Neptune along with Royal Boy, Un Temps Pour Tout, Rathvinden and Sure Reef.
All the leading hopefuls remain in the Albert Bartlett too, including Captain Cutter and Champagne West - both of whom also remain in the Neptune.
Neptune Investment Management Novices' Hurdle
ABBYSSIAL (IRE)
ART OF PAYROLL (GER)
ASHES HOUSE (IRE)
BALLYALTON (IRE)
BRIAR HILL (IRE)
CAPTAIN CUTTER (IRE)
CAROLE'S DESTRIER
CHAMPAGNE WEST (IRE)
COCKTAILS AT DAWN
COGRY
COLE HARDEN (IRE)
COMPANY COMING (IRE)
CREEPY (IRE)
CUP FINAL (IRE)
DEEP TROUBLE (IRE)
DEPUTY DAN (IRE)
DIAMOND KING (IRE)
DON POLI (IRE)
DOUBLE IRISH (IRE)
FAUGHEEN (IRE)
FENNELL BAY (IRE)
FOURTH ACT (IRE)
GILGAMBOA (IRE)
GILT SHADOW (IRE)
KILLALA QUAY
KINGS PALACE (IRE)
KNOCK HOUSE (IRE)
LAC FONTANA (FR)
LEGACY GOLD (IRE)
LIEUTENANT COLONEL
MADNESS LIGHT (FR)
MIDNIGHT THUNDER (IRE)
MINELLA FORU (IRE)
MOONSHINE LAD (IRE)
NOBLE ENDEAVOR (IRE)
OSCAR HOOF (IRE)
PINK HAT (IRE)
PLEASANT COMPANY (IRE)
PORT MELON (IRE)
PRINCE SIEGFRIED (FR)
PRINCE OF LOMBARDY (IRE)
QUICKPICK VIC (IRE)
RACING PULSE (IRE)
RATHVINDEN (IRE)
RED SHERLOCK
REGAL DIAMOND (IRE)
RENNETI (FR)
RIVER OF TIME (IRE)
ROLL IT OUT (IRE)
ROYAL BOY (FR)
ROYAL PLAYER
ROYAL REGATTA (IRE)
SEA LORD (IRE)
SEEDLING
SHANAHAN'S TURN (IRE)
SKY KHAN
SPIRIT OF SHANKLY
SPLASH OF GINGE
STELLAR NOTION (IRE)
SURE REEF (IRE)
TARA ROAD
THE TULLOW TANK (IRE)
THREE KINGDOMS (IRE)
TIMESREMEMBERED (IRE)
TWELVE ROSES
UN ACE (FR)
UN TEMPS POUR TOUT (IRE)
UPAZO (FR)
URANO (FR)
URTICAIRE (FR)
VALSEUR LIDO (FR)
VAUTOUR (FR)
VIEUX LION ROUGE (FR)
Albert Bartlett Novices' Hurdle
AKLAN (IRE)
APACHE JACK (IRE)
ASHES HOUSE (IRE)
BLAKEMOUNT (IRE)
BRIAR HILL (IRE)
CALEDONIA
CAPTAIN CUTTER (IRE)
CAROLE'S DESTRIER
CHAMPAGNE WEST (IRE)
CLONDAW COURT (IRE)
COGRY
COLE HARDEN (IRE)
COMPANY COMING (IRE)
CYRIEN STAR
DEPUTY DAN (IRE)
DIAMOND LIFE
DOING FINE (IRE)
DOUBLE IRISH (IRE)
FAUGHEEN (IRE)
GILT SHADOW (IRE)
KAKI DE LA PREE (FR)
KINGS PALACE (IRE)
KNOCK HOUSE (IRE)
KRIS SPIN (IRE)
MADNESS LIGHT (FR)
MASTERS HILL (IRE)
MOONSHINE LAD (IRE)
MOSSPARK (IRE)
MOUNTAIN TUNES (IRE)
MOYLE PARK (IRE)
NOBLE ENDEAVOR (IRE)
PERFECT GENTLEMAN (IRE)
PLEASANT COMPANY (IRE)
PORT MELON (IRE)
POTTERS CROSS
PRINCE SIEGFRIED (FR)
RATHVINDEN (IRE)
RED DEVIL LADS (IRE)
RED SHERLOCK
REGAL DIAMOND (IRE)
RENNETI (FR)
RIVER OF TIME (IRE)
ROYAL BOY (FR)
RYDON PYNES
SAINT ROQUE (FR)
SAUSALITO SUNRISE (IRE)
SURE REEF (IRE)
TARA ROAD
THE JOB IS RIGHT
THUNDER AND ROSES (IRE)
TIMESREMEMBERED (IRE)
UPAZO (FR)
URANO (FR)
URBAN HYMN (FR)
URTICAIRE (FR)
VALSEUR LIDO (FR)
VAUTOUR (FR)
VERY WOOD (FR)
WOUNDED WARRIOR (IRE)