Sire De Grugy pleases in Plumpton gallop
The Champion Chase favourite Sire De Grugy was put through his paces in a racecourse gallop at Plumpton by Jamie Moore.
Last Updated: 24/02/14 3:27pm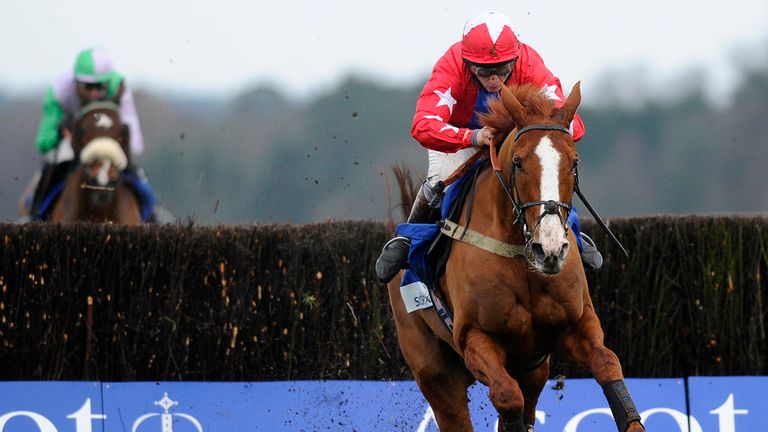 The eight-year-old had emerged as the biggest challenger to the reigning champion Sprinter Sacre with victories in the Tingle Creek, Desert Orchid Chase and Clarence House and took over at the head of the market for the Festival showpiece when Sprinter Sacre was ruled out on Sunday.
Gary Moore opted to take the My Risk gelding to Plumpton for a workout ahead of racing on Monday and son, Jamie, told At The Races that he was delighted with how it went.
"He's had a nice canter, he's gone a mile and a half and he's gone nicely in it, he's picked up all the way," he commented.
"He's where we want him you know. He switches off nice, you get to turning in and, bang, he's on the bridle. He lights up when he sees a fence and I'm pleased with where we've got to with him.
"He is looking well, he is pretty fit, as fit as what he needs to be anyway. He would have needed that a little bit today and that should bring him on to be spot in a couple of weeks time.
"He was here to do a job but we've gone a good first canter up to the line and we've had a good proper blow. He's always very professional and I was pleased with him today.
"It's unfortunate for them [Sprinter Sacre's connections] but it's handy for us but we've still got plenty of other horses to beat; we're only worrying about our horse and hopefully we've got a good chance."
Sire De Grugy's sole defeat in five starts this season came at Cheltenham causing connections to worry that he didn't act at the track but they have since revised that opinion although Moore revealed that they did decide to head to Plumpton rather than Kempton in order to give him more experience of going left-handed.
"We thought Plumpton would be ideal because it's undulating and left-handed. I've always thought he was okay left-handed and it doesn't worry me," the jockey added.
"Hopefully we can get him there in one piece and he'll give a good account."