The Hollinwell is set to return to the Cheltenham Festival in the Foxhunters
Former Ferdy Murphy inmate The Hollinwell could be aimed at the Foxhunter Chase at the Cheltenham Festival.
Last Updated: 25/02/14 1:29pm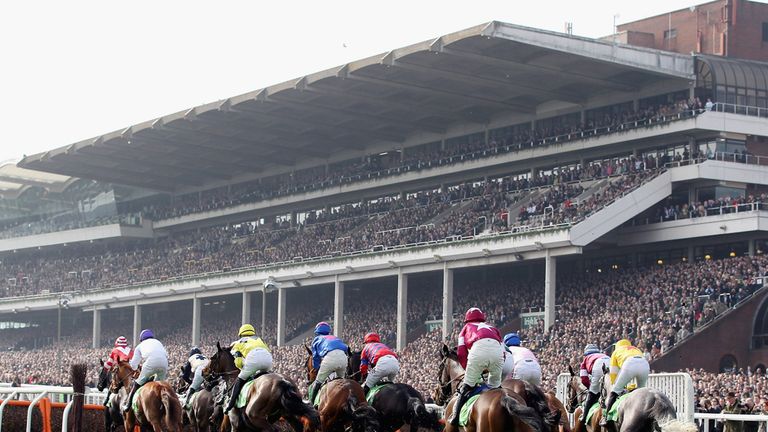 It is 23 years since the County Cork-based trainer claimed the prestigious event with Lovely Citizen and he has had a number of horses, including 2008 third Arctic Times, run well in the race since.
The Hollinwell, who made two previous visits to the Cheltenham Festival when trained by Ferdy Murphy, has been one of Ireland's leading point-to-point performers since joining O'Sullivan last year, winning four times from nine starts.
On each occasion he has been ridden by the trainer's 17-year-old son, Eoin, including when bolting up at Kildorrery last Sunday, and the teenager will keep the ride at Cheltenham if the 11-year-old gelding makes the cut.
O'Sullivan snr said: "He's a lovely horse and he does everything very, very easily.
"It's difficult to know how good he is as we don't do a lot with him at home. He has run plenty and he just goes round the roads during the week.
"Last Sunday was our local point-to-point, so it means a lot to us to have winners there and we were delighted.
"We've entered him in the Foxhunter. Whether he'll get in or not, I don't know, but if he does we'd be keen to go.
"We're taking Scorpiancer over anyway to the sales on the Thursday of Cheltenham.
"He won very easily first time out at Kildorrey last weekend, so hopefully there'll be a good bit of interest in him. If we're taking him over, The Hollinwell might as well join him in the box.
"Eoin has had five winners since he started off in September and four of those have been on The Hollinwell.
"He came in nearly crying the first day he rode him as he knew he should have won and then he would have won the second day, but he got unseated at the last.
"Another day he got beaten as the horse's bloods were wrong. I shouldn't have run him that day, so he should have been nearly unbeaten.
"He hasn't come up against a really good horse yet, but the two things we have in our favour is that he's winning very easily all the time and I'm pretty sure he'll be better on better ground.
"Winning at Cheltenham so early in your career isn't a good thing in some ways, as you think you're going to do it again straight away.
"It's 23 years ago now and I just hope this horse can go to Cheltenham and be competitive."