Teaforthree team not expecting miracles
Nigel Roddis, part-owner of Teaforthree, expects his jumping to come to the fore in the Betfred Cheltenham Gold Cup.
Last Updated: 04/03/14 10:50am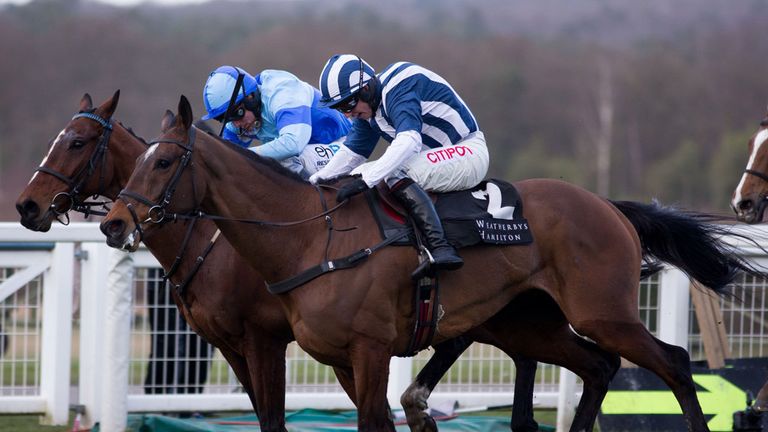 The 10-year-old is a leading contender for the Crabbie's Grand National after finishing third in the race last year and had been expected to head straight to Aintree following his second place at Ascot last month.
However, trainer Rebecca Curtis is keen to get another run into her charge and Roddis believes the Gold Cup represents the best option for Teaforthree, who is nicknamed Tom at home.
He told his www.lovetheraces.com blog: "As Rebecca has said on a few occasions, he is a big, stuffy type who needs racing to get into peak shape. The more we thought about it, the more we felt uncomfortable about Aintree being his third run of the season, on the back of a seven-week break.
"So, we decided he needed to have another run. He went up to a mark of 153 after Ascot, so all that he could run in were the Festival Handicap, the Gold Cup, a race at Kelso a week after Cheltenham or a spin over hurdles.
"I don't like the latter as an option. Tom is too good a jumper to have his head screwed around with by hurdles. Kelso is too close to Aintree.
"The Festival Handicap will have 24 runners, Tom would be giving weight away to the majority and the prospects of shenanigans will be intensified in that environment. Then there's the Gold Cup.
"We asked AP McCoy what his view was. He thought it would put him spot on. We agree. So he's likely to line up on the Friday.
"I think he is an old-fashioned chaser and I think he will enjoy the Gold Cup and come on for it. I have no visions of him winning, but I do think his jumping will help him through and may unsettle one or two others."