Last Instalment cleared to line up
Trainer Philip Fenton's team have been cleared to take part at Cheltenham - but Last Instalment needs soft going.
Last Updated: 06/03/14 9:52am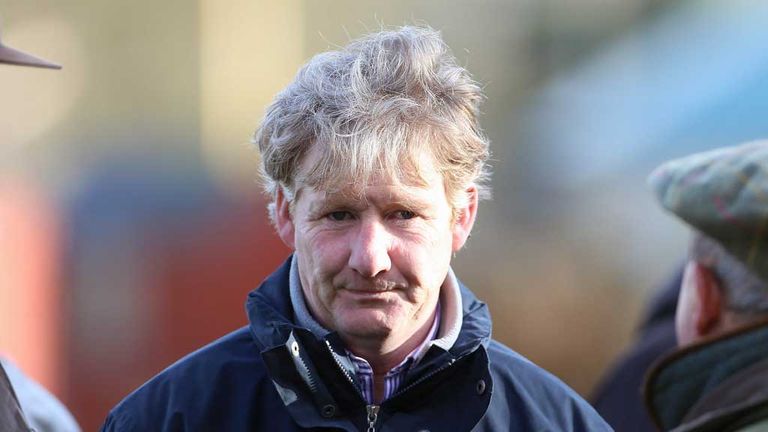 Fenton is facing a number of charges in Ireland in relation to possessing unlicensed substances, including anabolic steroids, following a visit by the Department of Agriculture, Food and the Marine in January 2012, with his case adjourned until March 20.
Following consultation with the Irish Turf Club, BHA officials visited Fenton's yard last Wednesday, with samples from his horses collected and fast-tracked for testing at HFL Sport Science, Newmarket.
The BHA also interviewed the Carrick-on-Suir handler, and said its investigation "found no evidence that Fenton's Cheltenham-entered horses have been administered with anabolic steroids".
However, the Gigginstown House Stud-owned Last Instalment has a history of leg problems, and connections have stressed the Irish Hennessy hero must have suitable ground conditions to take his chance in the blue riband.
The ground at Cheltenham was officially reported as soft, good to soft on Wednesday afternoon, and Gigginstown's racing manager Eddie O'Leary said: "This horse will not run unless the ground is soft. There is a bit of rain forecast next week and we're hoping it materialises."
O'Leary added of the BHA verdict: "We fully expected this decision to be reached.
"We've been very happy to assist the BHA and the Turf Club in reaching this decision.
"What we hope now is that this has cleared everything up.
"We would never tolerate any of our horses being given any illegal substances and we are happy in the knowledge that Philip never gave our horses illegal substances.
"Hopefully, this has cleared it up and we've been happy to assist both the BHA and Turf Club in doing so."
A BHA statement read: "After a process of gathering all available information, which included testing of the horses with Cheltenham entries, an interview with the trainer, liaison with the Irish Turf Club, and analysis of the location and testing histories of the horses, BHA has found no evidence that any of the horses in question have been administered with any substances which would be considered prohibited for an in-training test.
"Therefore, on the basis of the evidence gathered and the legal advice obtained by BHA, the horses Dunguib, Last Instalment and Value At Risk have been cleared to take up their Cheltenham Festival entries."
BHA chief executive Paul Bittar said: "Our objective upon hearing about the charges faced by Philip Fenton was to maintain the integrity of, and ensure public confidence in, the relevant races at the Cheltenham Festival.
"Hence, the priority was to obtain all available information to inform our decision as to whether there was a justified and justifiable concern that any of the horses trained by Fenton had been administered with anabolic steroids.
"The findings of this investigation have not given us a reason to believe that any of the Fenton-trained horses entered for Cheltenham have been administered with performance-enhancing substances. Therefore there was no basis, legal or otherwise, on which to prevent the horses from running.
"Our investigation included testing of the horses with entries for Cheltenham, using both blood and hair screening methods. This testing was fast-tracked at HFL Sport Science, Newmarket, and the tests showed no presence of anabolic steroids or anything else untoward.
"These facts were further supported by the individual circumstances surrounding each horse, including their training and testing histories, as well as the interview which took place between members of our Integrity team and Fenton.
"While being respectful of the ongoing legal proceedings that Fenton remains subject to in Ireland, the team responsible for this investigation gathered all of the available evidence efficiently and effectively. This is now a matter for the Irish criminal justice system and the Irish Turf Club, with which we have coordinated throughout.
"The misuse of medication and the threat posed by the use of performance-enhancing drugs are matters we treat very seriously. In addition to doubling the scale of our testing-in-training programme, we are progressing and will soon publish the findings of a report commissioned to establish standards in Britain which exceed the newly accepted minimum international standards in these areas."
Fenton, 49, said last week he would assist the BHA "in every way".
After the case was adjourned following a brief hearing on February 20, owner Barry Connell announced he would not run any of his horses based with Fenton at Cheltenham, headed by dual Grade One-winning novice hurdler The Tullow Tank.
In addition to Last Instalment, Fenton has former Champion Bumper winner Dunguib and a contender for this year's renwal of that race in Value At Risk engaged at Cheltenham.
Last Friday the Irish Turf Club said it is to significantly enhance its drug-testing regime from next January.
The Turf Club is also "watching with interest" after Pat Hughes was named as a second trainer facing court charges related to the alleged possession of substances contrary to regulations.
Hughes appeared in Carlow District Court on February 13 and his case was adjourned until May 8.