Simon Claisse has watered the New Course at Cheltenham
Simon Claisse has watered the New Course at Cheltenham to ensure that the ground was no quicker than Tuesday.
Last Updated: 13/03/14 11:41am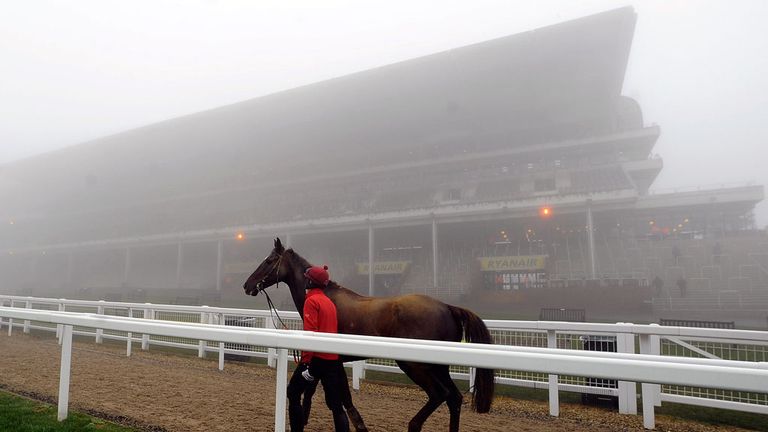 Foggy conditions enveloped Cheltenham Racecourse this morning but the fog is expected to lift at around noon.
Simon Claisse, Regional Director of Racing, South West & Clerk of the Course, Cheltenham, said at 10am: "The fog has got worse since 5am but all the forecasters are saying it will be gone by noon.
"We are forecast a nice afternoon with sunny spells. We have a moved a mile and a half of rail overnight as we go from one course to another.
"We took the decision after racing yesterday to put a little water on parts of the the New Course just to make sure the ground for today was no quicker than it was on Tuesday, and obviously we have to get through tomorrow as well.
"I have left the going on the New Course as Good, Good to Soft in places, having watered the majority of the round circuit but not the seven furlongs of the shute. We put on between three and five millimetres of water. That is like an hour or two of relatively light rain.
"The dew slows the drying out of the course. Despite not being overly warm, the ground has been slowly drying out . We have not had any rain for 10 days now," he added.
The GoingStick reading was 7.0 at 10am.
There are five non-runners so far and they are Lie Forrit (2.05), Cantlow (2.40), Mala Beach (3.20), Carrickboy (4.00) and Dursey Sound (4.40).