Jason Maguire is reported to be in "good form"
Jason Maguire is reported to be in "good form" after being discharged from hospital on Thursday afternoon.
Last Updated: 21/03/14 1:20pm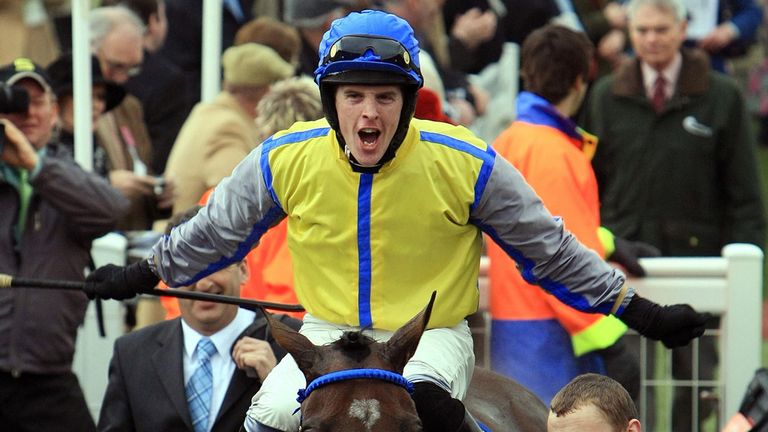 The Grand National-winning rider was unseated from Scots Gaelic at the second flight in a two-mile handicap hurdle at Stratford on Monday of last week and kicked in the stomach by another horse, ruling him out of the Cheltenham Festival.
Maguire was airlifted to University Hospital Coventry, where X-rays revealed he suffered a fractured sternum and bleeding on his liver, undergoing an operation to have part of it removed.
Earlier this week Maguire was moved to Gloucester Hospital to be closer to his family and will now complete his recovery at home.
Maguire's agent Chris Broad said: "I've spoken to Jason this morning and he sounds in good form.
"He was discharged from Coventry earlier in the week and moved to Gloucester and although he is now at home, they will obviously be keeping a close eye on him.
"He is as light as he's ever been and quite weak, so it is going to take time for him to build himself back up again.
"He said he slept well last night and I think it will do him good to be back at home.
"He does want me to tell everyone he was superbly looked after in hospital and was given top-notch care.
"I'm sure he'll be getting lots of visitors, but as I said to him, he just needs to take things steady. There is no update regarding when he might be back riding.
"He is going to have to keep seeing the specialist who did the operation on him and see how things progress.
"If you break a limb it is a bit easier to say when you might be back, but with an internal problem like this it's difficult to put a timescale on it.
"He's not going to suddenly start riding out again, but he is going to make a full recovery and will be back race-riding, hopefully sooner rather than later."