Jockey Jason Maguire on the mend following bad injury
Jason Maguire showed he is on the mend by attending Cheltenham races on Thursday as he recuperates from injury.
Last Updated: 17/04/14 3:04pm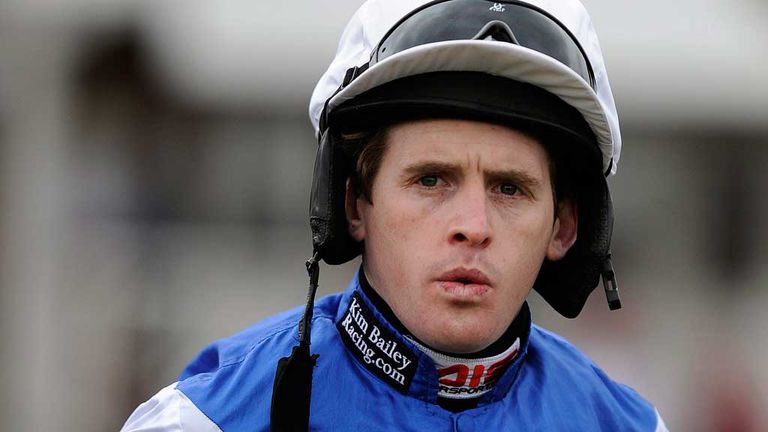 The Grand National-winning rider was badly hurt when he was unseated from Scots Gaelic at the second flight in a two-mile handicap hurdle at Stratford on the eve of the Festival and was kicked in the stomach by another horse.
Maguire was airlifted to University Hospital Coventry, where X-rays revealed he suffered a fractured sternum and bleeding on his liver, undergoing an operation to have part of it removed.
He was later moved to Gloucester Hospital to be closer to his family before being allowed to complete his recovery at home.
"I'm good now. It's been five weeks. I'm feeling well. I've got a good, old scar on my chest and there are a lot of stitches still in there that will dissolve," he told Racing UK.
"It will still take a bit of time to heal but it's gone as well as I could expect. Everyone was brilliant and I'm thankful for all the support and the staff at Coventry were second to none. They couldn't do enough and the doctors on the course at Stratford that day were brilliant.
"A quarter of my liver had to be taken off. I lost three litres of blood that day.
"I'm looking to getting back sooner rather than later, but I'll have to stay on the sidelines a bit longer. Donald's (McCain) horses are flying.
"I'll speak to Dr Pritchard in about a week or so and see what he recommends.
"I did get a bang in my back as well. Whether I need to do something with that I'll have to see. I don't know how long I'll be out. I did have a major operation and things have to settle down inside. I'm on the mend anyway."