Lydia Hislop reviews the key Flat action on her Road to the Classics
By Lydia Hislop
Last Updated: 22/04/14 12:19pm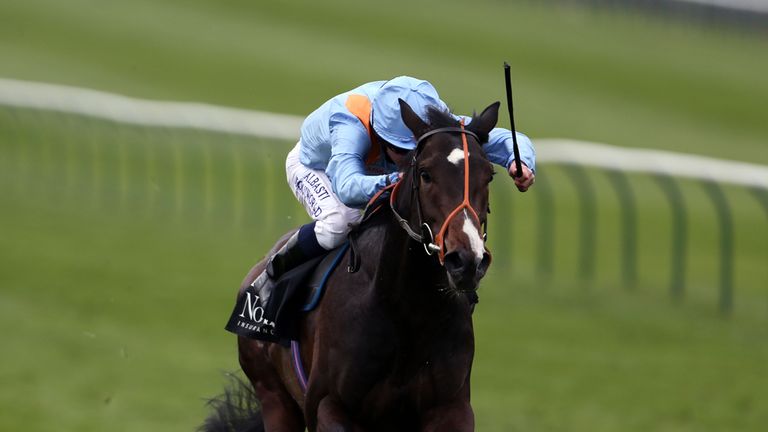 Less is usually more in my book when it comes to racing's major Festivals. For others, only when there is a 2m 6f Grade One "championship" race (for grey 5yo+ mares trained in the south-west only) will all angles truly have been covered at the Cheltenham Festival.
Yet it struck me at Newmarket last week that resurrecting the three-day Craven meeting would be a welcome luxury. It was reduced to two days in 2007 in an attempt to "maximize attendances and television and sponsorship revenue". The previous year, Channel 4 had ceased to cover the meeting, having previously reduced their broadcast from three to two days.
We're left with two eight-race cards, undeniably weighted towards three-year-olds while older horses barely get a look in. Clearly, the classic generation needs all the opportunities it can get at this time of year – as the over-subscription at a constrained Newbury and scheduling of an additional race at Nottingham recently demonstrated.
Yet, as a racing fan, I'd like a bit more variety during the Craven meeting. Last Wednesday, all bar one race was restricted to three-year-olds; in total over the two days, 12 of the 16 contests were. Half of the races were for largely or completely unraced horses.
That's a bit samey and not everyone's betting or viewing bag. (And don't even get me on to the subject of sales races, sucking horses from the Pattern for a prize that owners have already bought mostly themselves.)
There may be turf-management and cost-effectiveness issues to debate, but I'd like to see a return to six or seven races per day and a small sprinkling of good-quality handicaps for older horses added. But enough idle dreaming: back to the job at hand.
---
The primary match in the Craven never materialised, with Silvestre De Sousa emitting dissatisfaction on Be Ready within the first three furlongs. His mount could not respond to his urgings and was later diagnosed with atrial fibrillation – the same condition that afflicted Sprinter Sacre this jumps season.
The same heart specialist, Professor Celia Marr, is treating Be Ready and updates on Godolphin's former chief Guineas hope are keenly awaited, but he certainly won't have recovered within 11 days.
Be Ready's problem left The Grey Gatsby to put it to Toormore as best he could but he never managed to fluster the unbeaten colt, who won while conceding 3lb to all bar well-beaten stablemate, Anjaal. He also saw out the mile well, which had been a doubt in my mind beforehand.
Toormore's time stood comparison with those of his elders in Group Three races either side of his own. There was something left to work on in terms of his physical appearance, as you would expect for a seasonal debut, according both to the objective eye and testimony of trainer Richard Hannon.
All in all, he emerged with his reputation enhanced and represents the most solid threat – as things stand – to Kingman. He, unlike that horse, will assuredly love fast ground.
That said, 'good-to-firm' ground (note: not even 'firm') is heading for the endangered list given Michael Prosser, Newmarket's director of racing, watered during the Craven meeting on ground the clock said was 'good'. Whatever the vagaries of the wind, the going was not nearing good-to-firm on the first day. This was a worrying development for the fast-ground horse.
With Be Ready off games, this is now a prime opportunity for Godolphin to change their running plans for True Story and let the understudy play in the Guineas. He bombed through the Feilden, impressing in both his manner and comparative time.
True Story bombed through the Feilden, impressing in both his manner and comparative time. In fact, he was the most impressive winner of the past seven days. What's wrong with using the Guineas as your route to the Derby anyway?
True Story
The ninth furlong was not the key to his utter dominance. He did not lack pace and handled the Dip readily. In fact, Toormore included, he was the most impressive winner of the past seven days.
He might stay the Derby trip. I'd be sure about him getting ten furlongs and, on balance, wouldn't field against him staying 12 furlongs but I wouldn't be confident either. Therefore, a return to Newmarket is the logical next move. What's wrong with using the Guineas as your route to the Derby anyway?
The only blot on True Story's copybook is how reluctant he was to load into the stalls last week. 2000 Guineas day will be a whole load more perturbing than Newmarket on a Wednesday and Derby day something else again. Does he have the requisite nerve?
Obliterator was made verb by True Story. He was the clear second best, eased down late, but is clearly not good or pacey enough for the Guineas. The also-rans were.
Shifting Power scrambled home ahead of Mushir in a Free Handicap that third-placed Aeolus (without Group entries) looked unlucky not to have won. None of those horses is good enough for the Guineas.
(As an aside, this race is begging for reinvention. The Free Handicap used to be a puzzle that occupied a racing brain all winter. It can and should be again.)
During the roaring success that was the inaugural All-Weather Championship at Lingfield last Friday, Ertijaal beat a fellow fast-improver in Passing Star. Both are good horses but Ertijaal needs to prove he is as effective on turf (which he probably is) and capable of improving over an extra furlong (which he may not be.)
Both Johann Strauss and God Willing seriously fluffed their lines last week. Forget about 'em.
Meanwhile, Noozhoh Canarias's trainer, Enrique Leon, did the talking for his horse. The Spanish trainer is based in Madrid and has worked in Britain for James Fanshawe – even riding Soviet Song – and David Loder. His horse will be Spain's first runner in a British classic, buoyed as their racing industry was by Equiano's first King's Stand Stakes win in 2008.
Noozhoh Canarias was a battling second over seven furlongs in the Group One Jean-Luc Lagardere last October on ground far softer than ideal. He's a hard-puller and may end up leading in the Guineas as a result – hard tactics to pull off unless you're Frankel.
---
---
Sandiva was the highest rated filly in the Nell Gwyn and duly won with more authority than the half-length margin suggests. Wearing a sheepskin noseband for the first time, helping her to settle from a wide draw, she took control inside the final furlong and then kept on well, always holding her pursuers.
Trainer Richard Fahey is concerned about the extra furlong of the Guineas, given she didn't last home on soft ground in France last October, but she is six months' stronger now and her pedigree is not without hope. However, she does need to improve for the trip and not merely stay it.
Runner-up Euro Charline met with traffic, ran well for a relatively inexperienced horse on her turf debut and is entered in the Irish 1000 Guineas. She may not improve for a mile, though. Silvestre De Sousa seemed please by Majeyda's third, predominantly because she is comfortably the inferior of stablemate, Ihtimal.
Of the other Guineas entries – Along Again, Blockade, Dorothy B, Folk Melody, Lamar, Majeyda, Miss Lillie, Pelerin, Queen Catrine and Wind Fire – only one set of connections is still in the dark about where they stand with Sandiva: those of Dorothy B.
She suffered a throw-out race, having not been asked for her effort when badly hampered and losing all chance in the Dip. She may stay a mile on pedigree and, provided she is none the worse for being roughed about, would be a feasible Guineas contender.
Along Again looked a bit burly beforehand and was mentally off the pace, too, rearing in the stalls before the start. She may have been beginning to struggle to hold her prominent position when hampered and totally losing her pitch in the Dip.
The most interesting Derby bid made in the past seven days was that of Postponed, who finished third in the Craven. He could well turn up in the Dante next – a race that is already shaping up nicely - and 40/1 is far too good to resist right now.
Postponed
Prior to racing, Newmarket permitted three fillies – Kiyoshi, Lucky Kristale and Lightning Thunder – to prepare for the Guineas in a gallop with stablemates rather than, for example, taking part in the Nell Gwyn.
While news of the gallop was well publicised ahead of the day itself, details at the time for those racegoers who had taken the trouble to arrive early enough to witness them – and Racing UK viewers – were not provided. Some at the track didn't know the gallops were happening even as they were taking place!
There needs to be more of a fair exchange here. If trainers use a racecourse's facilities, that venue should exercise the right to gain accurate information on all the horses and riders involved in the gallop. That way, dedicated racing fans – who contribute to keeping this sport on the public footing it currently enjoys – are kept informed and entertained, as they should be.
As I have no idea what weights each horse carried nor what each trainer had instructed their riders ideally to achieve in those gallops, I am not going to comment on their worth beyond what happened to the eye, plus pre-existing pedigree and form assessment.
Lucky Kristale galloped with two stablemates, the identity of whom I did not have a chance to ascertain. The Cherry Hinton and Lowther winner worked over what was described as a "steady pace" seven furlongs. Rider Tom Queally believes she will stay the Guineas trip, but it is a huge doubt on breeding.
Kiyoshi, ridden by Jamie Spencer, galloped with Oaks entry Cambridge, partnered by James Doyle, and lead horse Society Pearl, a 68-rated maiden four-year-old filly. The two younger horses readily headed their lead without being asked too seriously and, if anything, Cambridge edged it at the line.
Kiyoshi was not put under any real pressure, of course, which is how her tendency to hang markedly right manifested itself twice last season, when winning the Albany and disqualified from second in the Moyglare (having probably been delivered too soon). That's the overriding concern for her.
Lightning Thunder, ridden by Harry Bentley, worked with 82-rated four-year-old, Burning Blaze, and once-raced three-year-old colt, Heisman. She had to be asked to pick up the leaders before finishing strongly and drawing clear.
She is likely to improve over a mile – and perhaps further – but will need to, given Miss France appeared to toy with her despite only a head's disparity in the Oh So Sharp Stakes last September.
Returning to the actual racing, Hadaatha won her racecourse debut over seven furlongs in good style on the following day. She will surely improve both for the experience and at least a furlong further. However, although consistent runner-up Eastern Belle also holds a Guineas entry, the form does not seem good enough.
Trainer Roger Varian will consult with owner Sheikh Hamdan Al Maktoum on the winner's next move, but his immediate instinct was to give a promising filly more breathing space than chucking her into Group One class 17 days after her first outing. Hadaatha is also entered in the Oaks and Irish Oaks. Her pedigree gives some hope of the requisite stamina.
On the polytrack, neither Lahinch Classic's maiden win at Dundalk nor Midnite Angel's second in a Kempton conditions event is good enough.
---
---
The most interesting Derby bid made in the past seven days was that of Postponed, who finished third in the Craven. The Luca Cumani-trained colt got outpaced but was then rallying to good effect on rising ground in the final furlong at Newmarket.
He also handled the Dip with poise – a huge plus for the idiosyncrasies of Epsom. I like him. He could well turn up in the Dante next – a race that is already shaping up nicely. His pedigree suggests he should stay 12 furlongs and 40/1 with Stan James is far too good to resist right now, each-way.
In the Tattersalls 3-y-o Trophy, Sudden Wonder edged out Observational in a great battle. The winner has improved with every outing and should stay 12 furlongs; the more inexperienced runner-up is open to further progress. Both need to up their game again on their next assignment.
Basem beat fellow newcomers in a slow Wood Ditton and in a manner that showed he was learning with every stride. He looked much the best in the race and was the subject of Derby quotes but, as a full-brother to top class Farrh, his stamina for beyond ten furlongs is questionable.
---
---
Not much to report in this division. The Nell Gwyn eighth Folk Melody is entered in the Oaks and this inexperienced filly did shape as though she'd benefit from a longer trip. However, whether she'll stay as far as 12 furlongs isn't assured and she doesn't look good enough anyway.
Queen Catrine, fifth in the same race, has no chance whatsoever of staying the Oaks trip – and neither does third-placed Majeyda for the Irish Oaks.
While Zarkava's half-sister Zarshana failed to justify favouritism on her debut at Longchamp, Godolphin's Zaeemah beat colts on hers at Nottingham.
The latter understandably showed some inexperience, wandering a tad when hitting the front, but responded positively to pressure to assert near the line in a slowly run race. However, she is not bred to blossom over 12 furlongs at classic standard.
At Longchamp yesterday, Veda won the Prix du Louvre over a mile. She flopped after pulling hard on soft ground in the Marcel Boussac last year and might well relish the extra two furlongs of the Oaks rather than the Prix De Diane, were that to be the way her connections jumped.