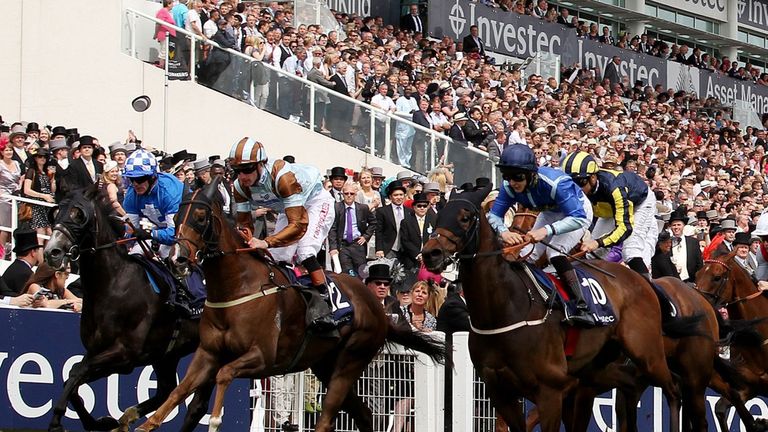 Our man Will Hayler comes up with two ante-post selections for the 32 Red Cup that might just make you fall in love with the race all over again.
Given that big-field sprint handicaps are a minefield many punters choose to avoid as a matter of course, the idea of focussing upon one of them run at an idiosyncratic track with an unknown draw advantage likely to play a significant part in the final result seems to be a move bordering on the masochistic.
As Lee Mottershead pointed out in the Racing Post earlier this week, the recent decision to re-brand the Stewards' Cup as the 32Red Cup has generated publicity which far outstrips the actual importance of the race in pure financial terms, carrying as it does just the same £100,000 in prize money as last year, despite the involvement of the new sponsor, and the same prize fund that it has offered since Borderlescott won it in 2006
Of course, it's no amount of money to be sniffed at and the winner's share is more than most horses can dream to win in a lifetime of trying. But, to put it a different way, the winner's cheque is exactly the same picked up by Discussiontofollow when he won a five-furlong sprint at Ascot on Saturday that barely got a look-in among the excitement at Newmarket and York.
Therefore although Discussiontofollow is an obvious leading contender for the 32Red Cup (no, really, it's a good name), connections could be forgiven for thinking it's already a case of 'job done', especially as their horse has a 6lb penalty here for that Ascot victory.
So why look now for an angle into the race? Well, firstly because backing the winner of the Stewards' Cup now at 25/1 carries considerable punting cachet as well as obvious financial benefit. After all, I didn't mean this to turn into an opprtunity to knock the race. It's a good race at a brilliant racecourse. Who wouldn't want to back its winner?
And, secondly, if you're as ill-disciplined a punter as I am, you'd rather get a couple of decent plays in the book now than wait for the day only to throw a five each-way on a couple of horses whose price has long since crashed through the floor.
Here, therefore, are my attempts. May the Lord treat them well when the celebrity draw for the race takes place on Thursday morning (how fondly I remember on my last visit to Glorious Goodwood, the PR representative for the track coming into the press room and shouting 'The draw for the Stewards' Cup [for that is what it was then called] is about to start... Is anyone coming?... There's free champagne.' Shameful scenes. No, I didn't).
With hindsight, the excellent Tim Pitt, whose stable's website is always worth a look, may be wishing he had played his hand differently with Sir Maximillian in recent weeks. An impressive winner at Chester where the fast pace played to his strengths, he then missed Royal Ascot when balloted out of the Wokingham, before - despite his trainer's warnings over his preference for good going - lining up in a Group race at Newcastle on good to firm.
Considering the slow pace there and the fact that he did look to face a stiffish task on paper, Sir Maximillian wasn't disgraced, but it seemed a strange decision to go on to Hamilton for a conditions race just a few days later, even if he did run another decent race in going down by a neck and half a length - winner Hopes N Dreams was better suited by the conditions of the race than he was.
Frankly, neither of those races were ever really going to play to the strengths of Sir Maximillian, who looks just the type to appreciate the frantic way the Stewards' Cup is usually run. He doesn't need to come from way off the pace, but he will like getting some cover behind a decent gallop. As for the ground, Goodwood's watering policy means the going is most unlkely to be rattling quick and it would be a surprise if conditions were deemed unsuitable.
Future plans were nearly derailed last week when he went to the Tattersalls Sales in Newmarket, but he failed to make his reserve and returned to Pitt's yard. This race is an obvious target.
The other horse to get onside with now is already proven at the track, having finished third and first in the last two renewals of the consolation race for horses failing to make the cut. Last year he beat David Griffiths' Yorkshire raider Take Cover, who hardly made the form look any horse when winning a Listed race at York last Saturday.
Downhill tracks seem to be Seeking Magic's speciality, as he ran a stormer at Epsom in the Investec Dash on Derby Day and although he's 2lb higher again for that latest performance, it will at the very least ensure he gets in to the main race for a change.
With a return to Goodwood for this contest being such an obvious aim, he surely won't be 25/1 on the day and whatever you might think of the 32Red Cup (it gets easier the more you type it) as a betting medium, that's the whole idea of ante-post punting.