Brown Panther will bypass Saturday's King George VI And Queen Elizabeth Stakes
Last Updated: 23/07/14 2:58pm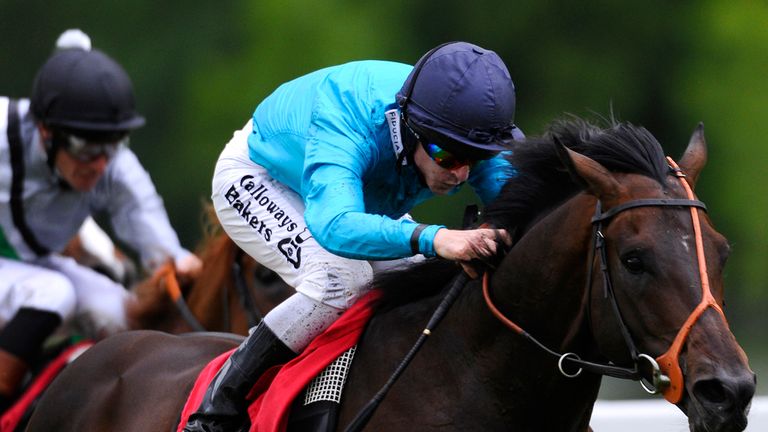 Brown Panther will bypass Saturday's King George VI And Queen Elizabeth Stakes at Ascot in favour of defending his Artemis Goodwood Cup crown next week.
Tom Dascombe's stable star was seventh in the middle-distance midsummer showpiece, sponsored by QIPCO British Champions Series, two years ago but is better known as a stayer.
The six-year-old has already won two major prizes over further than a mile and a half this season, the Ormonde and Henry II Stakes, as well as finishing fourth in the Gold Cup at the Royal meeting.
The going was soft for both his victories this term but conditions look like being much livelier at the Berkshire track at the weekend.
Michael Owen, Brown Panther's breeder and co-owner, tweeted: "We have decided to skip Saturday's King George VI to defend our Goodwood Cup crown next week."
Ascot Tickets
EXCLUSIVE! All adult tickets include a free £5 drinks voucher - only with Sky Tickets. Plus no booking or delivery fees.
Click here for further details

The going at Ascot on Wednesday was described as good to firm, good in places. Both the straight and round courses were being watered again on Wednesday due to the warm, sunny weather.
Clerk of the course Chris Stickels said: "On Monday we put 10 millimetres on the straight course and are doing the same again. We didn't water the straight course on Tuesday.
"We put four millimetres on the round course on Monday night and Tuesday night and will go again tonight to maintain current conditions.
"It's warm, sunny and dry. There is the possibility of a thundery shower, maybe Friday, but it looks like this lovely weather is going to be with us until Sunday at this stage.
"If all goes to plan today we won't water the straight course again tomorrow. We may water the round course. We're only putting four millimetres on there in the evening.
"I'll play it by ear a bit, but we are unlikely to water the straight course tomorrow.
"It's a possibility we might need to water on Friday night, but we will have to see how the week unfolds."