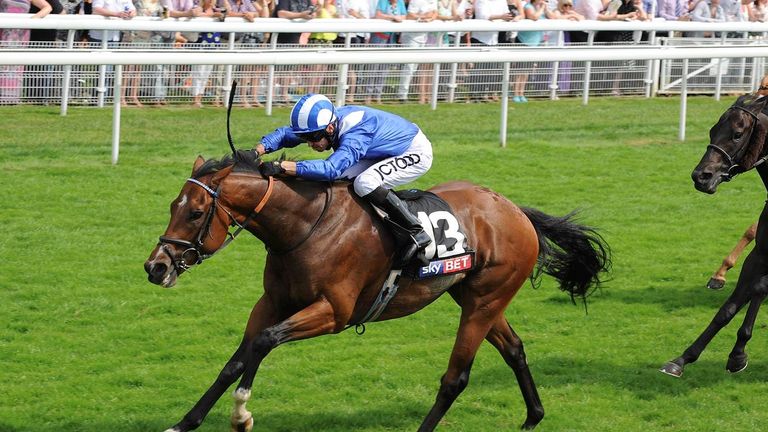 The Magnificent Seven Tipping Challenge drew to a close at Pontefract with £6,000 raised for the three charities.
Going into the final day of the competition, Sky Bet's PR manager Michael Shinners had extended his advantage at the head of the standings, having accrued £1175 over the course of the competition.
Ed Chamberlin, who finished second on £596.67 tried to find the 12/1 winner needed to overtake his rival but sadly drew a blank with his Sunday selection, as did all of the other tipsters.
Sporting Life Editor Dave Ord cemented third spot with £420, while Alex Hammond shot up to a final placing of fourth with a tally of £387.50 after finding the same 4/1 winner as Shinners on Saturday.
Sky Bet have gave the seven competitors £50 each day to bet on any race during the Go Racing in Yorkshire Summer Festival, with any profits added together and shared equally between three charities - New Beginnings, the Injured Jockeys Fund and the Yorkshire Air Ambulance.
"In total, along with the winnings that Kevin Darley provided with his paddock tips throughout the meeting, we've raised in the region of £6,000 to go to the three charities," said Shinners, who played down his tipping prowess.
"The main thing is that it was a successful and enjoyable week. Oh yes, and that I won.
Sunday
Tom O'Ryan £50 win Twenty One Choice 4:40 Pontefract - 5th
Dave Ord £50 win Shouranour 3:30 Pontefract - 9th
Jim McGrath £50 win Boy in the Bar 4:40 Pontefract - 2nd
Ed Chamberlin £50 win Chosen One 5:40 Pontefract - 6th
Michael Shinners £50 win Elleval 4:05 Pontefract - 5th
Alex Hammond £50 win Amazing Blue Sky 2:55 Pontefract - 5th
Richard Fahey £50 win Corregio 3:30 Pontefract - 5th
Saturday
Michael Shinners £50 win Muthmir 15:30 York - 1st 4/1
Ed Chamberlin £50 win Line Of Reason 15:30 York - 8th
Tom O'Ryan £25 ew Rene Mathis 15:30 York - 3rd 16/1
Jim McGrath £50 win Sir Reginald 14:20 York - 5th
Alex Hammond £50 win Muthmir 15:30 York - 1st 4/1
Dave Ord £25 ew Olivia Fallow 17:15 York - 3rd 11/1
Richard Fahey £50 win Producer 14:55 York - 4th
Friday
Michael Shinners £50 win Denzille Lane 14:30 Thirsk & £50 win Anderiego 20:00 York - 4th & WON 9/2
Jim McGrath £50 win Encore L'Amour 15:05 Thirsk & £25 ew Arcano Gold 19:00 York - 4th & 7th
Tom O'Ryan £50 win Dusty Storm 17:20 Thirsk & £50 win Regardez 19:30 York  - 5th & 3rd
Dave Ord £50 win King of Macedon 16:15 Thirsk & £25 ew Berlusca 20:00 York - 2nd & 3rd 20/1
Alex Hammond £25 ew Charlemagne Diva 16:50 Thirsk & £50 win Top Of The Glas 18:00 York  - 6th & 2nd
Ed Chamberlin £50 win Charlemagne Diva 16:50 Thirsk & £50 win Top Of The Glas 18:00 York - 6th & 2nd
Richard Fahey £50 win Abbey Angel 15:05 Thirsk & £25 ew Arcano Gold 19:00 York - 2nd & 7th
Thursday
Michael Shinners £25 ew Clubland 1845 - 2nd
Jim McGrath £50 win Munfallet 1920 - 4th
Tom O'Ryan  £50 win Maraayill 1920 - 6th
Dave Ord £25 each-way Merchant Of Dubai 2100 - 3rd
Alex Hammond £50 win Artistic Muse 2030 - 2nd
Ed Chamberlin £25 each-way Elusive George 1920 - WON
Richard Fahey £50 win Hail Clodius 1815 - 4th
Wednesday
Tom O'Ryan £50 win Cahal 16.50 - 9th         
Jim McGrath £50 win Flatcapper  15.20 - 5th          
Dave Ord £50 win Tinseltown 17.20 - WON          
Michael Shinners £50 win Silvanus 16.20 - WON         
Alex Hammond £50 win Midlander 15.20 - 7th          
Ed Chamberlin £50 win Tinseltown 17.20 - WON           
Richard Fahey £50 win Summer Times  14.20 - 3rd               
Monday:
Michael Shinners £50 win Little Bruv  20:15 - 3RD
Tom O'Ryan  £50 win Tamayuz Magic 19:45 - 4TH
Jim McGrath  £50 win Elizabeth Flynn 18:15 - 2ND
Dave Ord  £25 ew Noodles Blue Boy 18:45 - 8TH
Alex Hammond £50 win Rainbow Rock 20:45 - WON
Ed Chamberlin £50 win Mister Manannan 18:45 - WON
Richard Fahey £50 win Danot 18:15 - WON
Sunday: 
Jim McGrath £50 win Indellible Ink 1410 Redcar - 2nd
Michael Shinners £50 win Madraasa 1740 Redcar - WON
Tom O'Ryan £25ew Monarch Maid 1510 Redcar - 2nd
Alex Hammond £25 each-way Head Space 1610 Redcar - Unplaced
Ed Chamberlin £50 win Al Rayyan 1410 Redcar - 3rd
Richard Fahey £25 each-way Polski Max 1610 Redcar - Unplaced
Dave Ord £25 each-way Storyline 1510 Redcar - Unplaced
Saturday:
Jim McGrath: £50 win Shamrock Sheila 1400 Ripon - WON 2/1
Dave Ord: £50 win Shouranour 1510 Ripon - 2nd
Richard Fahey: £50 win Desert Snow 1545 Ripon - 4th
Ed Chamberlin: £50 win Jodies Jem 1620 Ripon - 3rd
Alex Hammond: £50 win Jodies Jem 1620 Ripon - 3rd
Tom O'Ryan: £25 ew Only Orsenfoolsies 1655 Ripon - WON 2/1
Michael Shinners: £25 ew Bearskin 1725 Ripon - WON 4/1