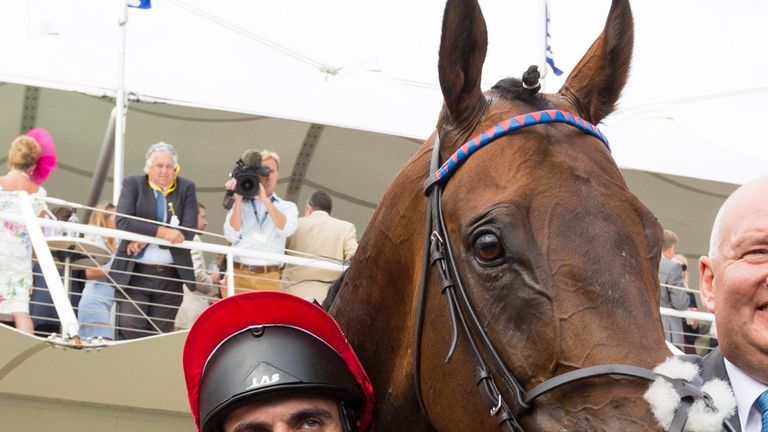 Andrea Atzeni spoke of his excitement following the announcement he will be the new retained first jockey for Qatar Racing.
Jamie Spencer had stunned the racing world on Thursday with the news he would be retiring from the saddle at the end of the current season to take up a new management role in Sheikh Fahad's operation.
A replacement for 34-year-old Spencer had been expected to be named soon, and Italian-born Atzeni had been widely tipped for the role and was odds-on when some bookmakers opened betting.
Oisin Murphy, the rising star of the apprentice ranks, has also been appointed as a retained jockey for Qatar Racing after Harry Bentley's two-year contract expires at the end of 2014.
Their positions will come into effect from from January 2015.
Atzeni, 23, has impressed in riding for the likes of Roger Varian, finishing second to Australia in the Investec Derby on Kingston Hill, and he said: "I feel very privileged to have been asked to ride as first jockey for Qatar Racing.
"I am excited at the prospect and look forward to repaying the faith Sheikh Fahad and his brothers have shown in appointing me.
"I would like to thank all the trainers who have supported and helped me in my career, without whom I would not have received this opportunity.
"In particular, I would like to thank Roger Varian and his wife Hanako for their support. I credit Roger with putting put me on the map, through horses such as Kingston Hill. I am very grateful to Sheikh Mohammed Obaid and Luca Cumani, who have both been terrific to ride for, and to Robert Eddery, who has also been a great supporter."
Varian reacted with good grace to the news.
He told Press Association Sport: "It's a very good opportunity for him at his stage of his career, and he has chosen to accept it. We wish him all the best. He's a very classy jockey, and a very classy guy. We're all very fond of Andrea and we want to see him do well.
"It's not going to change anything for us for the rest of the season, and it's not going to change things between us - we probably won't be able to use him as often in the future but he'll still ride for us.
"We're very busy at this stage of the season, we've got a lot to look forward to and Andrea's going to be riding a lot of the horses.
"It's recent news, so we'll take our time over what we're going to do."
Murphy, whose career took off with Andrew Balding, tweeted his own comment.
"I'm very fortunate to be given the opportunity to be a part of Qatar Racing," he said.
"I look forward to my role as second jockey in the coming season. I would like to thank Andrew Balding for his guidance and support during the past two seasons."
David Redvers, racing and bloodstock manager to Qatar Racing, said: "With Jamie retiring and Harry concluding his two-year contract, Sheikh Fahad is delighted to have secured the services of Andrea and Oisin for Qatar Racing. He has also asked me to reiterate his gratitude to both Jamie and Harry for all of their hard work, skill and professionalism.
"Whilst Jamie comes into the Qatar Racing management team, Harry will continue to ride for us when the opportunities allow. Harry is a gifted horseman and his results for us and others over the last two seasons have more than repaid Sheikh Fahad's faith that he is destined for the very top. We wish him continued luck and success.
"Andrea and Oisin have impressed us greatly this season and we are delighted to agree terms with them to take effect from the start of 2015."
Bentley revealed he had been informed of the reshuffle on Wednesday and said in a column on racinguk.com: "There has been a reshuffle, with Jamie Spencer retiring, and questions have no doubt been asked after what has been a quiet season for Qatar.
"These things have a habit of working themselves out, and I have no doubt that this will be for the best in the long-run.
"I am grateful for the opportunities which Qatar have offered and I still might pick up the odd ride for them next season.
"I have sat on some lovely horses through my role, and came within an ace of winning the 1000 Guineas on Lightning Thunder this season, before finishing second on her again in the Irish Guineas.
"Being second jockey means I am required to travel up and down the country for what might be just one ride - which is fair enough given they are my employers but it has meant I cannot commit to other trainers.
"The upside is you hope to take some high-profile rides when there are two or more Qatar runners in a race, or if Jamie is required elsewhere. However, I wasn't always guaranteed that.
"I am 22 and need to make my mark in the game and kick on. Hopefully with a clean slate from next year I can pick up more rides, and subsequently more winners. I am down on both this year.
"I haven't really thought about new arrangements as the news is fresh, but my agent and I will obviously be working hard going forward."