John Gosden has raised the possibility of Kingman stepping up in trip next season
Last Updated: 28/08/14 9:57am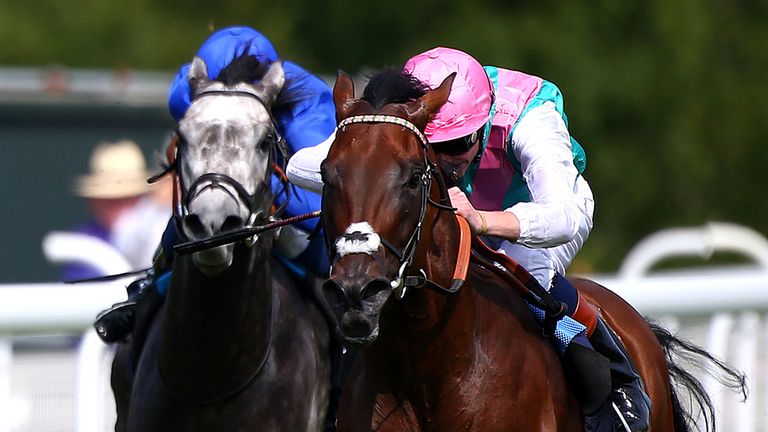 John Gosden has raised the possibility of Kingman stepping up in trip next season if the brilliant colt stays in training.
Since his narrow reverse in the 2000 Guineas, the three-year-old has confirmed himself the star turn in the mile division with thrilling victories in the Irish Guineas, St James's Palace Stakes, Sussex Stakes and Prix Jacques le Marois.
Given he carries the same colours of owner Khalid Abdullah, Kingman is inevitably compared to the unbeaten Frankel, who also dominated at a mile during his Classic year before proving equally dominant over a mile and a quarter as a four-year-old.
"Frankel obviously went mile, mile, mile and then he stepped up to a mile and a quarter at York (Juddmonte International) and again in the Champion (Stakes) at Ascot," said Gosden.
"If he (Kingman) stayed in training next year you have the options to do similar things, but at this stage, as a three-year-old, a mile is his trip.
"You could easily bring him back (in trip) if you wanted to and as he relaxes so well, you could probably step him up in trip. If he did stay in training next year, those become options.
"I don't think any decisions will be made until the end of October. We'll sit down and discuss the matter thoroughly and see what's best and the final decision will very much rest with the owner.
"He's grown a lot, he's a powerful horse, he's got a phenomenal turn of foot and he has the ability to switch off, which is great.
"(Sir) Henry's (Cecil) training of Frankel was great - it was a triumph for training - because, as we remember from the Guineas, he wasn't exactly the easiest horse to switch off. He was so bullish and strong and wanted to show everyone how good he was.
"This fellow has a very relaxed mind and that's always a help to a trainer."
Kingman has been given an entry in the Prix du Moulin at Longchamp on September 14, but is more likely to wait for the Queen Elizabeth II Stakes on Champions Day at Ascot, October 18.
"He's in good order. He came out of Deauville very well and I'm happy with him. He has a very relaxed attitude, Gosden told At The Races.
"We've put him in the Moulin, but he's more likely to go straight to the QEII as we originally planned. The QEII is a fantastic race and to that extent it makes sense."