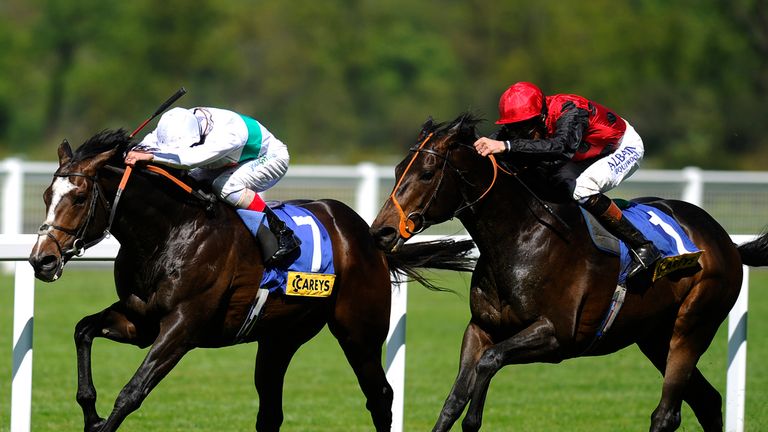 Cocktail Queen stated her case as one of the most improved horses in training when gamely resisting sole British challenger Gatewood to land the Grand Prix de Deauville Lucien Barriere in the silks of Jeff Smith.
The traditional big-race finale of the Deauville season owed much to an inspired ride by Alex Badel, who after setting steady fractions in the early stages of the mile-and-a-half Group Two quickened things up entering the long home straight.
As favourite Gatewood tracked the winner under William Buick, Going Somewhere charted a long furrow up the far side and there was little in it as the trio flashed across the line.
But Cocktail Queen stuck her neck out and refused to be denied, to the delight of Badel who said: "It was amazingly close but she just found again. She is very game."
Smith, many of whose best horses like Lochsong and Persian Punch were hallmarked with a tough persona, will take up an option at Longchamp with the Prix de L'Opera favoured over the Prix Vermeille.
He explained: "She has got a lot of speed, so the Vermeille is a possible plan, but we will probably keep her for the Opera, it all depends on the ground. Waiting for the Arc meeting gives us another three weeks and it is more likely to be testing then."
Smith added that it was entirely due to the filly's former trainer David Elsworth's insistence that Cocktail Queen is based with Myriam Bollack-Badel in France.
He said: "This filly had a dreadful bout of ringworm at three and was covered in it. She was isolated in a paddock, and a sick horse. That's when David said, on her recovery, that she should be transferred to France."
Smith continued that Cocktail Queen would definitely remain in training and would be retained by him for breeding purposes at the Littleton Stud, where he has 28 mares.
Buick said he felt Gatewood, who sustained a number of mosquito bites when pre-parading, had put in near to a best-ever run in France.
He said: "That's his best run. He dug in really well but the ground was a bit tacky."
British interest in the Prix de Meutry centred on Coulsty who powered clear under Olivier Peslier in front of a delighted trainer Richard Hannon and owner Lord Vestey.
Hannon said: "He's a nice horse that we shall definitely keep for next year. He's just coming good. He's won a Listed race and now a Group Three. We might step him up again for the Challenge Stakes (Group Two.)
"He was in at Chester, but Lord Vestey called it right. He must be delighted."
Coulsty is the name of a wood in the Vestey's Stowell Park estate. A long-term aim will be to find a race for Coulsty at Royal Ascot 2015, as the owner is a great supporter of that course.
Freddy Head saddled one horse on the 10-race card and the victory of his grey Solow in the Group Three Prix Quincey was the most impressive of the day.
Peslier was in control well over two furlongs out and the combination drew clear to score without being extended.
Head said: "He's a gelding so we are restricted. He's in a Group Two at Longchamp on Arc day. He'll run there and hopefully stay in training next year."