Keep faith in Sole Power
Nic Doggett and Will Hayler pick out their horses to follow from Newmarket's July Festival meeting.
Last Updated: 15/07/13 7:00pm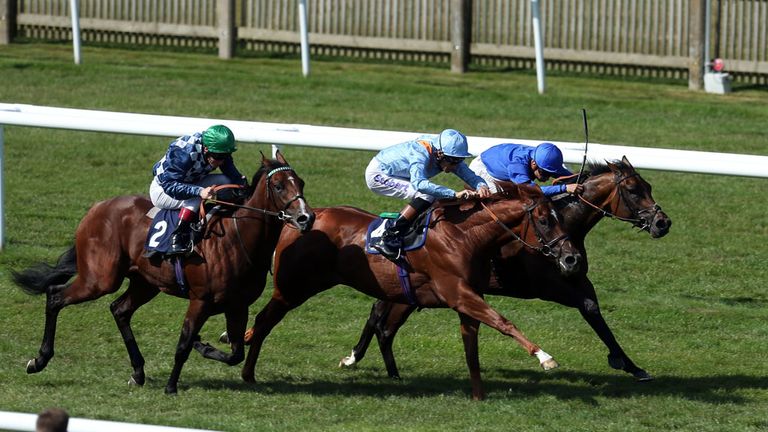 ND: Sole Power - Darley July Cup
For the future of British sprinting, it's pretty clear that the winner Lethal Force is now the poster boy, especially over six furlongs.
However, Eddie Lynam's Sole Power is still in my future plans when it comes to five furlongs, and races like the Nunthorpe and the Prix de l'Abbaye must be high on the agenda once again.
On Saturday he had a poor draw out wide, and, after a slow start (whether by accident or design), jockey Johnny Murtagh had to switch him over to the stands' side in order to race behind the best horses.
That won't have helped, whilst he was also keen and throwing his head around in the early stages.
However he travelled supremely well and was the last off the bridle.
By then, however, the winner had fled, but I was encouraged to see him finish his race over six furlongs as powerfully as he did, especially considering how enthusiastically he raced to begin with.
Lethal Force may turn up to York, but he won't get an easy lead there, and I believe that the set-up of that contest, where they tend to race in the middle of the track, will mean Sole Power gets a longer tow. Then he can pounce late to win, as he did in 2010.
And given decent ground, he could easily do the same at Longchamp in October as well.
WH: Ahern - Betfred Bonus King Handicap
Bought privately to join the Qatar Racing team after his debut victory at Musselburgh in June last year, Ahern has failed to add a single further victory to his tally since, but the signs are encouraging that he may be ready to come back from the wilderness.
Fifth in the Norfolk Stakes and then third in Newmarket's July Stakes, he was highly tried as a two-year-old and perhaps it was the effect of those hard races that saw him disappear off the radar afterwards.
But the combined effects of a drop in grade, a fall in the weights, a gelding operation and the application of headgear all seem to be helping him find his way again.
One of the small group to race on the far side from the start, his high draw was certainly no disadvantage and indeed it's possible to argue that he was flattered to finish as close as sixth as he was dragged into the race by being positioned closer than most to the principals.
But despite his obvious quirks - he has run around under pressure on his last three starts - he was once again motoring along nicely at the finish and I can see him rewarding support in a sprint handicap where they go a furious end-to-end gallop and he can be stoked up at the right point. Maybe next month's Great St Wilfrid at Ripon could be on the agenda.
Frankly, if I was to trust anyone to squeeze every last drop out of this particular lemon, David Barron would be right at the top of my personal shortlist.
ND: Avon Breeze - Frontline Bathrooms Handicap
Identifying the quickest part of a track often confuses trainers, jockeys and punters alike - simply opting to race where the best horses are is often a more straightforward way to win.
Unfortunately for their backers, Frankie Dettori and Avon Breeze didn't do this on Thursday.
The confirmed hold-up horse raced more prominently than is often the case, possibly because she saw plenty of daylight on the far side.
Dettori decided to continue on that path, no bad thing given he was already committed, however the horse didn't quite see out her race as powerfully as those in the centre of the track and was beaten a length accordingly.
She has the option of an engagement at Pontefract on Thursday and also, interestingly, a Stewards' Cup entry, and the feeling is that a mark of 82 is no barrier to future success.
She was well backed at Newmarket, and she is certainly a horse to keep on the right side of; hopefully the jockey can do the same next time as well.
WH: Emirates Flyer - Rossdales EBF Conditions Stakes
Anyone unlucky enough to have heard me rant on about the subject before will know that I am a huge fan of sectional timings and their potential use as an analysis tool that can be as easy-to-understand for the experienced punter, as for the part-time racing fan.
Imagine a Formula One run race where the gap in time between cars was never discussed, or the length of time taken to complete a pitstop was the subject of nothing more than an educated guess. "How did the Ferrari pitstop go, James?" "Well I don't know but it sort of looked quick...ish."
The publication of Turftrax sectional timings for every race at Newmarket is therefore something to be celebrated, even if the times can't be corroborated or even compared, as would clearly be ideal, to a mountain of similar data accumulated over a period of years at the same track.
And it's those sectional times which lead me to conclude that it might be unwise to underestimate the achievement of Emirates Flyer, who scrambled home in the three-runner conditions stakes towards the end of the meeting.
The sectionals show that the field went fast for the first furlong, then slowed down in the middle section, before leader Green Door tried to kick on from the front. So given the lack of energy he needed to exert in the middle part of the race, it's therefore perhaps not surprising that Emirates Flyer was able to produce some noticeably quick times towards the end.
However even in that context his 10.99secs for the furlong from the two-furlong pole to the one-furlong pole and his 12.20secs for the last (uphill) furlong compares perfectly favourably with the sort of times clocked an hour earlier by his elders and betters in the July Cup (Lethal Force did 10.71 and 12.29, while Good Boy Lukey did 10.84 and 12.54 when winning the Group Two Superlative Stakes earlier on the card, admittedly over an additional furlong).
Interestingly, winning trainer Saeed bin Suroor played him down afterwards, suggesting that Emirates Flyer "needs to improve again" before he can be considered a Group-race contender, so we might even get a decent price about him next time.
He might not be the most straightforward, having had to be chased along to keep with the pace in the early stages - despite the slow fractions - and then having idled once hitting the front as all three runners drifted across the track.
But I liked the way he stuck his neck out when it mattered in the final few strides and I think he could be lining up in Group races by the end of the season. There's always an understandable tendency to presume that a three-runner conditions race in which the runners finish in a heap must be suspect form - but the clock and my gut feeling suggests otherwise here.