Sky Sports counts down the most dominant champions in sport
AP McCoy has ridden into more racing history, but is he the most dominant champion in sport?
Last Updated: 19/11/13 11:42am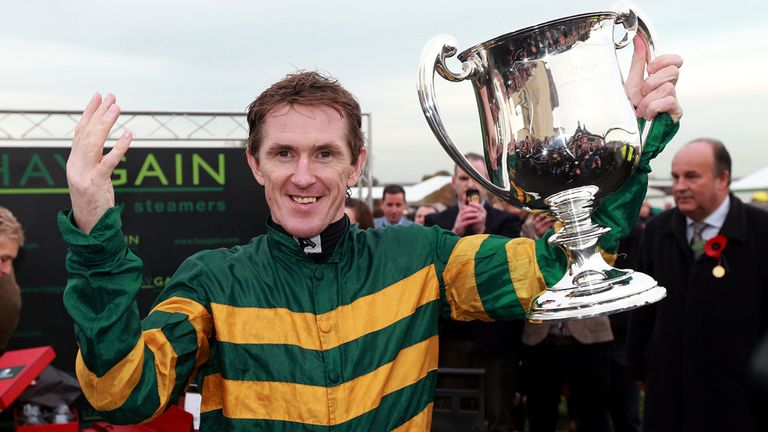 McCoy's mark is far above his nearest challenger, and he has been champion jockey for every year in his career so far, but who can match him in terms of dominating their particular sport?
Who has been the player or team opposition fears the most, who has the aura about them that gives them the edge even before the step onto the pitch or the court?
Here we've got a selection of our favourites but let us know yours using the feedback form below and we'll publish the best.
AP McCoy
Let's start with the man of the moment - the phenomenon that is AP McCoy. After riding his first winners aged just 17, McCoy won a record 74 races to claim the Conditional Jockeys title in his first season riding in Britain. Despite operating in such a brutal and dangerous sport, McCoy has gone on to win the Champion Jockey title in every single season he has raced - 18 so far - and has a record 289 winners in a single season. To put his latest landmark into context, his 4,000 winners is nearly 1,500 more than Richard Johnson, who sits on a 'lowly' 2,567 in second place and has finished runner-up to McCoy in the title race an incredible 15 times.
Phil Taylor
In a sport with such fine margins between success and failure, it is remarkable that 'The Power' has had the world of darts in a stranglehold for closing in on a quarter of a century. Taylor has won 16 world titles, 14 World Matchplays, and 11 World Grand Prix crowns in his time amongst his 79 major wins and 187 tournament victories. All but three of the 20 PDC world finals have had Taylor in, no player on the circuit holds a winning record against him and he has hit the magical nine-darter a spectacular nine times on TV.
Tiger Woods
He still trails Jack Nicklaus in terms of major wins, but Tiger has been as dominant as anybody ever has in golf since he became the youngest winner of the Masters back in 1997. That was the first of 14 major wins during a 12-year spell when in only three season he failed to land one of golf's big four. He is the only man to win four majors in a row (the Tiger Slam) and one of just five to win the career grand slam. He's spent the most cumulative and consecutive weeks at World No 1 and although he is still behind Nicklaus in majors and Sam Snead in PGA Tour wins he could yet overhaul one if not both of those records.
Michael Schumacher
A German superstar in a lightning quick car taking F1 by storm - we've heard this before! But before Vettel came the master Michael Schumacher, who claimed seven world titles including five in a row from the year 2000 onwards. He also has a bucketful of records from race wins, fastest laps to pole positions. He is also the only driver in F1 history to finish on the podium in every race of a season back in 2002 and is right among the conversation of best F1 drivers ever. He had that edge all great drivers had, which obviously led to controversy here and there, but his statistics stand up to anyone.
Jack Nicklaus
If Tiger Woods is in the list then it's only fair that the man he has been chasing for all of his career is included, the Golden Bear himself. Nicklaus has the 18 major championships that Woods craves after being at the top of his game for 25 years. The consistency of Nicklaus was amazing - he not only won 18 majors but he came second 19 times and third on nine occasions. He even managed to cut down his schedule to focus on the majors in the latter stages of his career - and it paid off when he claimed the 1986 Masters at the age of 46.
Steffi Graf
With 22 grand slam titles to her name, Graf leads the way in singles titles in the Open era of tennis, and she spent the longest period at World No 1 of any player, male or female, since the rankings came in with a whopping 377 weeks at the top of the tree. Graf also holds the record of winning the only Calendar Year Golden Slam when she cleaned up the four majors and the Olympic gold medal in 1988. She won five consecutive slams in that period and seven of the eight in two years.
Australian Rugby League
The Kangaroos are the most dominant international side in the 13-man code of rugby, and have showcased this dominance by being the team to beat in the Rugby League World Cup. Although they finished third in the inaugural tournament back in 1954, they have won nine of the remaining 12 tournaments and appeared in every single final since then - losing out to Great Britain twice and New Zealand last time out in 2008.
Stephen Hendry
The youngest World Snooker champion at age 21, Hendry went on to claim a record seven Crucible titles and held the World No 1 spot for eight consecutive years from 1990-98. He also holds the record for most world ranking titles with 36 and is also top of the pile with 775 competitive centuries. He won five straight Crucible crowns and six in seven years during his pomp, and twice he won the world title, UK Championship and Masters in the same year.
Roger Federer
He may look a little past his best these days, but Federer is still the best men's player we've seen with him claiming 17 grand slam titles and holding the World No 1 spot for 302 weeks overall and a streak of 237 consecutive weeks. He is one of just three men alongside Nadal and Agassi to win the career grand slam on three different surfaces and also holds a share of the record number of tournament wins at the Australian and US Open and Wimbledon. He may be getting on but he might just have one more slam title in him.
Rocky Marciano
A rarity in boxing with Marciano one of the few fighters who managed to keep their unbeaten record into retirement - and the only heavyweight to retire with a zero in the loss column. Marciano won the heavyweight title from Jersey Joe Walcott in 1952 and defended it six times before heading into retirement with a blemish-free record of 49-0.