Ben Linfoot reflects on Newbury
Ben Linfoot looks at how the handicapper responded to events at Newbury and the National weights.
By Ben Linfoot (Twitter: @BenLinfoot)
Last Updated: 13/02/14 12:47pm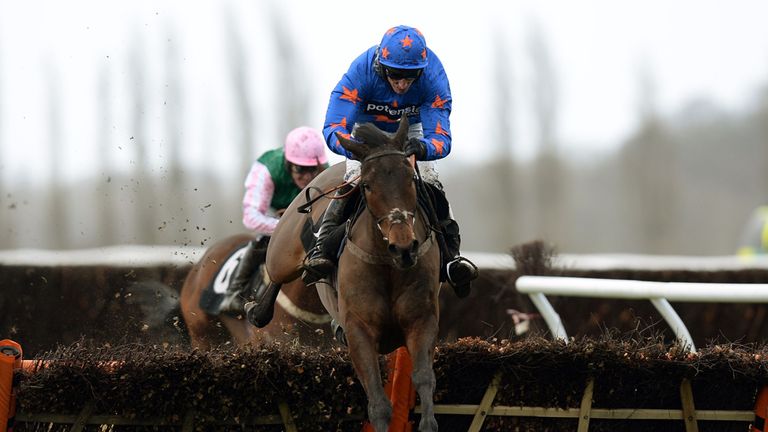 Newbury, February 8
Cash Out Your Saturday Multiples With Betfair Novices' Hurdle
1. Calipto>>>> Introduced at 149
Calipto beat older and relatively modest opposition at Newbury on Saturday, but he did it so efficiently and easily that you couldn't help but acknowledge him as an above-average juvenile. Judging the merits of the form isn't an easy task given the profiles of the rivals he brushed aside, but Seedling is probably the best yardstick and he was well beaten, 10 lengths adrift in third. On his previous start he finished in front of Tiqris, subsequently rated 130, which helps explain a mark of 149 for Calipto, the joint-highest number awarded to a four-year-old this season along with Le Rocher. We've discussed in a previous edition the virtues of such a rating at this stage of the season in the division, and, like Le Rocher, he should be considered an outstanding candidate for the Triumph. Paul Nicholls mentioned afterwards his 'National Hunt breeding' would be against him in such a race, but he really doesn't look to lack gears if his handler fears he may not be fast enough for a Flat-bred. His slick hurdling technique and potentially deep stamina reserves are attributes you want in a Triumph horse and his earlier form has been working out well, with horses he thrashed on debut (Dawalan and Baradari) winning since. Though he's only won maiden and novice hurdles, I believe he's fully deserving of his position in the market and could even go off two or three points shorter than the currently available 8/1. One of the reasons for this was the victory of Guitar Pete in the Grade One Spring Juvenile in Ireland. Dessie Hughes' charge looked only average when beaten by Royal Irish Hussar at Cheltenham, and though he's improved since then he put his experience to good use at Leopardstown against some lightly-raced rivals. On a line through him the Irish challenge looks weak, with Calipto and Le Rocher fully deserving their joint-favourite status.
1. Harry Topper>>>> Up 5lb to 161
2. Al Ferof>>>> Remains on 168
3. Katenko>>>> Remains on 156
Harry Topper has threatened to record a figure in the 160s if he held his jumping together and he achieved such a rating in the Betfair Denman Chase on Saturday. The omission of a few fences helped, while he was given a stealthy reminder or two by Jason Maguire heading into the second circuit, but he was too strong and too powerful for his four rivals at Newbury, finishing 25 lengths clear at the end. Kim Bailey revealed he had schooled Harry Topper that morning, a trick that he'd used before with Cheltenham Gold Cup winner Master Oats, and the seven-year-old is now 25/1 from twice the price for the Festival showpiece. Testing ground is clearly a pre-requisite for him, and Bailey said he'd only run in the Gold Cup if conditions are in his favour, but he would be an interesting outsider should the slow ground we've become accustomed to prevail in March. The gut feeling is he'd have to do it the Synchronised way - a gutsy, battling, stamina-laden success in a below-par renewal, but that's not totally beyond the realms of possibility. Al Ferof remains on 168 following his 25-length defeat, but he's run below that figure on his last two starts since stepping up to three miles. After finishing weakly on both occasions, it's of no surprise to hear Paul Nicholls confirm that the Gold Cup isn't an option, with the Ryanair his probable Festival target rather than the Champion Chase. He could bounce back on better ground dropped back in trip, but he's had two hard races now and has plenty to prove. It could be that he's not as good as he was following a year off the track, it could be that he was overrated in the first place - his 168 rating achieved when winning the Paddy Power Gold Cup off 159. That was his third win in six starts at Cheltenham (including a Supreme Novices' win and a second in the Champion Bumper), so backers will be hoping the return to Prestbury Park can help him return to his zenith. However, top prices of 6/1 for the Ryanair make limited appeal considering his last two runs. While a rating of 168 marks him out as an exceptional contender for the Ryanair, I would be wary of trusting such a number.
Betfair Cash Out Chase (Registered as the Game Spirit Chase)
1. Module>>>> Remains on 157
2. Dodging Bullets>>>> Up 1lb to 157
This looked a good opportunity for Module on paper, being the highest-rated horse in the field and best off at the weights - and so it proved. He didn't have to be at his best to win and he remains on 157. Still lightly-raced after just seven chase starts, he has the potential to improve further but he'll have to, significantly, if he's to make an impact at the highest level at Cheltenham. Having said that, he has only been beaten once at around two miles when completing and that was by a head to Somersby in the Haldon Gold Cup, so he is progressing nicely over the minimum trip. He has never struck me as Champion Chase material, but there's something somewhere lurking in the market at a big price that is going to be placed, in all likelihood, and at 25/1, perhaps he is the one. Dodging Bullets was raised 1lb to 157 and strictly on chase form he's the highest-rated of all the British candidates in the Arkle. He travelled well, jumped well and looked the likely winner jumping the last, but Module battled well under Paddy Brennan to land the prize. The handicapper considered this his best run over fences and with that in mind he's done his Arkle chances no harm, but he'll take on some lightly-raced chasers with star potential at the Festival and it would be disappointing if none of them had the beating of him. That said, his experience could be a key asset and this will have battle hardened him.
Betfair Hurdle (Grade 3 Handicap)
1. Splash Of Ginge>>>> Up 8lb to 142
2. Dell' Arca>>>> Up 5lb to 141
3. Irish Saint>>>> Down 1lb to 151
4. Cheltenian>>>> Up 3lb to 137
5. Swing Bowler>>>> Up 3lb to 139
6. Alaivan>>>> Down 1lb to 134
Splash Of Ginge benefitted from a front-running ride in testing ground, with Ryan Hatch's 7lb claim proving crucial. Few got into it from off the pace and though this was a likeable performance as he kept finding for his willing partner, an 8lb rise is going to make life tough. My Tent Or Yours was rated 20lb higher after taking this race last year going into the Supreme, so it's no surprise to see 'Ginge' chalked up as big as 66/1 for the Festival opener. Splash Of Ginge, though, does enhance the appeal of Irving in the Sky Bet Supreme Novices', considering that rival brushed him aside earlier in the season. Dell' Arca goes up 5lb for finishing second and he was always in the front rank too, while Irish Saint ran well back down in trip. He'll remain of interest back up to two and a half miles. Now rated 151, he's effectively dropped a pound even though he's up six, as he was 7lb well in. The same remark applies to Alaivan who stayed on well past tired horses to finish sixth. He could be worth a go over further.
IJF 50th Anniversary Novices' Chase
1. Smad Place>>>> Remains on 148
2. Sam Winner>>>> Remains on 147
The handicapper confirmed what was suspected after Smad Place's win - that he didn't need to improve to land the spoils on Saturday. He remains on 148, 8lb inferior to RSA rival Corrin Wood, yet is a couple of points shorter than Donald McCain's charge in the betting. His superior hurdles form partly explains this, but it's the impression he's made over fences too, as he jumped well and always looked in control up the straight in conditions that probably aren't ideal looking at his overall profile. So, given the class he exuded over timber, combined with the extra potential that could be unlocked on better ground, he comes into RSA calculations. On the bare form, though, he's over half a stone off the best of British, while Ireland have a particularly strong hand in this division as is usually the case. Also, Le Bec is twice his price, yet is rated 1lb higher.
Aintree, April 5
Crabbie's Grand National
1. Tidal Bay???? >>>> Down 7lb to a lenient 161?
Finally, it would be remiss of this feature, considering its title, not to mention the Crabbie's Grand National weights unveiling on Tuesday. BHA Head of Handicapping Phil Smith is given special dispensation in the National to make adjustments to the usual ratings of horses and he's certainly done that in the case of Tidal Bay, letting him in 7lb better off than he should be according to his official rating. Smith's method of handicapping the famous race has improved the quality of the contest in the last 15 years, of that there is no doubt, and there hasn't been a raft of well-in top-weights winning the big prize. Yet in this instance it seems Tidal Bay has too much of an unfair advantage. While the top nine in the handicap have profited from Smith's 'compression', only Long Run and Hunt Ball benefit by more than 1lb (3lb each) highlighting how much better off Tidal Bay is compared to the rest of the field. Why is this? Is it because of his age? It shouldn't be, as he looks as good as ever and there's a few 12-year-olds in there that haven't had the same leniency applied. Is it the Aintree factor? Again, it shouldn't be, as there are plenty in the race who haven't got form around the fences and they too haven't had the same leniency applied. Is it that his best form is over shorter? Possibly, but the way he runs you have to think he'll relish the stamina test, and again, there are plenty in the field who haven't run over four and a half miles and guess what - they haven't had the same leniency applied. It's crystal clear that he's been given a weight advantage simply because he happens to be the best horse in the race. And that, to me, seems nonsensical. While this is hardly a penalty kick for Tidal Bay, it's like he's got a 25-yard set-piece with a modified wall in the way and the rest are kicking off from the centre circle. Keeping with the football analogy, old Tidal has a touch of the Luis Suarezs about him - the flawed genius syndrome - and like the silky Uruguayan he has the skills to curl one in the top corner given the opportunity. The handicapper has placed the ball on the ground, and, if Tidal Bay does slot it home, Smith may be forced to tinker with how far out the best horses are forced to shoot from in future renewals.