Tom Peacock pays a trip to Claines to see the Grand National winner
Tom Peacock pays a trip to Claines in Worcestershire to welcome home National winner Pineau De Re.
Last Updated: 06/04/14 4:11pm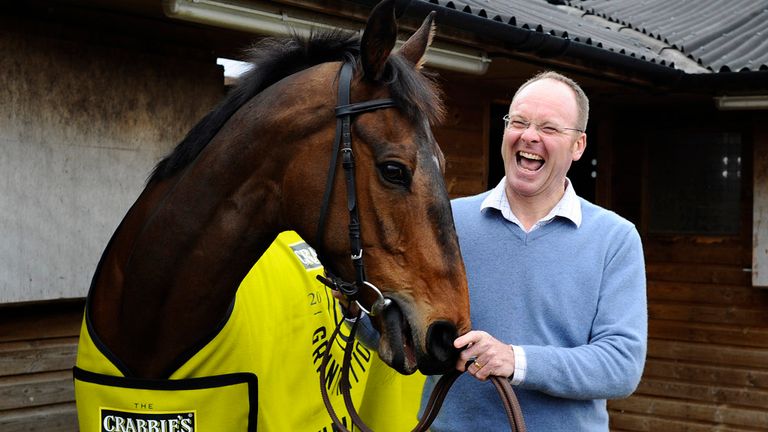 Situated just three miles from the city of Worcester, Claines is now also home to the Grand National winner Pineau De Re.
Looking placid and just a little tired as he appeared from his stable in a bright Crabbie's-sponsored rug, the 11-year-old Pineau De Re was greeted by the friends and family of Newland and his owner, John Provan, as well as journalists, camera crews and dozens of others wandering in from up the road.
The Mug House, an ancient and reputedly haunted hostelry accessible only via the church graveyard, was the first port of call for connections on their return from Aintree.
"There were about 300 people there having an impromptu party," said Newland.
"I hadn't realised how much it had touched people - there were so many locals who were excited about a horse from Claines, a horse from Worcestershire, who had won the National."
Newland, who accumulated wealth first as a general practitioner and then by establishing the private Newhall Medical Practice in Birmingham, seems to have life cracked. He built 12 stables next to his house and the gallop overlooks a stunning vale.
Interested in racing first as a punter and then an owner, his curiosity led him to start training a few horses just for fun.
This is no amateurish set-up, though, as the results have shown. He landed Cheltenham's Coral Cup in his first season as a permit-holder and regularly supplies winners for Tony McCoy and Sam Twiston-Davies, who usually rides Pineau De Re.
His half-a-dozen staff, like the hero's groom Milly Murray, are all bright and impressive while Rod Trow, assistant trainer and main man when Newland is required in the business world, is an accomplished sports coach.
"Sam has first choice here but he had to ride Tidal Bay for Paul Nicholls," Newland said.
"It was brilliant winning with Leighton Aspell, a great jockey who I was happy to have, although at the same time I was sorry Sam missed out.
"I don't know if you spotted, but Sam came out afterwards and gave us all a hug. That was class."
Newland has no plans to expand the operation and went on: "This is a hobby, and I don't see why we need to change.
"Sometimes with bigger trainers, who are under more pressure, I don't know if it's as enjoyable. I'm in a fortunate position, and I'm keen for the enjoyment not to go out of it."
Among the revellers still in the previous day's clothes was Provan himself, who was eager to scrub up before joining Newland on a chartered helicopter to Market Rasen to watch the second of his three horses with Newland running. It was a shrewd call as Dalmo was to win, as later, was stablemate Ardkily Witness.
Glasgow-born Provan once rode against Princess Anne, who presented him with the National trophy, and now runs a printing and packaging company in Birmingham.
"We were going to go back home to Derbyshire but we had to come back here and we somehow persuaded the taxi driver to take us," he said.
"As soon as I got in the pub I was drenched with champagne. We stayed in the local bed and breakfast, but I hadn't even brought a change of clothes. I've lost my voice as well."
He went on: "I've known Richard about 25 years now. When he finished medical school we were both living in a village called Marston Montgomery in Derbyshire, and I was three doors down.
"Richard liked to go to Cheltenham with the lads and we'd often go racing together. I rode as an amateur jockey and Richard was interested in learning about it.
"We've owned dozens of horses, and had plenty of failures. One day Richard just said he was going to train a point-to-pointer. He got three horses and it has just progressed from there."
Newland and Provan quickly decided Pineau De Re will have a summer holiday before next year's National is considered.
"He's good today," said Murray. "He can be quite strong on the gallops but he's an easy horse to deal with."
Newland said: "He's not the biggest horse, but staying is his forte and he took to Aintree.
"I actually fancied him to win the Pertemps (he was third) and it won't be easy to place him next year over fences with his handicap mark so we could go down the hurdling route before coming back again."