Graham Cunningham answers the big questions ahead of the 2000 Guineas
By Graham Cunningham
Last Updated: 29/04/14 12:20pm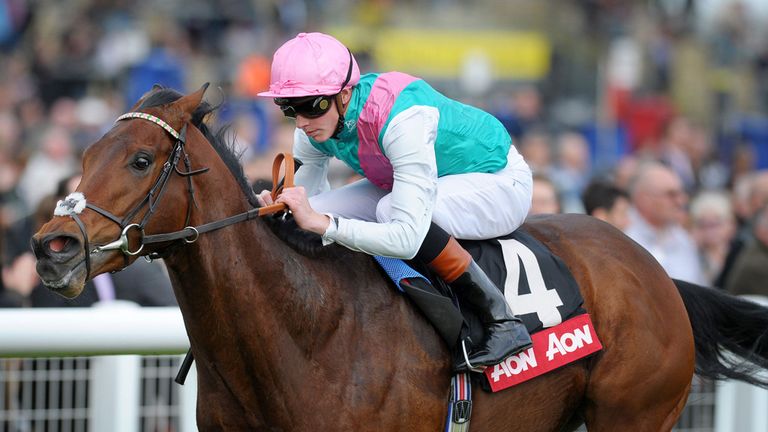 Channel 4 and Racing UK analyst Graham Cunningham answers the big 2000 Guineas questions.
Punchestown parties on but Newmarket is front and centre for Flat fans this weekend as the Flat season bursts into life for the QIPCO Guineas Festival. Kingman and Rizeena head the markets for the first two classics of 2014 but Channel 4 and Racing UK analyst Graham Cunningham feels there are a host of others to consider as he asks the key Guineas questions.
QIPCO 2,000 Guineas
How much does Ertijaal need to improve for the switch to turf?
Here's a colt who has proved plenty since being touched off by Toormore in a maiden at Leicester last May.
He proved himself a potential Pattern race winner when bolting up in a Yarmouth maiden; he proved he had trained on well when overcoming a bad draw to win at Lingfield in March; and he proved he can dig in hard when pressed by a useful improver back at Lingfield in the All-Weather Championships on Good Friday.The organisers of that jamboree will be rooting hard for him, but Ertijaal has a couple of key points yet to prove.
He has to prove he stays a testing mile. And he has to prove he truly has what it takes to win in a Guineas. He might well prove the former but the Lingfield wins - honourable though they were - leave ample doubt about the latter.
Does Shifting have the Power?
Dismissing an unbeaten Hannon colt who looks to have thrived physically from two to three is a risky business, but Shifting Power needs to leave his Free Handicap form well behind just to make the frame in this Guineas.
True, Ryan Moore hardly had to go for the whip, but Shifting Power didn't emerge the best horse at the weights that day in receipt of 6lb from fifth-placed Parbold and third-placed Aeolus might well have beaten him granted better luck.
I guarantee he will impress if you see him in the paddock on Saturday but it's hard to see him finishing better than fourth or fifth.
How much relevance will a bunched finish to the Prix Djebel have?
Quite a bit if you believe Charm Spirit's trainer Freddie Head. And not a great deal if you believe the form book.
The experienced Head has made bullish comments about Charm Spirit since his success in the Djebel, but that was a finish of three short heads at the end of a reasonably well-run race by French standards and it's hard to think the bare form is up to Group One standard.
Perhaps Charm Spirit will improve again and Bookrunner - representing Makfi's trainer Mikael Delzangles - is clearly entitled to improve having finished a fine fourth on just his second start.
But time may well show that the runner-up Kiram might be the best prospect from the Djebel. He isn't coming to Newmarket and the two who are need to up their game appreciably to play more than minor roles.
Can Outstrip fly the Godolphin flag in True Story's absence?
On balance, he looks up against it.
Outstrip does tick several boxes in that a mile on a fast surface looks ideal and he's already a G1 winner courtesy of his Breeders' Cup Juvenile Turf defeat of Giovanni Boldini at Santa Anita last November.
However, that win owed plenty to a superbly patient Mike Smith ride and the key clues to Outstrip's prospects here probably lie in two tilts at the best European juveniles of 2013.
Outstrip used his turn of foot a shade earlier than ideal when cut down late by Toormore at Glorious Goodwood, while the ground might have been a shade softer than ideal when he finished third in War Command's Dewhurst.
Dead ground shouldn't be an issue this weekend. All the same, only a clear career-best will do if Outstrip is to reverse placings with the pair who beat him last season.
Is War Command the forgotten force of Ballydoyle?
Very much so. This colt has been lost in the shuffle as the vibes surrounding stablemate Australia have grown stronger, but his runaway Coventry Stakes win and a decisive Dewhurst success on ground that was probably softer than ideal mark him firmly as among the cream of the 2013 juvenile crop.
Reports from various quarters suggest he has been playing second fiddle to Australia on the Ballydoyle gallops this spring, but I dare say something similar was in play when Rock Of Gibraltar and Hawk Wing travelled to Newmarket for the 2002 Guineas.
The Rock was sent off at 9-1 with Hawk Wing a raging 6-4 favourite that day but battle hardened professionalism won the day over gallops brilliance in a memorable finish.
Time will tell whether War Command can stage a repeat performance, but he's a proven G1 colt and it's a sign of the depth of this year's Guineas that he is still trading at double figure odds even after the announcement that he heads to Newmarket as opposed to Longchamp.
How long can Spanish raider Noozoh Canarias last in front?
Long enough to give his buccaneering connections a huge thrill. But perhaps not long enough to take the booty back to Spain.
Hundreds of Spaniards are expected to support this colt and his presence will add plenty of colour to the occasion. 
His trailblazing style should also ensure there is no hiding place for those who take him on, but making every yard in a Guineas is a tall order unless your name is Frankel. And, for all that NC has more than earned his place, the pack will surely claim him up the hill.
Kingston Hill - Guineas or Derby?
Or possibly both? 
Roger Varian's colt thrived over a mile at two and signed off with an emphatic win on soft ground in Doncaster's Racing Post Trophy.
Varian feels a faster surface won't be a problem, but the Donny form has received a few bruises and this will be a much sharper test of speed if the weather stays dry and the taps are used sparingly.
It wouldn't surprise me at all to see Kingston Hill run well to set himself up for a trip to Epsom. But it would surprise me a little if he has the acceleration to win what promises to be a very strong Guineas indeed.
Australia - is it a case of "don't believe the hype?"
The Racing Post's naps champ Paul Kealy is clearly out to get him and there will be plenty more prepared to oppose a colt who heads to Newmarket as the winner of a maiden and a Leopardstown G3 in which his main rival Free Eagle almost certainly wasn't himself.
Add in a pedigree which screams middle distances and you can see why people are doubting Aidan O'Brien's suggestion that Australia is a potential superstar, but I'm in no rush to jump to conclusions.
Granted, commercial considerations colour a lot of comments about Coolmore colts, but this is a firm with the ability to run something akin to G1 contests on the gallops and reports of what Australia has achieved on Tipperary mornings have been loud and long.
Granted, commercial considerations colour a lot of comments about Coolmore colts, but this is a firm with the ability to run something akin to G1 contests on the gallops and reports of what Australia has achieved on Tipperary mornings have been loud and long.
One early spring report suggested he left War Command trailing, while the latest suggests he brushed a very smart sprinter aside without turning a hair during his final serious workout.
It all adds up to a tantalising conundrum. Do you read the form book and the stud book and look elsewhere? Or do you trust in Aidan and his conviction that this is one of the best prospects Coolmore have ever handled?
There is a third way, of course. It involves watching and learning. Australia needs only to go close on Saturday to end the weekend as a very strong Derby favourite indeed. In summary, his abundant potential is one of the key factors in making this one of the most compelling British classics for years.
Can Toormore launch Richard Hannon's Classic career in style?
Hannon jnr was effectively the man behind Sky Lantern's 1,000 success last year but he now has his own name on the licence and Toormore is a high class and progressive colt who is very easy to like.
He showed he can accelerate from off the pace at Goodwood; he showed he can do it from the front in the National Stakes at the Curragh; and he showed he has held his own from two to three by defying a penalty decisively in the Craven Stakes.
Connections are adamant there is more to come. There will need to be if Kingman and Australia live up to expectations but Toormore is the sort of professional colt to take full advantage if they falter in any way.
Are there any significant flaws in Kingman's case?
If there are then they aren't jumping off the page.
Kingman left speedfigure geeks drooling on his Newmarket debut and followed up with a fluent Solario success before making a smart Greenham field headed by Night Of Thunder look third rate on his reappearance at Newbury.
The sustained acceleration he showed that day was mighty impressive, so what's not to like?
Fears that he might not stay a mile look way wide of the mark and Newmarket's eager irrigation policy suggests that John Gosden's fears about firm ground will be unfounded.
But Kingman did have surgery on an ankle last autumn and it was interesting to hear my Channel 4 colleague Jim McGrath report that he wore bandages in front for the Greenham.
Perhaps those who oppose him are clutching at straws, but this Guineas looks well up to scratch with four G1 winners in opposition as well as the much vaunted Australia.
Put simply, Kingman can't afford to regress from his Newbury run in any way if he wants to justify short odds in a classic as deep as this one. And, for all the brilliance he has shown in his short career this far, I'm not in a hurry to take 11-10 or even money.