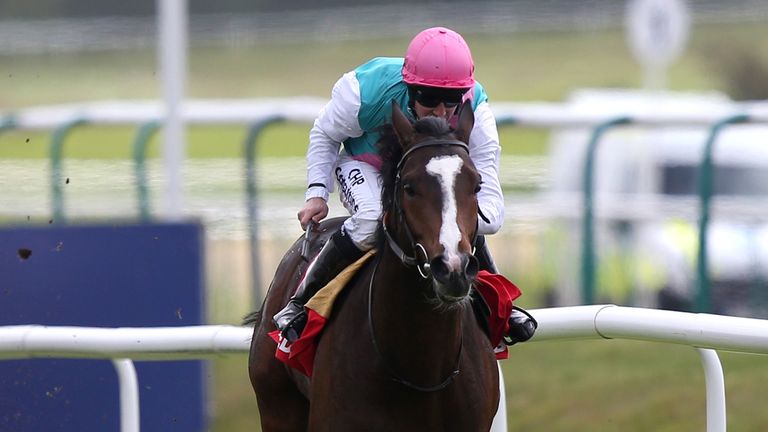 Although there was little obviously to perturb the slumber of short-priced Epsom favourites, Australia and Taghrooda in the past seven days, there were nonetheless plenty of promising efforts, quite a bit of confusion and a few shocks among the classic trials.
The Derrinstown Derby Trial was a very slowly run affair, making confident analysis difficult. I felt that Ebanoran did not significantly impede Fascinating Rock's momentum, although he undoubtedly bumped him twice near the line, but I acknowledge I'm in the minority here.
If they and third-placed Geoffrey Chaucer, who was checked twice, met again, I am not sure what the outcome would be – especially over a mile and a half at Epsom, which is where all three are likely to be heading.
If Ebanoran does stay – and there are any number of reasons to think he will if you judge him by his stamina-laiden dam's family – then the turn of foot he showed to take the lead marks him out as a high-class horse.
However, it might also be that his speedy sire, Oasis Dream, has had the dominant input. This horse was also very keen on Sunday (admittedly behind a funereal pace) and that's no positive for Epsom.
Clearly, his superb trainer John Oxx has been undecided on the stamina point, too, because he's entered Ebanoran in the Irish Guineas as well as both Derbies. Having spoken of his stamina on Sunday, Oxx is on record talking about the horse's speed earlier in his career.
Also, Ebanoran is a roller. He edged left to the rail when hitting the front on Sunday, jinked right soon after and then hung right away from the whip, causing interference that resulted in his demotion. Epsom's camber and hill will provide far more reasons to err from a true line than Leopardstown.
Fascinating Rock is perhaps the more likely to improve for 12 furlongs, although interestingly Dermot Weld, his trainer, did also enter him in the St James's Palace Stakes over a mile.
Weld's interpretation that he is "a big, long-striding horse and off the home turn he just lost his hind-end momentum", running a bit wide as the pace was quickening, explains how the race was lost and also raises a doubt for Epsom. However, the horse did handle undulating Navan previously.
Geoffrey Chaucer was a little keen but cornered well, before being outpaced by Ebanoran and then checked by him. Switched and rallying, his path was then completely blocked by Ebanoran's hanging right.
Initially, Aidan O'Brien's charge was better placed in a steadily run race than Fascinating Rock but he was in a worse position after the first instance of interference, albeit that he then appeared not to be staying on as effectively as the promoted winner. Confusing.
It is likely he'll improve for the run however, and he will probably stay 12 furlongs. Joseph O'Brien said at Chester, prior to the Leopardstown outing, that he sees Geoffrey Chaucer as more of a medium-term project, for the back end of this season and, more so, next.
Earlier in the week at Chester, Team O'Brien took both colts' trials. Orchestra's narrow success in the Chester Vase looked the more substantial Derby pointer than Kingfisher's Dee Stakes crawl the following day.
Had things panned out differently last Thursday, Romsdal – who is not entered in the Derby – might have beaten Orchestra. Latterly, William Buick found his mount not travelling as comfortably as the winner and angled towards to outer to give his stayer room to use his stride.
A three-horse wall in front prevented this option and Buick was forced to switch back inside and belatedly follow Orchestra through. Under a strong drive, Romsdal then only just failed to get up on the line. Had he followed the winner through immediately, the outcome might have been different.
That said, were they to meet again, it might be that Orchestra maintains his superiority. He travelled and cornered beautifully on Chester's tight track for such a scopey yet inexperienced horse. On breeding and O'Brien's training style, he should be a much-improved article at Epsom.
Romsdal is just as inexperienced, however, having been unraced as a juvenile, and is also improving fast. He stays thoroughly and looks physically well suited to Epsom but would need to be supplemented. He and Orchestra pulled well clear of non-stayers and/or inferiors.
Kingfisher was always going well in the Dee Stakes and may have won by further with a stronger pace. Joseph O'Brien believes he will stay the Derby trip but there is a doubt on the dam side and his form looks the weakest of the Ballydoyle quartet at this stage.
Going into Saturday's Lingfield Derby Trial, I felt sure that Snow Sky would improve both for the run and the step up in trip. He'd looked rusty on his seasonal debut when considerately handled behind Western Hymn at Newbury and has some stamina influences in his pedigree.
Having reviewed his victory, I now think only one of those expectations applied. He had definitely improved for a run, not to mention that his trainer, Sir Michael Stoute, has really hit his stride over the past fortnight.
Yet he was advantaged by dint of his relatively good positioning combined with his smooth handling of the downhill bend. That's not to say he wasn't the best horse in the race at that trip – I think he probably was – but I wonder whether the stiff nature of Epsom's 12 furlongs might find him out late.
That said, given he handled Lingfield so well, it would still seem logical to give the Derby a go, rather than wait for Royal Ascot's King Edward VII Stakes.
It was good to see Hartnell, the runner-up, bounce back after finishing distressed at Epsom last time and he looks likely to improve for 12 furlongs. However, he is unproven on fast ground (probably not an issue at Epsom) and was better positioned than Sudden Wonder.
That Godolphin horse challenged from further back and stayed on steadily. He handled the bend fine but edged a little left in the straight. He might do the best of these at Epsom, but the form as a whole does not look good enough.
Karakontie, the winner of the Poule d'Essai des Poulains on Sunday, is entered in the Derby and his trainer, Jonathan Pease, believes he may stay further. However, his pedigree suggests Epsom's test would be far too far for him.
The Oaks trials provided shock results, some perhaps more predictably than others. Tough little nut, Anipa, enjoyed the task Chester presented and her winning combination of prominent run-style, thorough stamina and big heart won her the day from the well-ridden Secret Pursuit.
She would need to be supplemented for the Oaks but, given she is thriving currently and is proven on quirky tracks, it would be understandable if connections U-turned and opted not to wait until the Ribblesdale. Given her stature, the fear is that other fillies will improve past her in the coming months.
Third-placed Bright Approach was reported after the race by her trainer, John Gosden, to have been in season. This inexperienced stayer was always up against it after being slowly away. The Ribblesdale – and perhaps ultimately the Park Hill – look the path for this half-sister to Nichols Canyon.
Honor Bound, the surprise Lingfield Oaks Trial winner, also is not entered at Epsom. She rolled right in the straight and just held off the renewed challenge of another non-Oaks entry Criteria, Bright Approach's stablemate. Both are bred for 12 furlongs, although the winner had rendered herself vulnerable by pulling hard.
In time, it might be third-placed Momentus who proves the best of these fillies and, Hallelujah, she holds an Oaks entry. That was only her second-ever start, having shown plenty of promise on her Newcastle debut, too. Although she is a maiden, she's worth a go in the Oaks, even if her stamina for further than Saturday's trip is a small doubt.
Island Remede doesn't look good or quick enough. Both Casual Smile and Queen's Prize were bitterly disappointing, both having been far too keen. The former unseated her rider on the way to post, so her temperament is under a cloud. The latter, who hails from an characterful family, might need a hood.
Veda was an excellent second from a wide draw to the talented Avenir Certain in the Poules d'Essai des Pouliches on Sunday and is bred for the Oaks trip, but the race is not on trainer Alain de Royer Dupre's agenda.