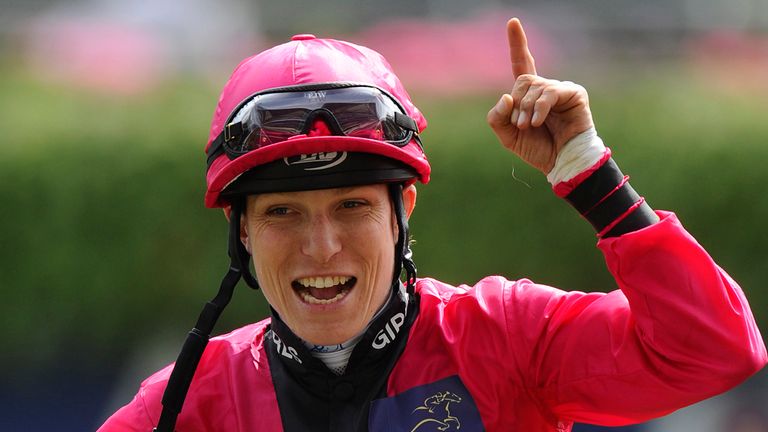 Our racing team reflect on the weekend's action including the Shergar Cup and an impressive maiden winner in Ireland.
The Shergar Cup. Discuss.
Jonathan Simpson (Sky Bet): As a one off it's a bit of fun that the racing industry should embrace. We get the chance to see some of the best jockeys from all over the world in action and I was particularly interested to see how Yuichi Fukunaga got on as he is the regular rider of Just A Way, officially the best horse in the world. As a punting medium it's not something to get too involved in as it's hard to assess how the foreign jockeys will fare riding on a track they are not familiar with.
Matt Brocklebank: Ah, the Shergar Cup. It's a safe bet to say the whole concept divides opinion. The teams, the intricate points scoring, the non-owners colours, even (bizarrely) the form is looked upon with a hint of scepticism in certain quarters. Having said all that, I've not yet been lucky enough to be present at a Shergar Cup meeting and I'm sure it's a fine spectacle for on-course punters. With a view to future betting opportunities, I thought Communicator ran a decent race when third to Semeen and Andrew Balding's charge wants backing next time he's stepped up in trip.
Ben Coley: The Shergar Cup is a nice enough idea and while it hasn't yet stimulated great interest among punters, it's worth persevering with one way or another. Tweaks could be made though and I'd start with getting rid of a team called 'Girls', unless of course the other team is called 'Boys'. Having GB and Ireland, Europe, International and GIRLY GIRLS – dressed in pink, naturally, because if nothing more girls do love the colour pink – is all kinds of wrong. I can get on board with the points system and even the reserves, but until they realise that their attempt to be 21st century revolutionists falls closer to 19th century sexists I'm going to sulk about the whole charade.
Will Hayler: I like to pretend it's an event to enjoy rather than have a bet in, but I don't think I can remember the last year in which I didn't have a bet in it too. Perhaps that says more about me than the Shergar Cup, but nevertheless it's not an event that I find particularly annoying, even if every year there will be ridiculous examples of jockeys with no experience of riding at Ascot and/or of riding over distances longer than 10 furlongs getting made to look like idiots. This year it was poor S'manga 'Bling' Khumalo getting carted off into the distance by Big Thunder, the poor lad. At least we'll get a bigger price next time…
Mick Channon said 'the sky is the limit' after Amralah won the Rose of Lancaster. Where do you set his limit and what of beaten pair Hillstar and True Story?
JS: I'm not sure the form of this race will be worth much at the end of the season. Yes, Amralah is improving but you have to question what he's beat. Hillstar is always the bridesmaid and finds one too good and the same can be said for True Story who has become massively over hyped after winning on debut at Newmarket. He was a low as 5/1 for the Derby at one point, and has shown nothing to support the connections faith in him. Both are worth opposing for the rest of the season.
MB: I'll start with the beaten duo as Hillstar has been really disappointing having not won since his Ascot triumph last summer and, although he keeps running well enough, he's clearly top not class. True Story, while behind the former in third, still looks a horse with a lot of ability to me and it's just a question of whether or not Saeed bin Suroor can get him to display it again on the track. My suspicion is he will. Amralah is obviously on the up and might be worth another crack at a mile and a half at some stage soon. I wouldn't be surprised to see him campaigned abroad at some point.
BC: Amralah's Haydock victory was the product of a fine Joe Fanning ride and Hillstar being a bit slow at the trip, so without crabbing the charming enthusiasm of his team I'd be shocked were he to go on and win the Irish Champion Stakes, reported to be a potential target along with some international adventures. Wherever he goes, it'll be in search of good ground but he'll do well to find such a perfect storm as that which arrived on Saturday. Hillstar is proving frustrating but he's not done a great deal wrong and is perhaps overburdened with expectation given connections, whereas True Story's Fielden performance increasingly looks the exception to the rule and it's fair to say he isn't straightforward. It's clear he has plenty of raw ability but patience wears thin.
WH: I've little to add to Ben's assessment, other than to say that so many of the big Group Ones are now run with pacemakers, it's hard to believe he will get his own way in front at the very highest level. It's good to see some great racing silks being carried with distinction again, but they may be struggling to place Amralah from now onwards. Perhaps options in the US may be the answer?
John F Kennedy won the maiden at the Curragh and is now 12/1 for the Derby and 16s for the Guineas with Sky Bet. Are those quotes justified? Where would your money be in both markets at this early stage?
JS: John F Kennedy was very impressive and 12s and 16s are about the correct prices at the moment. I would like to see what he's does next as it was only an average maiden he won at the weekend. The two I've had my money on are Highland Reel and Faydhan. Highland Reel was mighty impressive at Goodwood last week and reminded me of St Nicholas Abbey as a two-year-old. A really good looking colt with the world at his feet, I'll be keen to know what route Aiden O'Brien plots with this son of Galieo. Faydhan has only won a maiden at Haydock but it was the manner and confidence beforehand that was striking. He beat a subsequent Goodwood winner in Dutch Connection by six lengths and should be given the utmost respect wherever he goes next.
MB: Very much justified as the well-bred O'Brien inmate thrashed his rivals despite not yet looking the finished article by some way. It's interesting comparing him with the likes of Ivawood, who already has Group-winning form in the book and has seemingly done most of his growing already. He looks more of a Derby prospect to me and I think he should be a tad shorter than current jolly Highland Reel.
BC: JFK – we're calling him that, I take it? – was extremely impressive but time will only tell how strong a maiden it was. Certainly, the newcomers from top yards didn't appear to carry a great deal of confidence and Jim Bolger's horse was taking a hike in trip following a debut run that was no more than mildly encouraging. Clearly, his next race tells us more as he steps up into Pattern company so for now I'll boringly reserve judgement. One thing I would say is that the stock reaction to antepost moves such as that which sees him share Derby favouritism is 'too short', but with Camelot going off at 8/13 and Australia 11/8, trying to pin down the right one at Ballydoyle is probably a challenge worth tackling. JFK might just be it, but taking a combined 11/2 about him and stablemate Highland Reel is not as daft a strategy as it may sound.
WH: A special name is usually only given to a special horse at Ballydoyle and although they don't always get it right in this respect, it raised an eyebrow right from the start to see a well-bred horse (but aren't they all?!) named after a man so hallowed in Ireland. I was really impressed with John F Kennedy and I certainly don't think he is unbackable for next year's Derby by any means.
And what of Dick Whittington's beating of Kool Company in the Phoenix?
JS: I don't think these will be the best two-year olds around at the end of the season. Kool Kompany is an admirable tough sort who should hold his own around Group Two/Three level but I can't see him being much more than that. Dick Whittington did really well to win this, getting little cover and having had a barging match with Kool Kompany, he proved just too strong in the finish. The feeling is that O'Brien has better two-year-olds in the stable but he should not be underestimated. I could see him running well in races such as Breeders Cup Juvenile on better ground.  
MB: Every season O'Brien keeps one of his better juvenile on the go for most of the season and Dick Whittington has been this year's case in point. His stamina appeared to be the deciding factor at the weekend and I'd be shocked if he didn't get a mile next season. He fits the bill for next year's Irish Guineas but a little closer to hand I'd like to see him in the Dewhurst.
BC: DW's victory in the Phoenix is perhaps most notable for the compliment it pays to Richard Pankhurst, whose victory in the Chesham remains one of the most impressive of the season from a visual perspective. John Gosden evidently thinks quite a bit of this son of Raven's Pass and a career along the same path as his illustrious father could yet be forthcoming. In terms of Dick, I'm not sure how relevant this is but the last five winners of the Phoenix combined for 30 subsequent runs and one subsequent win, so it's hardly been a breeding ground for Classic talent – or talent of any real note – in recent years. He'll probably prove a shade shy of the very top.
WH: It was a solid day's work for Dick Whittington, but it wasn't a race that will live long in the memory with not much covering the field at the line in a contest run in gluey conditions that probably didn't see any of them at their best. His honesty and hardiness will stand him in good stead for the rest of the season, but at this stage he looks more of a Pedro The Great (2012) or Alfred Nobel (2009) than a George Washington (2005) or Mastercraftsman (2008).
Finally, give us an eye-catcher for your My Stable team.
JS: A horse I've been keeping an eye for a while is Ballesteros for Richard Fahey. He ran his best race for a while at Ascot on Saturday and, having shown nothing all season, the autumn could be wear he comes into his own - only two years ago he finished fourth in the Prix De L'abbaye. The key to him is really soft ground which hopefully should be a plenty over the next few months and off a mark of 97 he surely will be making a return to the winner enclosure very soon!
MB: Diracan made a pleasing start to handicap life when third in first-time blinkers at Lingfield on Saturday and she's well worth following, albeit at a lowly level. The way she stayed on in the closing stages suggests she'll benefit from another furlong.
BC: What Jonathan said.
WH: My colleague Ben Linfoot did his money on Value Bet selection Chancery at Haydock on Saturday (although happily his second selection in the same race won at 16/1, so props to him!), however I think he'll get it back at some stage on better ground.