GAA: Kilkenny forward Richie Power hoping to make his mark against Tipperary
Last Updated: 03/09/14 12:40pm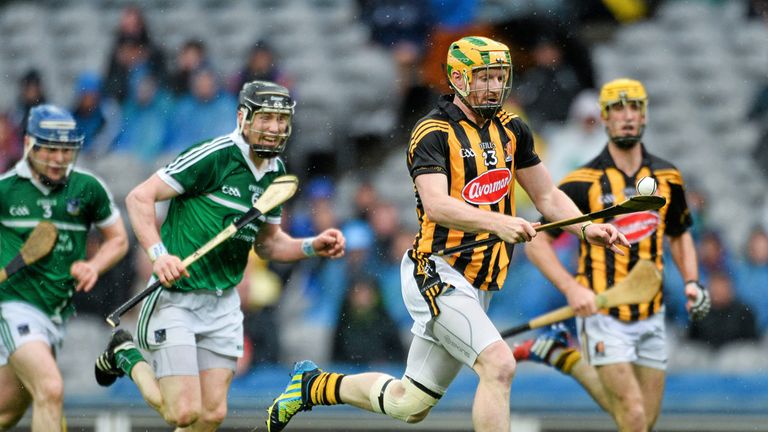 At no point this summer could Richie Power be certain of playing any hurling with Kilkenny.
Injury was one factor, and also the realisation that no player could be certain of it.
Such was the reinvention order of manager Brian Cody that even first names on the team sheet were suddenly being reconsidered. Ask Tommy Walsh or Henry Shefflin.
Yet that very uncertainty helps explain why they're back in an All-Ireland final. Because at 28, whatever level of certainty Power had in his place on the team effectively vanished.
If he was still good enough to play any hurling with Kilkenny this summer he'd need to prove it all over again.
That chance came in last month's semi-final against Limerick. Power had missed the Leinster final against Dublin with a knee injury and also the semi-final replay with Galway, but when called in against Limerick after 50 minutes he immediately added substance and guile and a particularly menacing presence to the Kilkenny forward line.
He finished off Kilkenny's second goal that ultimately closed the deal (even though Eoin Larkin claimed a touch). Power could also have had a second goal had Limerick's Donal O'Grady not swept him off his feet with a diving stroke of a hurl.
"Yeah, Eoin claimed the goal for a while, but the video analysis has proven that I got the touch, so I'll take it," said Power. "It's my first goal in the championship. He's got a few.
"As for O'Grady's trip sure these things happen in sport. I thought I had a clear path to goal, was getting ready to shoot, then I was suddenly on the ground. But it was a massive game and a monumental effort.
"I watched the first 50 minutes from the bench, just looking at the pure determination and heart that both teams showed."
Uncertain
His calm demeanour now has replaced an anxious time when Power was uncertain of his involvement in this year's championship. He missed Kilkenny's opening game against Offaly with a hamstring injury and then injured his kneein the drawn Leinster semi-final against Galway.
"I've only hurled 60 minutes all summer," he said, "and that does make it harder to prove yourself, fitness-wise.
"After picking up the knee injury against Galway I was given a time frame of eight to 12 weeks. Stupidly or not, I was back jogging after about a week and a half, pushing on from there.
Take any Kilkenny-Tipp game over the last 10 years. They've nearly all been epics, games that people have talked about for a long time.
Richie Power
"My aim was to get back for an All-Ireland semi-final, if Kilkenny got there. Luckily they did, and I got to play some part."
Which set up Sunday's latest All-Ireland showdown against Tipperary, and Power doesn't need much of an invitation to express the depth of that rivalry.
"They're just a pure dogfight, really," he said. "It's always been the case against Tipp; you can look back over league finals, the championship in Nowlan Park last year, All-Ireland finals, there's no one game that sticks out. We know exactly what's facing us.
"Take any Kilkenny-Tipp game over the last 10 years. They've nearly all been epics, games that people have talked about for a long time.
"For Tipp this year has a real feel of 2010 again, with the momentum building. Looking at them in the semi-final they've no obvious weakness. That's what we took from it, and it's up to us to try and pinpoint some weakness in that team."
Highs and lows
Power reckons two of his greatest lows and highs in the championship were experienced against Tipp. First, the low of losing to them in the 2010 All-Ireland final (and with that losing the five-in-a-row).
Then, the high of beating them in the 2011 final, Power scoring two points and ending the season with his second All Star.
"That hurt from 2010 really drove us on, that after 2010, everyone was saying that this Tipp team is the new team, were going to dominate. We were determined not to let that happen.
"It was no different after last year; a lot of lads left Thurles last year bitterly disappointed, after losing to Cork. Again, that drives you on.
"That philosophy comes from management, that any year you don't win an All-Ireland is looked upon as failure."
Watch the All-Ireland final between Kilkenny and Tipperary live on Sky Sports 1 on Sunday from 2.30pm