GAA: Paudie O'Neill unconcerned by Tipperary's poor recent record against Kilkenny
Last Updated: 03/09/14 12:11pm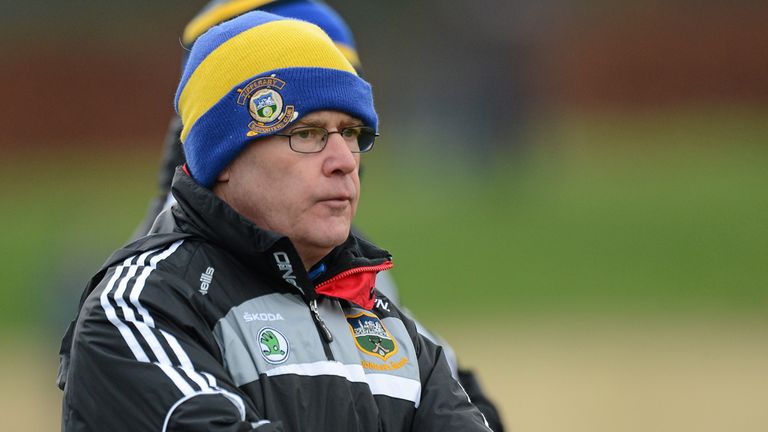 Within the Tipperary management team, Paudie O'Neill provides perspective.
He shares with manager Eamon O'Shea the geographical distance of having lived elsewhere for a long time, having been an influential part of the structures that have rebuilt Dublin hurling over the past 20 years.
A long-time member of Ballyboden St Enda's, the former school principal in St Colmcille's, Knocklyon, has managed the Dublin minors and under-21s and like O'Shea, an old team-mate from the Tipperary under-21s, even lined out for the county in his playing days.
ALL-IRELAND SHC FINAL
Kilkenny v Tipperary
Sunday, 3.30pm
Live on Sky Sports 1
His GAA career began at home in Clonmel and the St Mary's club but he also played football for the town's famous Commercials. Two years ago hurling brought him back to his own county but he was aware the reintegration would take time.
"I was unusual in the situation that I have been out of Tipperary for many years, and most of my coaching was done in Dublin," he said.
"So when Eamon asked me to come in with himself and Mick (Ryan, assistant manager) two years ago, it was – if you like – winding back the clock because I was going back into an environment I had not been in for a long, long time.
"The two lads, Eamon and Mick, had been there for three years in 2008, '09 and '10. So I was coming in as the new guy on the block. Like in any job, it takes you a while then to acclimatise and to really get to grips with what it's about.
Relationship
"I suppose, from the coaching point of view, it is easier in year two. You know the players better; they have developed, you hope, a relationship with you.
"The level of connection is better, and I suppose that would be the thing that would have struck me most forcefully this year – that you didn't have to go through all the preliminaries of getting to know people."
Although Tipperary are back in an All-Ireland final, the county's fourth in six years – all against Kilkenny – that looked a long way off back in June just after the team had been beaten by Limerick and were facing a long campaign in the qualifiers.
I suppose, from the coaching point of view, it is easier in year two. You know the players better; they have developed, you hope, a relationship with you.
Paudie O'Brien
"We're all learning the whole time," said O'Neill, "but this notion of failure: I was listening on the radio to Albert Reynolds's funeral mass. I was listening to his daughter at the end of it and she was speaking about how probably one of his greatest characteristics was when she failed some exam and was absolutely distraught, he said, 'you will learn more from this experience than from any successes'.
"When we lost to Limerick on June 1 we were devastated but how do you respond to that? And I think the boys have responded very well."
As Tipp have picked up steam though, they have crashed past all opposition from the final quarter of the match against Galway and on through Offaly, Leinster finalists Dublin and Munster champions Cork. O'Neill takes issue with the suggestion these contests were too easy.
Reflection
"I don't think that's the case at all," he said. "It's a reflection of how comprehensively we prepared for the game and how we treated each team with huge respect.
"Against Cork, one thing that would disappoint us a little bit, I think it was in the 63rd minute or something like that, I think we were ahead by 12 or 13 points; I don't think we scored after that."
Unlike his management colleagues O'Neill has no experience of Kilkenny in All-Ireland finals, although Tipp have lost the last two league deciders to their opponents. That past doesn't trouble him unduly.
"It's a fact. If you look at the statistics, Tipp have won whatever they've won and Kilkenny have won many more. That's just a fact and there are lots of facts in life.
"We wouldn't be wasting energy trying to change that. A fact is a fact. We can't change the result of '09 but we can't change the result of 2010 either."
Watch the All-Ireland final between Tipperary and Kilkenny live on Sky Sports 1 on Sunday from 2.30pm