Montreal Canadiens crush Washington to leave Capitals searching for first win
The Montreal Canadiens hammered Washington 4-1 and leave the Capitals still searching for their first win of the season.
Last Updated: 25/01/13 7:57am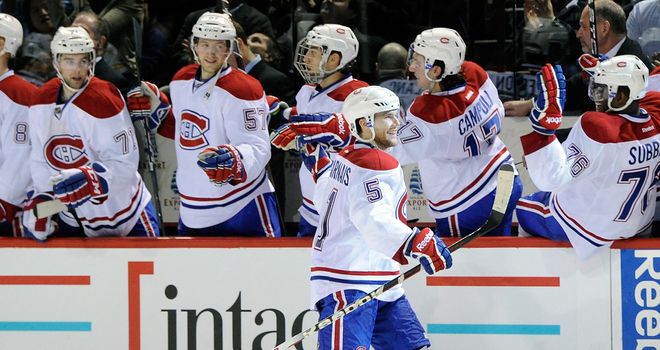 Second period goals from Tomas Plekanec, Andrei Markov, Brian Gionta and Josh Gorges made it back-to-back wins for the Canadiens as they bounce back nicely after their disappointing season-opening loss to Toronto.
"We took advantage of our powerplay, especially in the second period," Montreal coach Michel Therrien said. "The powerplay gave us a good chance to win this hockey game."
Canadiens netminder Carey Price stopped 30 shots and was rarely tested before a Joey Crabb goal with 2:33 remaining ended the veteran's shutout bid.
"Things haven't been going our way," Capitals first-year coach Adam Oates said. "The team is probably a little fragile and we gave them a five-on-three goal, which right away took the wind out of our sails a little bit."
Elsewhere Erik Karlsson scored the go-ahead goal midway through the second period as the Ottawa Senators won their third straight game, beating the Florida Panthers 3-1.
Tomas Fleischmann scored a power play goal on a wrist shot from the circle to put the Panthers 1-0 up
Ottawa also scored on the man advantage, as Chris Phillips scored on a slap shot but Karlsson scored midway through the second period and Jason Spezza scored an empty net goal to complete the 3-1 victory.
In-form rookie Vladimir Tarasenko struck again for St. Louis, scoring his fourth goal of the season for the Blues in a 3-0 win over the Nashville Predators.
And Wayne Simmonds and Jakub Voracek scored to help the Philadelphia Flyers defeat the New York Rangers for the first time in two seasons, a 2-1 victory.