NHL: Boston Bruins recover from defeat to secure 4-2 victory over New York Islanders
Boston Bruins bounced back from their overtime defeat to the New York Rangers to beat the Islanders 4-2 on Friday.
Last Updated: 26/01/13 10:41am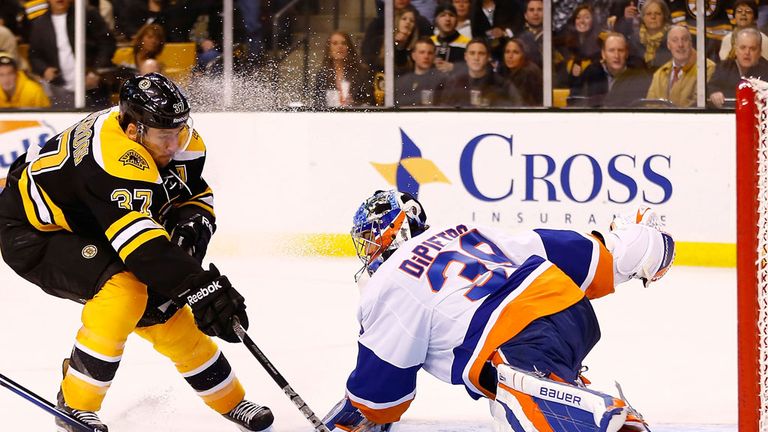 The match was tied 2-2 going into the third period before Boston edged ahead through defenseman Zdeno Chara, who began his NHL career with the New York Islanders.
Patrice Bergeron then scored his first goal of the season on a breakaway to seal the victory.
Right wing Shawn Thornton and center Gregory Campbell were also on target for the Bruins, who have produced nine different goal scorers from their first four games of the truncated season.
The Bruins, who won the Stanley Cup two seasons ago, have begun the campaign well, winning three of their first four games.
Center Keith Aucoin was the goalscorer for the Islanders, netting one in each of the first two periods.
Elsewhere, Henrik Zetterberg broke a tie midway through the second period, and Todd Bertuzzi scored his second goal of the game early in the third as the Detroit Red Wings defeated Minnesota Wild 5-2.
Pavel Datsyuk, who assisted on Zetterberg's goal, put Detroit ahead by two late in the second period, with the Russian also setting up Bertuzzi on his second goal.
In Anaheim, Cory Schneider pulled off 30 saves in his fifth career shutout, Mason Raymond scored twice, and the Vancouver Canucks avenged last week's defeat to the Californians with three power-play goals as they secured a 5-0 victory.
Daniel Sedin and Raymond scored on power plays in the first period, and Zack Kassian added a man-advantage goal in the third period.
In Friday's other games, Ilya Kovalchuk scored in overtime, and the New Jersey Devils won their third game on the bounce to start the lockout-shortened season 3-2 over the winless Washington Capitals, while Ryan Malone scored two goals in the third period as Tampa Bay beat Ottawa 6-4.
Meanwhile, Carolina Hurricanes secured a 3-1 win over the Buffalo Sabres and the Winnipeg Jets won their first home game of the season, beating the Pittsburgh Penguins 4-2.