NHL: Blackhawks equal record with shootout victory over Vancouver
Chicago Blackhawks fought back to secure a 4-3 shootout win over the Vancouver Canucks in a record-equalling victory.
Last Updated: 20/02/13 9:06am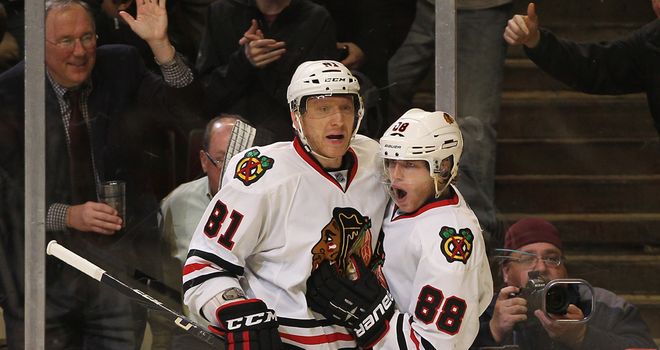 NHL leaders Blackhawks (13-0-3) matched the longest start to a season without a loss in regulation, the 16-game run matching the achievements of the 2007 Anaheim Ducks side, who went on to win the Stanley Cup.
Daniel Sedin opened the scoring for Vancouver but Chicago answered with three straight goals in the second period, where Patrick Sharp netted a slapshot and Marian Hossa added a pair of goals to establish a two-goal lead.
That was how it stayed until the final three minutes of the third period before Canucks' Alexander Edler and Kevin Bieksa netted to take the game into overtime.
But Chicago held their nerve as Patrick Kane and Andrew Shaw converted in the shootout for the Blackhawks and goaltender Ray Emery made two crucial saves to secure victory.
Cory Schneider pulled off 40 saves for Vancouver, who have now lost three straight matches since their six-game winning streak came to an end.
"It's a remarkable start," Blackhawks coach Joel Quenneville said of their impressive run.
"We're very happy and pleased. Guys should be proud of the achievement and where they're at, especially in a 48-game season."