NHL: Andrew Shaw scores only goal as the Chicago Blackhawks remain unbeaten
The Chicago Blackhawks maintained their unbeaten run with a narrow victory over the Columbus Blue Jackets.
Last Updated: 25/02/13 9:15am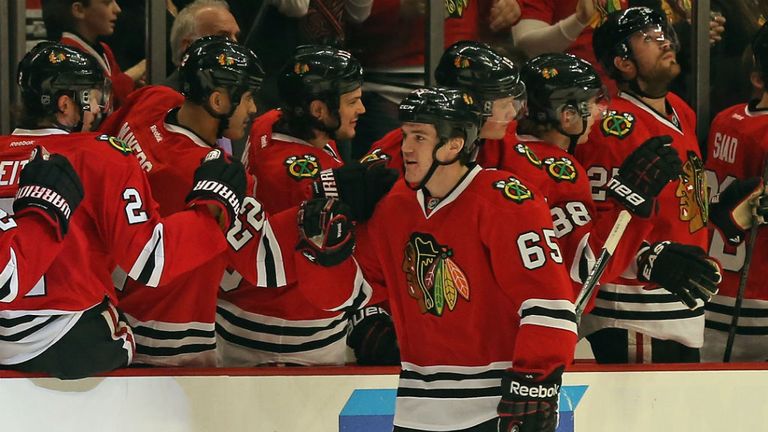 The NHL's top club have now won all 18 of their games this season, with Andrew Shaw scoring the only goal against the Blue Jackets and Corey Crawford claiming a shutout.
The Anaheim Ducks needed overtime to snatch a 4-3 win over the Colorado Avalanche, with Corey Perry securing the crucial goal with 45 seconds left on the clock.
The Detroit Red Wings registered a stunning 8-3 defeat over Northwest leaders the Vancoutner Canucks.
Damien Brunner scored twice and assisted twice and Joakim Andersson added two goals of his own in a fine showing for the Red Wings.
The Pittsburgh Penguins overcame a 5-3 victory over theTampa Bay Lightning with Sidney Crosby collecting two goals and an assist, while the New York Islanders' flaky home form again cost them in a 4-2 loss against the Carolina Hurricanes
The Calgary Flames were 5-4 winners over the Phoenix Coyotes, the Boston Bruins bested the Florida Panthers 4-1 and the New Jersey Devils went down 4-2 to the Winnipeg Jets.