NHL: The Chicago Blackhawks remain unbeaten in regulation
Jonathan Toews scored twice as the Chicago Blackhawks juggernaut keep on rolling with a 3-0 win over the St Louis Blues.
Last Updated: 01/03/13 7:41am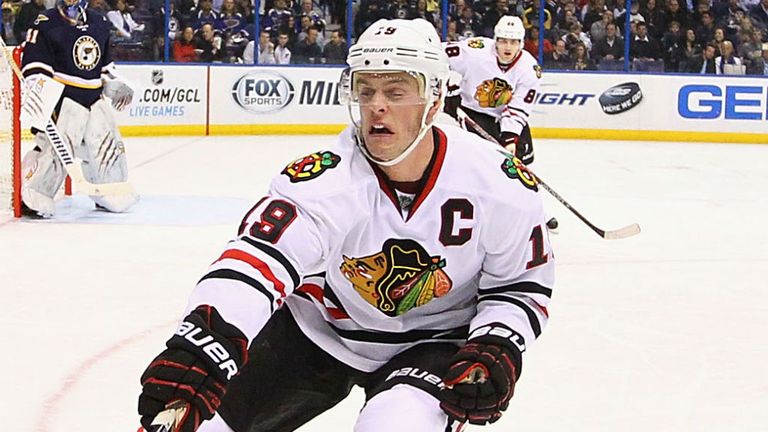 The Blackhawks - still unbeaten in regulation - already held the record for the longest scoring streak to start a season and they extended that run to 20 games thanks to and a goal from Andrew Shaw.
Chicago also chalked up a shutout despite Corey Crawford suffering an injury in the first period. Ray Emery came on to complete the job.
Jiri Tlusty had two goals and an assist to lead the Carolina Hurricanes to a 4-1 win over the Atlantic-leading Pittsburgh Penguins. Eric Staal had a goal and two assists, while Jeff Skinner scored the other for the Hurricanes.
Marc Staal was on the scoresheet as the New York Rangers got their first win in five with a 4-1 victory over the Tampa Bay Lightning. Carl Hagelin, Derek Stepan and the returning Rick Nash also scored for the Rangers.
Patrice Bergeron struck in overtime to give the Boston Bruins a 2-1 win over their Northeast rival Ottawa Senators.
Bergeron's goal, which went to a review to confirm the puck had crossed the line, settled a game which Jim O'Brien took to overtime by cancelling out Nathan Horton's opener.
Nazem Kadri scored a hat-trick to help the Toronto Maple Leafs to a 5-4 win over the New York Islanders. Dion Phaneuf got the winner in overtime.
Andrew Ladd scored twice, the first after just eight seconds, to put the Winnipeg Jets on their way to a 3-1 win over the New Jersey Devils.
The Colorado Avalanche rallied to a 5-4 win over the Calgary Flames, while the Buffalo Sabres used a shootout to edge out the Florida Panthers 4-3.
Dany Heatley scored twice in the Minnesota Wild's 4-3 win over the Phoenix Coyotes, the Edmonton Oilers saw off the Dallas Stars 5-1 and the Detroit Red Wings overcame the San Jose Sharks 2-1 following a shootout.