The Chicago Blackhawks have continued their amazing start to the season
The Chicago Blackhawks have extended their NHL record season-opening points streak to 21 games.
Last Updated: 02/03/13 9:19am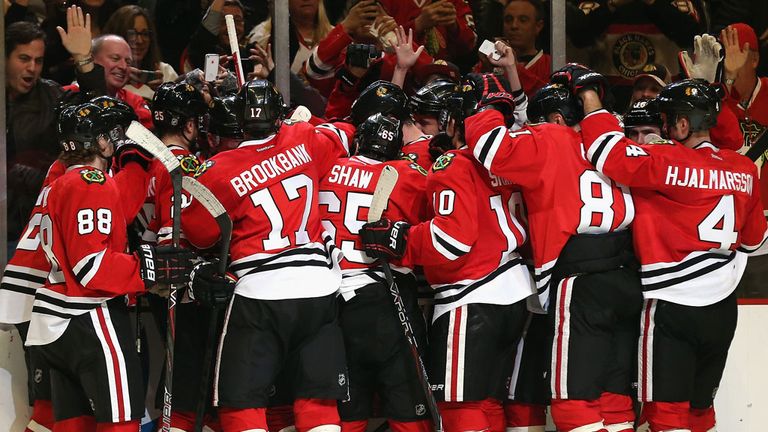 Brent Seabrook got the winning goal for the Blackhawks, who have now won 18 games this season and earned consolation points in their three losses, which all came in shootouts.
With 1:37 remaining in overtime, Blackhawks captain Jonathan Toews chipped the puck past defenceman Adrian Aucoin and then fed Seabrook with a cross-ice pass, which was blasted into the open side of the net.
Chicago have now won eight-straight games, their last half dozen victories all coming by one-goal margins.
They have earned at least one point in 27 straight games dating back to last season, the third-longest run in league history.
Chicago's Patrick Sharp and Bryan Bickell scored 59 seconds apart late in the second period, and Viktor Stalberg also connected in regulation for the Blackhawks.
Ryan Johansen scored with 7:37 left in regulation to tie it at 3-3 for Columbus, snapping his 37-game goal drought. Vinny Prospal and Artem Anisimov were also on target for the injury-depleted Blue Jackets, who have a league-low 14 points.
In Friday's other games, Anaheim extended its home winning streak to eight games by defeating Minnesota 3-2 and St. Louis erased a two-goal deficit to beat Edmonton 4-2.
Anaheim's Teemu Selanne scored his 669th NHL goal and Jonas Hiller made 31 saves as the Ducks held off Minnesota's late surge while Vladmir Sobotka put St. Louis Blues ahead early in the third period and also added an assist.