NHL: New Jersey Devils bounce back to topple the Buffalo Sabres
The New Jersey Devils recovered from a two-goal deficit to beat the Buffalo Sabres 3-2 after a shootout.
Last Updated: 08/03/13 7:08am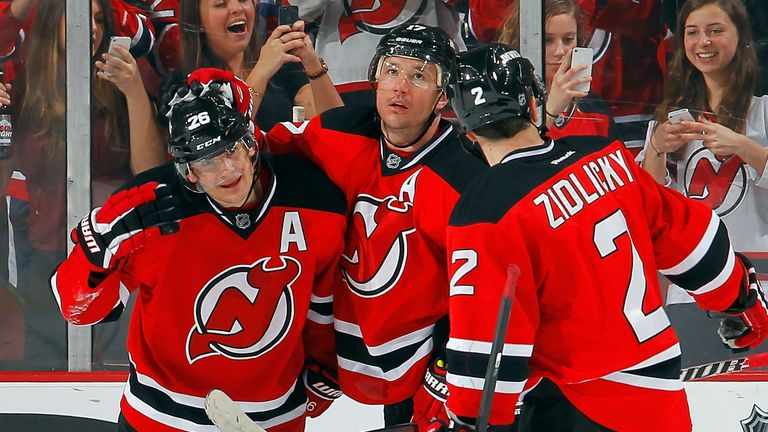 Thomas Vanek and rookie Brian Flynn had put the Sabres in to a 2-0 lead, only for Patrik Elias and Adam Henrique to score in the final six-and-a-half minutes to take the game into overtime.
Elias and David Clarkson then scored in the shootout to snatch the victory for the Devils.
In New York the Rangers defeated the Islanders 2-1 in overtime with Marian Gaborik scoring a power-play goal 42 seconds into the extra period.
Rick Nash had evened the game up for the Rangers in regulation before feeding Gaborik for the winner. Henrik Lundqvist made 27 saves for the Rangers and Evgeni Nabokov stopped 35 for the Islanders.
Atlantic League leaders Pittsburgh Penguins rallied from 4-1 down to beat the Philadelphia Flyers 5-4.
Decisive
Chris Kunitz (2), Pascal Dupuis, James Neal and Tyler Kennedy scored for the Penguins after Jakub Voracek (2), Zac Rinaldo and Kimmo Timonen had put the Flyers into an early lead.
Tyler Seguin had two goals and an assist and Patrice Bergeron had one of each as the Boston Bruins beat the Toronto Maple Leafs 4-2.
The Columbus Blue Jackets were 2-1 overtime winners against the Vancouver Cannucks as Matt Calvert carried the puck from almost end to end before scoring the decisive goal.
Jimmy Howard made 22 saves as the Detroit Red Wings beat the Edmonton Oilers 3-0 with the scores coming from Jakub Kindl, Cory Emmerton and Justin Abdelkader, while the Washington Capitals climbed out of a tie for last place in the Eastern Conference with a 7-1 win over the Florida Panthers.
The Winnipeg Jets defeated the Tampa Bay Lightning 2-1, Bryan Little scoring a tiebreaking goal late in the third period and Al Montoya making 28 saves.
The Montreal Canadiens were 4-2 winners over the Carolina Hurricanes, the St Louis Blues beat the Phoenix Coyotes 6-3 and the Dallas Stars defeated the Los Angeles Kings 5-2.