NHL: Detroit Red Wings and Minnesota Wild both progress
The Detroit Red Wings and the Minnesota Wild claimed the final NHL play-off places in the Western Conference.
Last Updated: 28/04/13 7:44am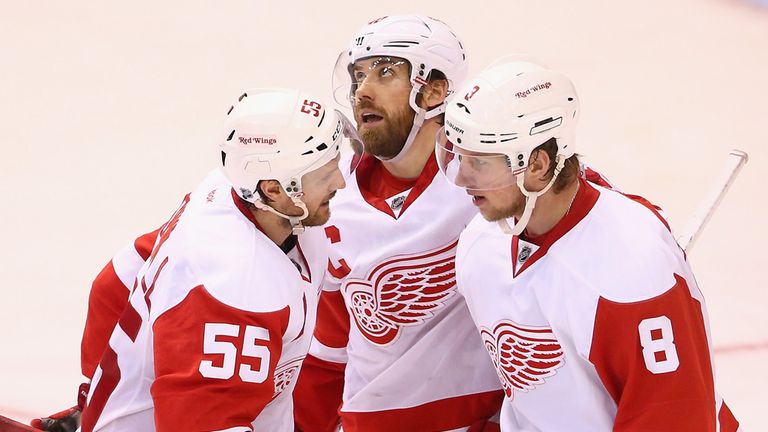 They were in a three-way battle with the Columbus Blue Jackets to take the spots and, with all three sides winning, the Red Wings finished seventh, one point clear of the Wild and Blue Jackets with Minnesota qualifying on wins in regulation.
Detroit shutout the Dallas Stars as they claimed a 3-0 win with two goals from Henrik Zetterberg and a marker from Jonathan Ericsson.
The Wild beat the Colorado Avalanche 3-1 with goals from Zach Parise, Devin Setoguchi and Pierre-Marc Bouchard. Ryan O'Reilly responded for Colorado.
Columbus were also 3-1 winners over the Nashville Predators despite going behind to a second-period goal from Shea Weber. Goals from Brandon Dubinsky, Jack Johnson and Cam Atkinson handed them the win but it was to prove in vain.
Elsewhere in the West, the St Louis Blues beat the Conference winning Chicago Blackhawks 3-1 to seal fourth place. The Blues will face the defending Stanley Cup champion LA Kings in the first round of the play-offs after the Kings beat the San Jose Sharks 3-2.
Elsewhere in the West the Phoenix Coyotes beat the Anaheim Ducks 5-3 while the Edmonton Oilers won the Battle of Alberta with a 7-2 victory over the Vancouver Canucks.
In the Eastern Conference the Montreal Canadiens beat the Toronto Maple Leafs 4-1 in a battle of two teams who had already made the post-season.
The two teams could meet again in the play-offs if the Boston Bruins beat the Ottawa Senators on Sunday.
The New York Rangers beat the New Jersey Devils 4-0 thanks to goals from Derek Stepan, Ryan Callahan and brace from Rick Nash. They will now face Washington in round one after the Capitals lost 3-2 to the Bruins.
Philadelphia closed their season with a 2-1 win over the Senators while the Pittsburgh Penguins beat the Carolina Hurricanes 8-3.
In the remaining game of the night the Florida Panthers beat the Tampa Bay Lightning 5-3.