Where next?
Sky Sports' Dave Simms takes a look at the impact of a possible move for Matt Myers.
By Dave Simms
Last Updated: 02/05/13 3:55pm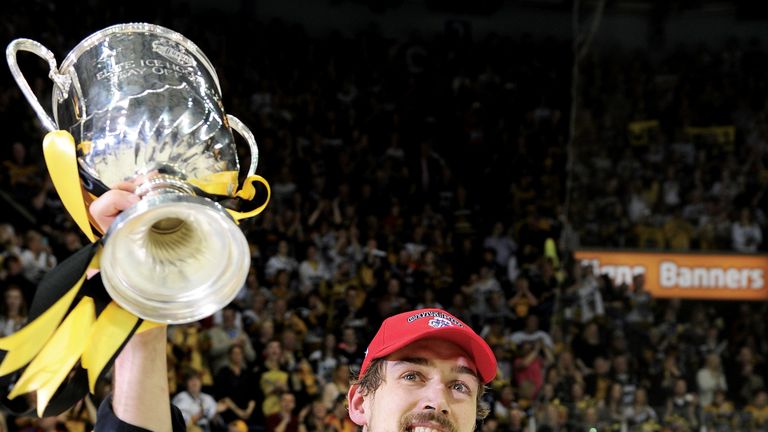 The merry-go-round of British hockey is about to take a big plunge in the next week as the remaining un-signed British players conclude their final destinations for next season. With a shortage of top flight home grown talent there is an ever growing demand for their services.
Already we have seen the Sheffield Steelers move for EPL hot shot Aaron Nell. They are rumoured to be bringing home the country's leading British player Robert Dowd from his year away in Sweden. In doing this they have failed to offer veteran forward Ashley Tait and fringe player Lee Esders new contracts.
It's rare for a player of Tait's ability and position within the game to be club-less in May. He may though be the final piece in a merry-go-round that may, or may not lead him back to his former club in Nottingham.
Every year Welsh-born Panthers forward Matthew Myers threatens to return to his hometown club in Cardiff. Many times the likes of Coventry have thought they were in with a chance of landing the power forward. Every year though Myers returns to Nottingham. Something that amazes me though is that he is perhaps doing more than thinking about it this summer. A house sold in Nottingham, a wedding around the corner and a Welsh bride, is the summer of 2013 the summer when Myers does go home?
If Myers does leave the Lace City who do the Panthers replace him with? To be fair the list is not a long one with no obvious candidate, thus giving the 37-year old Tait another shot at a title contender.
Opportunity
Dowd would be the first choice, but a move to Nottingham seems unlikely for the former Steeler, who if he does return home to the UK seems keen on reuniting with his former coach Doug Christiansen.
Nottingham-born Robert Farmer would be next on the pecking order. The gifted forward has no home allegiance after playing for Sheffield, Coventry and last year Braehead. That though is also an issue as Farmer has a gypsy heart and wants to travel. After leaving Sheffield he tried junior hockey in Canada. Following a great spell in Coventry, he tried Kazakhstan. Now after leading the way in Braehead, word has it that Farmer wishes to try Canada and the States once again and a crack at the East Coast League.
Now maybe Nottingham can persuade Farmer not to make that move. Throw a pot of gold in his direction with the offer of Continental Cup hockey in Europe next season, a place on a team chasing championship glory once more and a huge opportunity for him to have a stellar year and really make a claim for a proper move to Europe the year after, as Dowd did following his year in Belfast.
Word has it though that Farmer is keen to move to the ECHL. Of course he knows he can move back at a drop of a hat and a string of clubs will be there to meet him off the plane, be it in October, November or December.
So, if not Dowd or Farmer step up to the plate and replace Myers, maybe Craig Peacock of Belfast? Two issues here. 1) Belfast will try and hold him to a two year contract he signed before their change of ownership and 2) Peacock too wants a move to Europe and is already being scouted by Danish and Italian sides. I think Peacock is the perfect fit for the Panthers. If I was them he would be my first choice but again a long shot if the player is determined to leave and try the continent.
As with Farmer, Peacock knows there is no shortage of takers should Europe not proceed. Therefore, there isn't any risk factor whatsoever for those two youngsters.
So as good as Ashley Tait is, even at his age, even not at his prime you can see how quickly he comes into the thinking of the Panthers. A short term, one year solution to a problem they can look at resolving over the next 12 months. There is, however, a further complication.
The issue is that Tait has had a love/hate relationship with Nottingham, his hometown team. He loved playing there and did so on two separate occasions between 1990 and 2003. When he left Nottingham for Coventry it wasn't under the best of circumstances. Do either side still hold a grudge or is a move to Lower Parliament Street for Tait a move that suits both sides so much that they will move old issues to one side?
Tait's other options are limited. Let's run through them. If Peacock leaves Belfast is there an opening there? Well I don't think there is. With Stephen Murphy in goal, the Giants have the extra skating forward and with Garside and Shields they have enough for their top nine. If Tait had his way it would be to his former side in Coventry. Unlikely though. The Blaze's policy of reducing spending on top line Brits so they could invest in match winning imports worked last season and it is something they would be looking to repeat again.
Perfect
It would be a big investment for the Coventry side and a total change of policy and direction. Do you invest 8-10% of your salary spend on one player or spread it over the rest of your team bringing better quality import players in? A dilemma.
Many think a move to Braehead and a chance to link up with Ryan Finnerty once again. I don't see it unless there is either a bigger budget with the Clan or a huge drop in salary demands from the player. Braehead like Coventry are looking to spend the vast majority of their salary spend on imports.
Tait is no stranger to Europe. A move to Ritten back in 2009 was far from a failure. Could he, as a single man with no ties pack his bags and head off to France for example? It's a possibility.
Finally what about a move to the big hockey retirement home in the sky - or the Guildford Flames as we call it? Many players have seen their days out in the EPL and prolonged their careers, including Tony Hand with Manchester and more recently David Longstaff with a move to the Flames.
I think the Nottingham - Tait move is perfect for both sides. Short term and suits both parties. Should it not happen and should Farmer and Peacock decide to move away then keep an eye on young Matt Haywood of the Clan as a late, last minute swoop target.
Phew, you see all the trouble you have caused Matthew. If you would just stay in Nottingham life would be a lot easier.