Stanley Cup: Chicago Blackhawks champions after Game Six thriller
The Chicago Blackhawks are Stanley Cup champions after an incredible rally in Game Six against the Boston Bruins.
Last Updated: 25/06/13 7:00am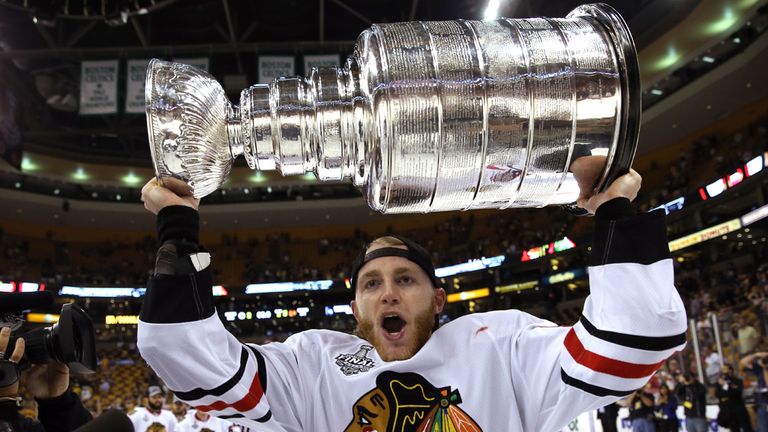 Trailing 2-1 with only 76 seconds remaining at TD Gardens, the Blackhawks stunned the Bruins with a double salvo and silenced a partisan home crowd to secure the trophy 4-2 with a game to spare.
Bruins fans had thought they would at least get the chance of a decider on Chicago ice when Milan Lucic put them in front with eight minutes remaining.
But Chicago pulled goalie Corey Crawford for an extra skater inside the last two minutes and Bryan Bickell tied the game soon after with a tap-in from the side of the net.
And worse would follow with only 59 seconds remaining in regulation time when Johnny Oduya sent in a shot on goal that was deflected off Michael Frolik and fell perfectly for Dave Bolland to guide home.
"It was one of those seasons we were saying, we're almost charmed the way we started the season and the way we ended," Chicago coach Joel Quenneville said. "Nobody saw that one coming either way.
"A lot of great things in between, some great challenges in this playoff series or this playoff round, and then let alone the other three (series).
"But it was one of those seasons, fairytale ending and an amazing season."
Blackhawks winger Patrick Kane, who scored 19 points during the post-season, was named Conn Smythe Award winner as the play-offs' Most Valuable Player.
He added: "I think there's something about our core. Hopefully we can stay together a long time, because that's two Cups in four years, and we seem to only be getting better and better as players as time goes on here. It's unbelievable to be in this situation."