NHL: Marc-Andre Fleury leads the Pittsburgh Penguins to victory
Marc-Andre Fleury claimed a shutout as the Pittsburgh Penguins beat the New Jersey Devils 3-0 in their season opener.
Last Updated: 04/10/13 6:26am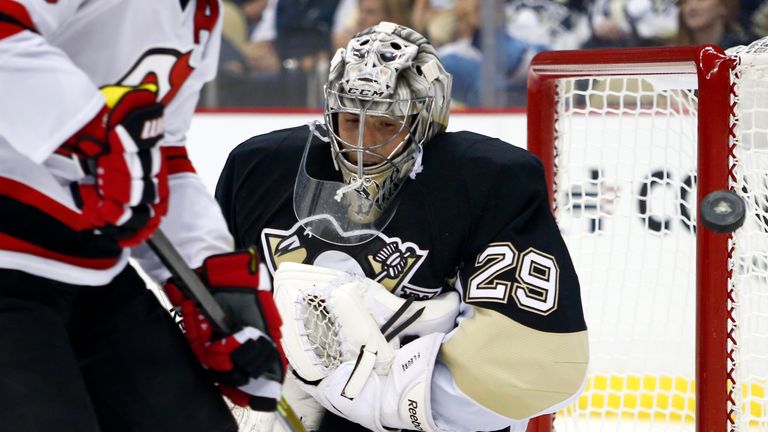 Chuck Kobasew and Sidney Crosby scored in the opening period and Craig Adams completed the scoring in the third.
Fleury stopped 27 shots to claim the win but most eyes were in the other net after Cory Schneider was handed the start for New Jersey over Martin Brodeur.
The Washington Capitals completed a remarkable comeback as they claimed a 5-4 shootout win over the Calgary Flames.
The Flames led 3-0 after 20 minutes and held a 4-1 lead midway through the second period but two goals from Alex Ovechkin put the Caps within touching distance and Nicklas Backstrom grabbed the equaliser.
Hat-trick
Overtime could not separate the teams but goals from Ovechkin and Mikhail Grabovski in the shootout handed the Washington the win.
The LA Kings also needed a shootout to claim a 3-2 win over the Minnesota Wild. Drew Doughty's strike was sandwiched by goals from Matt Cooke and Jonas Brodin as the Wild led 2-1 after the first period but Jeff Carter levelled it in the third and Jonathan Quick saved both of Minnesota's penalty shots.
Tukka Rask made 31 saves as Boston beat Tampa Bay 3-1. Chris Kelly, Milan Lucic and Patrice Bergeron scored for the Bruins with Valtteri Filipula responding for the Bolts.
Radim Vrbata scored an opening-night hat-trick in a 4-1 win for the Phoenix Coyotes over the New York Rangers. Kyle Chipchura also netted for the home side with Marc Staal lighting the lamp for the Rangers.
Three unanswered goals in the last 10 minutes guided the Florida Panthers to a 4-2 win over the Dallas Stars while the St Louis Blues beat the Nashville Predators by the same score.
John Tortella got off to a disappointing start as head coach of the Vancouver as he saw his team go down 4-1 to the San Jose Sharks.