NHL: Colorado Avalanche remain unbeaten after victory over Boston Bruins
Jean-Sebastien Giguere made 39 saves as Colorado Avalanche continued their 100 per cent start to the season.
Last Updated: 11/10/13 7:23am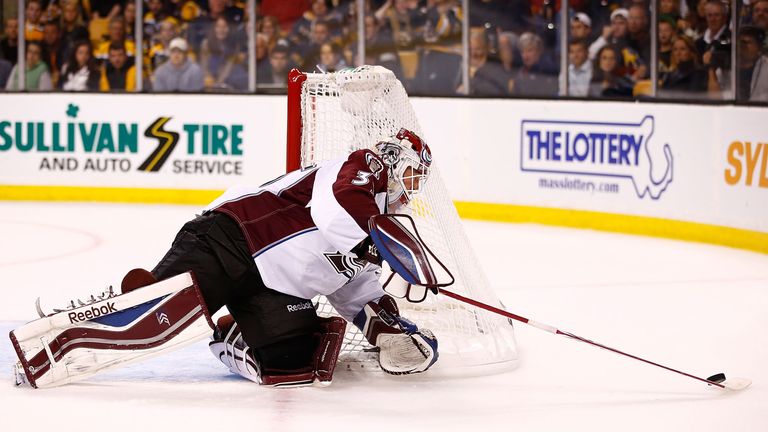 Ryan O'Reilly opened the scoring for the Avalanche at the end of the first period but the game remained in the balance until the closing seconds of the game when Matt Duchene added an empty-net goal.
But it was Giguere, who had conceded a goal apiece in Colorado's previous three wins, who was the star with a string of eye-catching saves.
The San Jose Sharks also got their fourth win out of four as Brent Burns had a goal and an assist in a 4-1 victory over the Vancouver Canucks.
Marc-Edouard Vlasic, Matt Pelech and Patrick Marleau also scored for the Sharks, while Logan Couture and Joe Thornton had two assists apiece and Antti Niemi made 25 saves.
Steven Stamkos scored a hat-trick to lead the Tampa Bay Lightning to a 7-2 rout of the Florida Panthers.
Stamkos also added an assist, while Valtteri Filppula tallied twice in the Lightning's third straight win since losing their opening game of the season to Boston.
Jakob Silfverberg netted twice to help the Anaheim Ducks crush the New York Rangers 6-0.
Nathan Gerbe netted the winning goal in the third period to lift the Carolina Hurricanes to a 3-2 win over the Washington Capitals.
Marian Gaborik starred with a goal and two assists as the Columbus Blue Jackets were 4-1 victors over the winless Buffalo Sabres.
Elsewhere, Jonathan Bernier made 36 saves for the shutout in the Toronto Maple Leafs 4-0 win over the Nashville Predators, the Minnesota Wild edged out the Winnipeg Jets and the Phoenix Coyotes overcame the Detroit Red Wings 4-2.